Shahid kapoor comes of age
Surekha Kadapa-Bose in conversation with Shahid Kapoor, the chocolate boy of Hindi cinema, who has come a long way after films like Jab We Met and Kaminey
What made him stand apart from his other colleagues in the film industry was his chocolate face and baby looks. When all of 17 years of age, he jumped up in a van with Shah Rukh Khan; danced with Rani Mukherjee and rode away on a bike with Kajol, all in one advertisement for Pepsi, in 1998. No one thought that this teenager would be a phenomenon that he has become today. At that time very few also knew that he is Shahid Kapoor, the son of senior and gifted actor, Pankaj Kapur.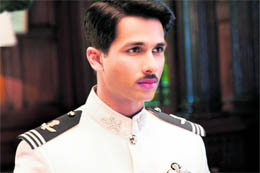 Though most of his childhood was spent away from his father, as his parents were divorced, Shahid always knew and recognised the abundance of talent his father had. "Pankaj Kapur, the actor, is phenomenal and Pankaj Kapur, the director, is gifted," explains the son, on the release of his fatherís directorial debut film, Mausam, in which he is cast opposite Sonam Kapoor. The movie was recently involved in a legal controversy.
Shahid hit the jackpot with films like Jab We Met opposite Kareena Kapoor, Kaminey, his first double role opposite Priyanka Chopra; Kismet Konnection opposite Vidya Balan became both commercially and critically successful.
Completely rooted to the ground, Shahid didnít let success go to his head. His mantra of handling life is "Stay true to yourself, you will handle anything be it success or failure," is this starís advice to youngsters.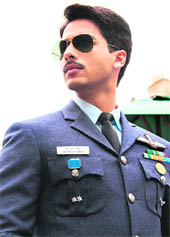 Shahid Kapoor has not let success go to his head
The only difference after becoming a star from his early struggle days is that now he can select scripts. "I donít want to be typecast. As an actor my job is to portray any and every kind of a role convincingly. The script should be so appealing that I have no choice, but to give in," he admits.
Talking about Mausam, Shahid says, "Mausam is my dad Pankaj Kapurís first film as a director. It is a love story that is beyond the regular rom-com variety and of the kind that has not been seen in ages. I am a romantic by heart, so love comes and happens naturally to me. And this film has Sonam looking gorgeous, with great songs by Ustad Rashid Khan, Ustad Rahat Fateh Ali Khan, and more than anything it has a soul."
Further elaborating on working with his father, the charming actor, with his typical shy smile and crinkling eyes, says, "Every director is different. Since dad is also an actor, his filmmaking was also different. Mausam marks my fatherís directorial debut, hence it will always remain special to all of us.`A0 It was a huge responsibility for me and I kept hoping I would be able to live up to his expectations. Initially, I was a bundle of nerves working with dad. But gradually I became comfortable. Though on the sets it was director Pankaj Kapur, who called the shots, and he treated me like any other actor on the sets. We had difference of opinion regarding some scenes, but in the end the final take was based on mutual consent."
"These one and half years, I spent on the sets of Mausam have brought us still closer and this time spent learning and getting closer, I feel is the best in my life," admits Shahid.
In the film, he is a young Punjabi munda (boy) falling in love with neighbour Sonam. He grows up and becomes an air force officer, flying a fighter plane. Talking about his role, Shahid says, " I had to prepare a lot. We didnít want to get anything wrong. From my short hair to my cropped moustache is the air force type. I had to really look a true air force officer. And I enjoyed doing that and also learnt to fly an aircraft."
Though every care was taken to get everything right for the film, just a week before release, Indian Air Force found a small portion objectionable. But as Shahid says that everything was sorted out.
Riding the crest of success, at present Shahid doesnít like to talk about his future. When asked to comment what would he be doing 10 years from now, he cheekily signs off, saying, "10 years is a long time. I believe in living in the moment."