Dress for less
You can save money by not going in for every trend that comes along. You need style that is fashionable and stays in the budget, says Marjorie Menon
If you are like me, scanning the latest fashion magazines and hoping to gain some practical style tips, you may find yourself more confused than ever. Often, their practical style tips pertain to someone definitely in a higher tax bracket. What should a girl do when she needs to dress for less?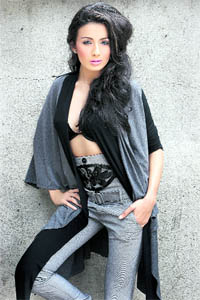 Wear only those clothes that reflect your personality and flatter your body shape
You love the glossy magazines and the styles, but then you see the price and get a dose of reality. There is no way you can pay thousands of rupees for a glitzy handbag, or for a pair of black pants. If this scenario sounds familiar, sit back and keep reading because, like most women, you need style that is fashionable and still stays in the budget.
You are looking for big style at a small price. You are desperately hoping for a fabulous look without breaking the bank. Donít worry if you have pulled back on the purse strings but still yearn for style; it can be done.
Follow these style tips to make your wardrobe appear as large as Paris Hiltonís and as fashionable as Nicole Kidmanís.
Donít be a fashion victim. You can save money by not wearing every trend or style that comes along. Just because everyone is wearing it does not mean it is right for you. Only wear styles that reflect your personality and flatter your body shape. You wear the fashion Ė the fashion doesnít wear you!
Know what you need. Look for clothes that give you many wearable combinations. If it is something that will work well with what you already have in your closet, it is a bargain. These "wardrobe extenders" save money and make your wardrobe seem bigger. Look for them on the sale racks and save even more.
Stay with the classics. Base your wardrobe on classic pieces that mix and match. For example, look for great fitting black pants, a white blouse or a basic A-line skirt (these can go with anything) and mix and match kurtas with churidars or salwars. It doesnít cost as much when all you need to do is add a trendy piece or two to look up-to-date.
Be flexible. Shop everywhere. You never know where you may find an unbelievable bargain.
Surf the web. Some stores offer specials only available on their websites and free transportation is often available. It is a great way to stay current with the trends and pick up great buys during "armchair shopping" from your own computer.
Wear a shell or camisole underneath for more coverage with lower necklines. Solids and dark colours are best. Avoid high necks. Small-busted women should select higher neck styles. Choose from V-necks, wrap styles or shirts with ruffles or gathers. Avoid low necklines.
Think before you buy. Make sure you are getting a bargain. Ask yourself if you would buy it at regular price. If so, and if you have at least two ways to wear it, then it is a bargain!
Your shoes and handbags are what people notice first about you. Fashionable handbags can easily be added into your spring wardrobe. Try a larger tote bag in a fun colour this season. When accessorising, be careful not to overdo it. Wear only one statement piece at a time. Wear a large chunky necklace with a monochromatic outfit. Or wear unusual bangle bracelets with a gauzy long skirt and flat sandals for just the right look.
Add a couple of trendy items to your wardrobe. These are not in vestment pieces; so you donít need to spend a lot of money. Look for ballet flats in bright colours or metallic shades, large tote bags, long link necklaces, peep-toe pumps, ankle-wrap espadrilles, any style of dress, short jackets over long T-shirts and walking shorts.
When you budget is stuck on frugal, use these style tips to help you feel confident and fashion forward. Donít panic or worry you have to spend a lot to look good! ó MF