Match that matters
Fresh from the win in the inaugural Men's Asian Champions Trophy against Pakistan, Rajpal Singh talks of marching ahead, meeting his 'match' and more
Amit Khanna
Yes, there has been some good news. After witnessing a lot of stories off the field, this one from the turf has galvanised Indian hockey, for one more time. India clinched the inaugural Men's Asian Champions Trophy held at Ordos, China, recently, thrashing neighbours Pakistan in the decider. Understandably, there is an air of euphoria all around. Awards, recognition and photo ops.
But this euphoria could be dangerous though it offers us a glimmer of hope, as the win should be viewed in terms of the vast talent pool which exists in the country and needs to be tapped, cautions the leader of the pack, Rajpal Singh. In a free-wheeling chat, he shares his thoughts about the recent upset, why beating Pakistan brings extra gratification, his plans of marriage to shooter Avneet Sidhu and much more.
Chemistry of the champs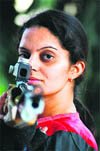 Rajpal's fiancee Avneet Sidhu
Having won a 'match' off the field, too, Rajpal Singh, who is set to marry shooter Avneet Sidhu, when asked if he plans to get married this year, says "I can't say for sure, but it should be very soon. Right now, I would not like to put a date to it. May be, this year."
On player pairings, he adds, "There is a great deal of advantage in a player marrying a sportsperson. Both of you know about each other's profession and the challenges it involves. Hence, there is more understanding. And, moreover, each one of you gets to know about the intricacies of each other's sport. This enriches your knowledge. I will be learning a lot about shooting, hopefully."
As for famous sports couples, he says: "There are not many who come to mind but my favourite player couple has always been Andre Agassi-Steffi Graff. Both of them were great players individually and as partners, too. I admire them the most."
Whom do you give credit for this win?
The whole team, actually. The best part was that every one played their part to perfection. The coach and supporting staff have been superb. Our trainer David Jones should get a mention here. He, too, has worked very hard in shaping the team. Hopefully, we can build on these positives.
Beating Pakistan must have been extra special?
It's not that we have not beaten them earlier, but this time it was personally very satisfying to go past them in the final at Ordos. Just before the match, I read on the Net that one of their senior players had raved that Pakistan always won the inaugural tournaments and they would beat India here, too. Breaking into their fort was extra dear to me personally. We proved we still belong to the top.
The team, before leaving for China, was labelled as young and inexperienced and was mired in avoidable controversies, like the one involving Sandeep and Sardara.
What happened was not good for the game. I hope this gets sorted out fast. The team had a perfect mix of experience and youth.  Ignace Turkey, Chetri and Gurbaz have all been there for long. Youngsters Manjeet Kullu and Vikas Sharma amply showcased their talent. The role of all players has been well defined and we stuck to them throughout the tournament.
The controversy involving the awarding of the team must have left a bad taste.
Things have been sorted out now and that should be a relief to all. All stakeholders should now concentrate on taking our team to where we really belong.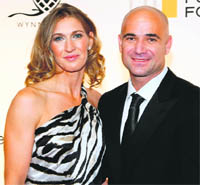 Rajpal's favourite sports couple is Andre Agassi and Steffi Graff
Physical fitness is an area of concern. This showed whenever we had to play matches on consecutive days.
I admit, it is a cause for concern and our trainer Jones even says we have just started the process of remaining fit and there is a long way to go before we reach the level we are aiming for. We drew matches whenever we played for the second day running. The fixtures against Malaysia, Pakistan and Japan are a case in point. But that is what happens on any given day, and the same team rallied from behind to save matches and crucial points on more than two occasions
The win was coupled with the news of the IHF taking away the Champions Trophy from India.
It is sad that the IHF took this decision but the past is past. As a team, we should now concentrate on and spend our energies on first qualifying for the prestigious event. We were playing the Champions Trophy for being the host nation, but now it would be better to come to the Champions Trophy after qualifying the Champions Challenge in Johannesburg in November-December.