Revelling in ordinariness of life

Nonika Singh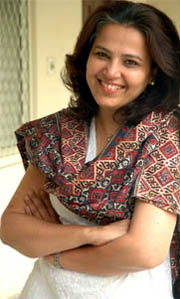 Rakhshanda Jalil
WHAT happens when a hardnosed, seasoned critic turns into a fiction writer? Expectedly, she canít shut off the critical eye long after the book has been published. Thus, critic, reviewer and writer Rakhshanda Jalil, whose latest book of short stories Release and Other Stories just hit the stands, canít help but see mistakes an ordinary eye would overlook. Interestingly, the book that took 19 years in the making ó the first story she wrote was way back in 1992 ó has this writer of over 15 books feeling nervous, almost apprehensive of the feedback. While non-fiction, she agrees, involves more hard work and research, fiction that otherwise flows naturally reveals too much of oneself. She quips, "It is too close to the bone." Autobiographical? She nods, "Indeed, all fiction delves into the self." So, what has she revealed? Strangely, there are no skeletons that come hurling out. Instead, her stories revel in the ordinariness of human existence. For, she deems, "We have stopped celebrating the simplicity, the ordinary yet humane aspect of our lives. Indian writing in English is exoticised with one eye on the Western market and another on the critics. Magic realism of Salman Rushdie doesnít always work. The simple men and women, the kinds that figured in Hrishkesh Mukherjeeís films, best epitomised in characters played in movies like Rajnigandha are quite forgotten." And the stories of an average middle-class Indian Muslim, a far cry from the hijab-wearing traditionalist or bomb-throwing zealot have never held centre stage on the Indian consciousness.
Her stories, ten in all, dig into the everyday life of an average Indian Muslim household. For someone who believes religion should remain out of public domain and is a very private personal matter, her tales do not hinge upon her characterís religious identity. Yet, at the same time, she does bust the pan Islamic myth that all Muslims are cut from the same cloth. But mind you, she is not making a statement political or otherwise. "In fiction you donít set out with a preconceived ideology or an agenda,"she says. The stories were just bubbling within her, came out with greater force when the publisher set a deadline. Between the one she wrote 20 years ago and the more recent ones, she dares the reader to spot the earlier one out. The critic in her feels her craft to construct stories has improved manifold. So, will her pen continue to weave many more? She smiles, "I have tasted blood but will not sit like a hen to force stories out of myself. I am not going to agonise over it." And nor does she fret over the demarcation line between different kinds of writing. Having translated the works of writers like Sadat Hasan Manto and poetry of Shahryar, she believes translation is as vital as original writing, and so is reviewing books or writing columns for newspapers. Not surprising, the columns for a daily newspaper fleshed out into her most successful book The Invisible City that has gone into its third edition. Chronicling the neglect of lesser-known monuments in Delhi, her book throws spotlight on some 60-odd testimonies to history with a note of regret: "We canít pick and choose, canít say Qutub Minar is of historical relevance while others are not. History is like a river in which all parts are significant and need to be preserved."
Sadly, she regrets the land mafia in collaboration with other vested interests grabs what it can. Yes, she has written about this nexus too even about the apathetic attitude of the ASI and quips, "You bet the ASI hates me." Her readers, especially those who respond fervently to her active blogging on "Hindustani Awaz", however, do love her. She says with a smile, "We undermine pluralism. But as I stand and speak for it, I dare say there are many who endorse Ganga-Jamuni tehjeeb." And itís this silent majority, who have their hearts in the right place, that her book is for and about.