No room for mythology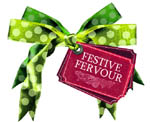 Indian cinema's romance with mythology began with Dadasaheb Phalke's 1913 feature film, Raja Harishchandra. Today, devotional films that venerated the benevolence and bravery of gods and goddesses have vanished, writes Deepa Karmalkar
A year ago, the news that Waka Waka singer Shakira had consented to play goddess Kali in an Indian project had created quite a buzz. But nothing came out of it. "Shakira as Kali Mata? That just won't work; there is a revered image of Kaali maa in the minds of the devotees and Shakira doesn't conform to it any way," remarks Udaya Tara Nayar, veteran film analyst. "The actress playing the role of Devi must have classic Indian features like Hema Malini or Rekha; among today's heroines, Kareena Kapoor, with the right make-up, would be the best bet to play the goddess," she adds. So, will Kareena's divine avatar do the trick?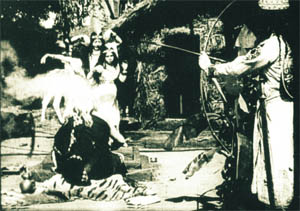 Dadasaheb Phalke's Raja Harishchandra was inspired by Hollywood's The Life of Christ
NP Yadav, Bollywood trade observer, remarks: "Very difficult to find an actress in this generation to play the goddess but still I will vote for Kareena."
Bhawana Somaaya, noted Bollywood biographer, sounds optimistic about the fate of goddess movies. "If told well, Devi tales hold a tremendous appeal. I have some fond and vivid memory of Mahasati Anusuya (1965) that I had watched as a child. I remember how Brahma, Vishnu and Mahesh test sati Anusuya by demanding that she serve them food sans any clothing. Well, she transforms three of them into babies, dons some leaves and feeds them. That magical image is still green in my memory.
"The other film I remember is Satyajit Ray's Devi in which the father-in-law believes that his bahu is goddess incarnate and the young bahu also assumes the divine role. When a child in the family falls sick, the father-in-law refuses medical aid and insists that Devi could provide the cure. It was an exciting narrative. So, a good script backed by stunning SFX could very well work wonders even today," she asserts.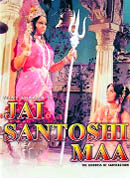 Jai Santoshi Maa turned out to be a classic in the genre of mythological movies
Indeed, a powerful script always works, as it did way back in 1975 when there were three blockbusters of the year — action thrillers Sholay and Deewar, and the third was a low-budget devotional film Jai Santoshi Maa. Anita Guha, who essayed the role of the divine mother in the film, quoted in an interview: "Audiences were showering coins, flower petals and rice at the screen in appreciation of the film.They entered the cinema barefoot and set up a small temple outside.In Bandra (elite suburb), where mythological films aren't shown, it ran for fifty weeks. It was a miracle."
Jai Santoshi Maa was undoubtedly a miracle, what with unknown actors, tacky sets and makeshift SFX – dedicated to an unknown goddess. The film turned out to be a cult classic in the genre of mythological movies as it swept under its spell the urban as well rural viewers, and in real life, women started keeping the 16 Fridays' vrat. Santoshi Ma was an unprecedented celluloid phenomenon in the modern and free-thinking India.
Indian cinema's romance with mythology dates back to 1913 when Dadasaheb Phalke released his first feature film, Raja Harishchandra, inspired by watching Hollywood's The Life of Christ, in 1911. It made him visualise Hindu gods as screen images and he went on to make a hundred more mythological films`A0over the next two decades based on Hindu epics, including Lanka Dahan, Ramayana (touted to be the first Indian blockbuster), Shri Krishna Janma, Sairandhree and many more. Other Indian producers adopted the Phalke formula and made films drawn from Hindu mythological texts like Prahlad Charitra based on the story of Lord Vishnu's devotee. The first film made in South India was 1919's Keechaka Vadham, an episode from Mahabharata. Many traditionalists condemned feature films then as morally polluting and Mahatma Gandhi, who generally disapproved of cinema, made an exception while watching the only feature film in his life, Vijay Bhatt's 1945-released Ram Rajya.
Devotional themes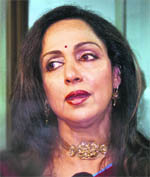 Hema Malini, who has often played the role of a goddess in her dance ballets, was in the title role of teleserial Jai Durga
Kareena Kapoor would be the best bet to play the role of a goddess
Udaya Tara Nayar recalls Shobhana Samarth (Kajol's maternal grandmother) as the legendary Sita in it: "She made the most beautiful Sita, conceded even Naseem Bano (Saira Bano's mother), who was initially considered for the role."
Mythologicals soon gave way to devotional themes followed by historicals, socials and eventually by action thrillers. By 1950s mythological had completely vanished from the Hindi film industry. Occasional films like Jai Mahakali (51) were dedicated to the divinity but mostly it was south cinema that the heavenly denizens made regular appearances in. It was not until in 1975 that Jai Santoshi Maa unleashed a new wave of Puranic films like Hanuman Vijay, Gopal Krishna, Shri Ram Vanvas, Sita Swayamvar and Har Har Gange. But, unfortunately, none could replicate the success of Jai Santoshi Maa.
In an analytical mode, Milind Ukkey, of Paathshaala fame, who directed the only goddess film of modern times, Desh Devi Maa Ashapura Madhwali (2002), says: "Jai Santoshi Maa did not have any competition from television, remember? Most of the spiritual-mythological narratives are currently happening on the small screen. Maa Ashapura incidentally is the deity of the people of Rann, who spurs her devotees to keep up their fight for survival in that harsh and arid terrain. Although it was a well-made film, what with uncompromising production values in terms of costumes, music and design, the theatrical outcome of the film was hardly sensational." "But the film garnered highest TRPs when it was screened on all the Star channels," defends the director.
As Yadav puts it: "Perhaps it is possible to woo the audience with technical wizardry — the 3-D format. But the narrative and the treatment will have to surpass imagination. The main reason why the linear narrative of mythological won't work in a film format is because mythologicals are widely available on television and in other home viewing formats."
Coming back to a powerful confluence of technical advancements and star power of Kareena, Ukkey admits pragmatically: "Stars are so image conscious that it would be over-ambitious to think of casting them in divine avtaars."
Altogether another thing that the hip and young today do not mind is queuing up in front of temples and congregating in pooja pandals. But when it comes to mythological films, they steer clear, deeming these films "down market." "Today's audience is very clear about what it wants from their outings`85when they go to a theatre, they want hardcore entertainment, and when they go to a temple, they want high-octane faith. Unless filmmakers come up with an idea to blend the two, the fate of resurrection of goddess films is doubtful."
Somaaya agrees: "This elitist snobbery is undecipherable. People throng temples but shun films of their own gods and goddesses. That is the bane of modern times!"
But there is still hope as Hema Malini who plays Durga and other goddesses in her dance ballets in addition to essaying the title role in the teleserial, Jai Durga, had admitted: "When playing Devi Durga, I have to bear in mind the revered public image of the goddess. I always experience surge of a divine energy whenever I play the goddess." Can the spiritual strength of the role attract the film industry in times to come? Let us hope so.