Web of creativity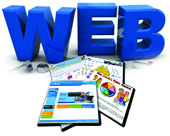 Ever since the development of internet by Lee Berners in the 1990s, the world has been reduced to a global market where all countries irrespective of size and scale of operation are players in the online marketing field. Transactions are carried out in minutes whether it is payment, receipt or transfer to and from any part of country on the globe. Today, we are moving towards a more web-centric economy and no business can survive without having its own website to reach out to worldwide customer base. The Internet has more than 200 million users and as many as one billion Web pages are available in cyberspace. These factors have crossed the barriers of time and geographical constraints.
Career Hotline
Not just an academic field
Q. Geography is my favourite subject in school. Can you please tell me something about the job prospects if I pursue my studies in this field. Or is merely an academic field?
Guest column
New trends make HR more human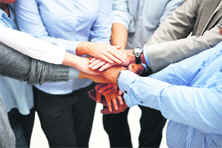 A buoyant economy has thrown open a lot of job opportunities and the demand for skilled and qualified manpower has exceeded the supply. One of the major challenges for HR now is to follow practices that will attract and retain a company's biggest asset "The people". The game changer these days is not only the stocks or cash offered to employees but the culture that is more vibrant and provides challenges for one to experiment and make a mark for himself. Here are some HR trends that have changed its role in the first decade of the 21st century.
FAIR GAME

Gaming, which was once deemed recreational, has now become commercial; it took the form of an industry as the demand for games increased. The growth of this industry has been phenomenal. According to a report by Ernst & Young the Indian gaming industry is estimated to grow at a CAGR of 49 per cent by 2012. Over the years, animation and gaming industry has seen the entry of many global majors who have tapped into India's talent pool for offshore delivery of services. There is sea of brilliant career opportunities here waiting to be explored.
Contest for engineering students
Engineer Infinite competition for engineering students will be held alongside ELECRAMA-2012 - the world's largest electrical Transmission and Distribution exhibition organised by Indian Electrical and Electronics Manufacturers Association (IEEMA)
CareerCature
Sandeep Joshi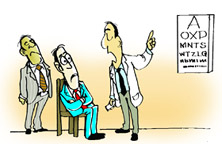 We are checking your eye sight because we need a far-sighted person.

Meeting success on 'the road less taken'
Environment studies may yet be an unlikely choice for many students but offer lucrative career opportunities. Dr. Urmila Jha-Thakur, a faculty member at the School of Environmental Sciences, University of Liverpool (UK) is among the few who chose this less trodden path and has achieved huge success as well as professional satisfaction. She is currently involved in various research projects. She is working in collaboration with the National Environmental Engineering Research Institute (NEERI) in India and Utrecht and Groningen University in the Netherlands on EA. This is a tool used in policy, planning, programme and project development, to ensure that environmental implications of decisions are taken into account at the earliest point, to reduce the negative impacts of development activities and promote sustainability.
Fortnightly Quiz-397
1. Which metro rail system has become the first in the world to get carbon credits for contributing to the fight against climate change by reducing pollution levels?
SMART STRATEGY
Master stroke
"People who are unable to motivate themselves must be content with mediocrity, no matter how impressive their other talents."
Management Tip
Get your team to collaborate
"Executing on major initiatives requires teams that are large, diverse, and virtual. Yet, as team size grows and the group disperses, team performance diminishes. You can build collaboration within complex teams in three ways:
Happiness @ work
Gems of ancient wisdom
Correct, but politely
A good teacher's hallmark is patience and politeness. As a boss, don't shout when juniors make some mistakes. Instead, correct them politely. During Zen monk Bankei's seclusion week of meditation, a pupil was caught stealing twice. The other pupils reiterated their demand that the thief be dismissed. Otherwise, they threatened to leave en masse. Bankei refused saying, "Who will teach this brother who doesn't know right from wrong, but me? Even if you all go, I will not dismiss him." It was no surprise that no one left the gathering.