RAID on a high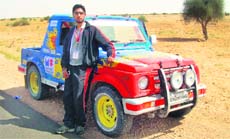 What's with these people - are they physiologically different from others or psychologically? There is something different all the same - falling from a height of 4,000 feet, tearing through the rapids in a simple inflated kayak or roaring through cuts as well as turns in mountains at 125 km hour is not everyone's business.

Jagmeet Gill



Harpreet Bawa
Back on the pitch
Way back, she comfortably clubbed cricket with something as feminine as a pink bracelet. As of now, Mandira Bedi, is out to 'connect with people'; put the ladies beyond the ornamental tag and right amidst the game.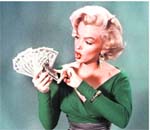 SNAP deal
Rare snaps of legendary Hollywood actress, Marilyn Monroe are to go under the hammer at a Florida auction later this year. The collection, which contains an image of Monroe posing on the beach in a striped bikini, will be sold off in December to settle the debts of the photographer, Joseph Jasgur said.

Marilyn Monroe
A truly happy day…
Being a very emotional woman, birthdays, mine or my loved ones, are truly special for me. And on my birthday, I love to be with my friends and my family. My brother pampers me like a princess, making cds of my favourite songs, taking me out shopping, singing songs to me, giving lovely surprises. Mom makes me sit on her lap, the most secure place in the world. And my friends, well, they make me feel how much they love me.
Get festive with food
Finally, the festive season is here. And what better way to begin a propitious time than with food! When we say food, we mean no ordinary delicacies but food fit for fasting.
Pun'jab' Sandeep Joshi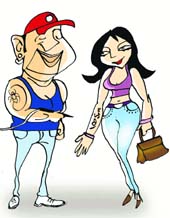 End of story

: Last week you wrote this, now write 'I love Jai'
What a sight!
Size, colour and vision get a new definition as SHARP launches the world's largest 108-inch LCD at Hotel Taj, Chandigarh, on Tuesday. The Japanese company launches this LCD for the first time in North India and it is sure to revolutionise the viewing experience. Since the price is an astronomical Rs 89 lakh, the product is directed towards the higher income group.
Chatter box
Second time lucky
Simi has no time for Paris
Twitter is extended family: Big B
Back to small screen