Farming without sunlight
Hal Hodson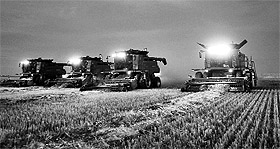 Will regular farms like this be replaced because farming without sunlight is more efficient, reduces transport costs and won't fail because of the weather?
Sunlight. It is the foundation of life on Earth, the daily pacemaker of human existence and, with the exception of geothermal, the basis for all energy consumed on our little marble. Without it, Earth would be cold, dark, and unrecognisable.
Light's contribution to food is particularly important. Crop plants use it to convert carbon dioxide and water into sugars and oxygen, for eating and breathing respectively. It's our most precious chemical reaction but, as global population diverges from the planet's ability to feed it, one group of Dutch scientists thinks we need a new approach. This approach isn't to meddle with genes, or to plug extra fertiliser into nitrate-soaked soils. The Dutch group, called PlantLab, have scrapped sunlight altogether.
"The plants look black," says Gertjan Meeuws, one of the five-strong team. That's not because they're rotten or genetically engineered, it's because they are bathed solely in blue and red light — there is no green light in the PlantLab hanger for the plants to reflect.
The hanger looks like something a character in Blade Runner might have dreamt about. Huge sliding trays of leafy greens (blacks), are tended by an army of robotic arms, and given, according to Meeuws, precisely what they need to thrive. He and his team have been studying plants since 1989, working to better understand their needs and to make the growing process more efficient. They are scientists and engineers, not just businessmen.
"Growing in an open field or greenhouse is not enabling plants to maximise their potential," Meeuws says. "You have to look at our system as taking two steps at once. Firstly, we grow plants in totally controlled conditions — plant paradise as we call it. The second step is placing these nurseries right at the end of the supply chain, to produce around the corner from the consumer."
PlantLabs's controlled conditions are underpinned by some interesting physics. Plants are green because they reflect green light, meaning those specific wavelengths are not involved in the process of photosynthesis. If you tried to grow a tomato plant under a green light, it would die. In the process of reflection, the plant heats up. Like humans, plants have a mechanism for cooling down, but it costs energy which the plant would otherwise use to grow.
"Plants have a very intelligent way of cooling themselves," Meeuws explains. "They take up water through their roots and evaporate it through their leaves. Energy is needed for evaporation, and this energy is taken from the leaves, cooling the plant."
By giving the plants only blue and red light, PlantLab can avoid heating its plants up unnecessarily, leaving more energy for growth. The atmosphere in the underground hanger is completely controlled for the same reason — to give plants the ideal conditions for growth, rarely found in the real world.
Although there are technical kinks behind farming in the dark, the potential benefits are broad: more nutritious produce, eradicated air-miles, year- round access to fresh vegetables, in any environment on earth. "We have been talking to people in winter sport areas. In the seasons where those areas have the most guests, they have no real fresh salads. It's a very interesting idea to serve really fresh, just-picked salads right where the consumers are," Meeuws says.
Human convenience factors are important, but not fundamental. Water is fundamental, and it's one resource that PlantLab's vertical farm does a very good job of conserving. Meeuws says that PlantLab's system uses 90 per cent less water than conventional open-field growing. The only water which ever leaves the facility is in the form of plant matter for human consumption. The rest — run off and evaporation — is collected and fed back into the system.
"Water savings are probably the most important part of our work," Meeuws says. "Water will be more important in the future than energy."
Another benefit of growing indoors is the flexibility it allows for the grower. Dixon Despommier, a microbiologist from Columbia University and the blue-sky thinker behind the vertical farm, puts it: "Let's say you have a breakdown in your growing system. When is the next opportunity for an outdoor farmer? Next year. The opportunity for an indoor farmer is tomorrow."
This agility is down to the increased number of available growing hours for the indoor farmer. Meeuws gives a rough calculation: "In our climate, there are maybe 1,000 or 1,500 growing hours a year. When you go to the equator, they have a lot of sunlight, but it's so hot that the plants can't breathe properly. In our system we can give light to plants 24 hours a day, but it's usually 20 hours, to let them sleep."
Twenty hours a day, every day of the year amounts to 7,300 hours of growing time, a five-fold improvement over relying on natural light. Vertical farming comes with the bonus of easing the strain on diminishing agricultural real estate, perhaps even allowing for "re-wilding" of swathes of land previously dedicated to cucumbers.
But, as Kevin Frediani, puts it, "we're not there yet". Frediani is the man behind VertiCrop, a vertical farming experiment adjoined to Paignton Zoo in Devon, where he is the curator of plants and gardens. His project, which has run for three years, backs up PlantLab's numbers for water savings, which Frediani says can be pushed as low as 4-6 per cent of conventional use.
Energy use is usually the number one concern among vertical farming naysayers. Everyone knows the story of the tomatoes, grown in British greenhouses and polythene tunnels, which, due to the cost of heating, actually have a larger carbon footprint than those shipped more than a thousand miles from Spain. Similar concerns surround the idea of artificially lighting and heating acres of underground crops.
The financial and energetic costs are big, but new technologies can help. By growing the plants in an insulated environment, temperature is easier and cheaper to control; polythene tunnels and glasshouses are rubbish at keeping heat in or cold out.
A new generation of lightbulbs are answering the lighting question too. Humanity has been stuck on the glowing strip of metal passing an electric current since Edison made the idea a commercial reality in 1879. New light sources — LEDs, high-pressure sodium lamps and fluorescent bulbs — cost less to run, and in the case of LEDs can deliver the exact colour of light which PlantLab requires.
Technology aside, there is the issue of public perception. Another step "away from nature", further removing ourselves from our hunter-gatherer ancestors, might not be popular with some sectors of the green contingent, but Meeuws has an answer for this too. "We have to let technology come into our lives where it concerns food production. A cell phone is normal, intensive care in hospitals is normal, and accordingly technology will be normal in order to save our world by producing food in a smart way." — The Independent