gandhi forever

The best tribute to Bapu this gandhi jayanti would be to follow his philosophy in letter and in spirit, writes Minna Zutshi
The donning of the Gandhi cap by celebrities and commoners alike during the recent Anna movement became a symbol of resurgence of the Mahatma's ideology. But, for Young India, is there more to Gandhi than such passing, public-propelled displays of his philosophy?
Minna Zutshi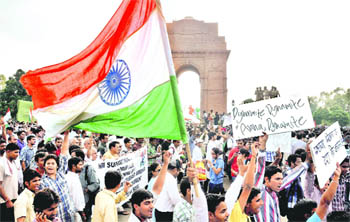 A frail man attired in a loincloth... a stalwart who stirred the conscience of the multitude of masses... a calm, composed man who was an apostle of peace ... a dynamic leader who brought down the mighty British Empire. Mahatma Gandhi, the man, has never been easy to understand. His philosophy of ahimsa and soul force has intricacies which are hard to escape. Yet, it's the very depth and fullness of his philosophy that has given generations of people an opportunity to reinterpret and relive the philosophy, albeit in parts.
In his own country, Gandhi is being rediscovered. More so by those in their twenties and thirties. Post-Anna Hazare's movement, there's a resurgence of interest in the Gandhian thought.
Suddenly, the Gandhian ideology has become a potent weapon that can be wielded effectively. People have found a recognisable technique of self-assertion. If the 'here and now' falls short of their expectations, they have history to fall back upon. And a man like Mohandas Karamchand Gandhi, whose moral force was acknowledged even by his worst critics, to look up to.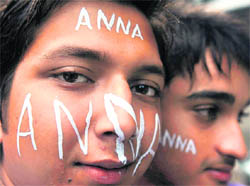 Did it need Anna Hazare to bring Gandhi back to the masses in general and the youth in particular?
"Gandhi has ever been present in the collective conscience of the Indians. It's only that sometimes what's on the fringes of our conscience, needs a trigger to come to the fore," says young Punjabi writer Karamjit Singh Grewal.
Any philosophy that's buttressed by some tangibles evokes a public response easily. Bollywood found Gandhi caps a sartorial way to strike an emotive chord with those people who had found a worthy cause in the Anna andolan. Glamorous actresses spurned their signature style to don the Gandhi caps. Fashion and philosophy found a common platform.
Bollywood, with its penchant for seeking inspiration from whatever comes in handy, has not been exactly liberal while drawing on the Gandhian thought.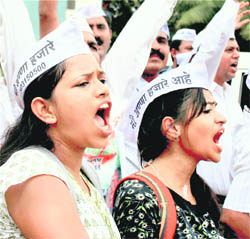 Slick, fast-paced films with a surfeit of amoral heroes, who love hanging out in the grey zone, are the Bollywood staple. "Yet, it's Lage Raho Munna Bhai, with its message of Gandhigiri, that wins hands down in making the masses connect to Bapu's philosophy," says Punjabi actress Neeru Bajwa. "Gandhigiri can, and invariably does, have a quiet win," says the actress, who spent her adolescent years in Canada.
"No journey is ever easy. I may not measure up to the moral courage of Mahatma Gandhi. I can, at least, try to stand up for myself. That's how I interpret his philosophy," she adds.
For the decidedly competitive world of television, the Gandhian thought may not translate into high TRPs. Yet, Gandhi's role remains a coveted one for actors. Ruggedly handsome actor Vikramjeet Virk is the most unlikely candidate for the role of Gandhi. But for his looks, which would make him the most unconvincing Gandhi ever, he would have been too happy to play one of the most challenging roles of his career.
"My looks hardly qualify me to play the role of Mahatma Gandhi. No wonder, I play the character of Mohammad Ghaznavi in a Zee tele-serial," he adds.
On a personal note, this actor from Karnal in Haryana believes that the language of love is powerful. But he does not mind shifting his stand if it fails to bring the desired effect. The finer nuances of the Gandhian philosophy can be good for intellectual debate. For the hard grind of life, you have to keep your options open, he says. "Sometimes, your moral courage strikes against a dead wall. Then, you need to look beyond the Gandhian perspective."
Gandhi has become the new poster boy, post-Anna's andolan. For the young and the restless, the Gandhian ideology is tantalisingly attractive. It's open to interpretations that are in consonance with the actualities of the contemporary life. It has an academic resonance, too, as Yatin Garg, a student of management from Ludhiana, has discovered. "When I read The Story of My Experiments with Truth, I found a new Gandhi, who was markedly different from what I had been told about. The book has had a transformational effect on me," he says.
He thinks that the Gandhian philosophy can very well be taught as part of the management curriculum.
Mahatma Gandhi's talisman of 'removing the doubt' is amazingly practical, believes Shaina Kaplish, a student of computer applications. "When you are unsure about your next course of action, take some time off to think whether the action would help anyone. If you get 'yes' as the answer, go ahead," she paraphrases the talisman for us.
"Openness to experience and willingness to learn from it are, for me, the key components of Mahatma Gandhi's philosophy. I learnt this after reading his autobiography." That's the take of Deepak Nagpal, who is pursuing an MBA degree from the Punjab College of Technical Education in Ludhiana.
Twentyone-year-old Dhruv Mendiratta, however, has a word of caution. He feels that Bapu's name should not be invoked indiscriminately. "We have to be careful lest, while professing to follow the Gandhian philosophy, we end up doing just the opposite. We often tend to forget that violence can manifest itself even in words. And this violence can spill over to actions."
More to the Mahatma
Thirty-year-old actor Aman Dhaliwal, who also dabbles in social work, feels that Gandhi has been made into a one-dimensional figure, which he is not. "There are many instances which reveal that Gandhi appreciated the righteous fight of the deprived and the dispossessed."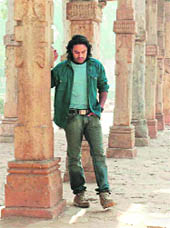 Aman Dhaliwal feels Gandhi has been made into a one-dimensional figure, which he is not
According to Aman, we have still not got Gandhi right. "We're too selfish to understand the significance of the Gandhian thought. Worse still, we are perennially time strapped. Time is money and we're ready for any trade-off that saves our time. The intelligentsia is too apathetic to get involved in polity. And the ignoramuses are having a field day. Overall, not a bright scenario," he sums it up.
"Wish Punjabi lyricists could take their cue from the Gandhian thought," says singer-actor Harbhajan Mann. He declares that it's time to say goodbye to aggression-packed lyrics.
"Bawdy lyrics, crammed with aggressive notes, are giving our youth a warped view of our culture. We, Punjabis, have a robust sense of humour. Why can't we have lyrics that reflect the best parts of our culture?"
Singer Rabbi Shergill finds some aspects of the Gandhian philosophy simply beautiful. "Gandhi's ideas on village-republics and his advocacy of political and economic decentralisation provide ample scope for the development of the individual," he says.
"Unfortunately, the Gandhian vision is getting blurred. We're being wheedled into giving up our centuries' old pluralistic culture. Besides, we hardly have any control over the fruits of our labour. A centralist ideology is driving us full throttle."
However, Rabbi does not consider the Gandhian ideology as a magic wand with cure-all effect. "I wonder whether the Gandhian ideology would have been successful if, instead of British imperialism, there had been other imperialist forces. For any ideology to work out in the practical domain, you need a kind of cultural affinity to strike the right chord."
Bapu bytes for the youth
Some popular Gandhi quotes that the youth connect to:
"When you are in doubt, or when the self becomes too much with you, apply the following test: Recall the face of the poorest and the weakest man whom you may have seen, and ask yourself weather the step you contemplate is going to be of any use to him. Will he gain anything by it? Will it restore him to a control over his own life and destiny? In other words, will it lead to 'Swaraj' for the hungry and spiritually starving millions? Then you will find your doubt and your 'self' melting away."
"I do not want my house to be walled in all sides and my windows to be stuffed. I want the cultures of all lands to be blown about my house as freely as possible. But I refuse to be blown off my feet."