How diabetes can be a hurdle in child bearing
Dr Meenal Kumar
Neeta has been going to her gynaecologist for the last several years due to infertility. Despite the use of all the medicines prescribed to her, luck has not smiled on her. Why? While she is a good patient in getting advanced investigations like ultrasound, MRI, etc, done to reveal the cause, she has not cared to arrest her bulging waistline or put a stay on her blood sugar level despite the doctor's pleadings.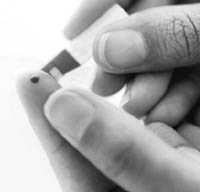 She feels diabetes and obesity can be managed after the conception! Her doctor feels otherwise; pregnancy may not occur until Neeta gives attention to her waistline and blood sugar level. Experts tell us that diabetes is a major menace. A recent report suggested that the number of diabetics has risen to 347m worldwide. Another report said that Chandigarh has about 13 per cent prevalence of diabetes, and it is rising.
The roadblock
The prevalence of reproductive malfunction in diabetic men approaches 50 per cent, whereas in diabetic women it seems to be only slightly lower. Diabetes is one of the most common causes of inability to conceive. Poor semen quality has been reported in diabetic men, including decreased sperm motility and concentration, abnormal morphology and increased seminal plasma abnormalities. In addition, diabetic men may have decreased serum testosterone.
Among diabetic women, neuropathy, vascular impairment and psychological complaints have been reported in the pathogenesis of decreased libido, low arousability, decreased vaginal lubrication, orgasmic dysfunction, and dyspareunia. An association between the production of excess radical oxygen species and disturbed embryogenesis in diabetic pregnancies has also been suggested. In fact, maternal diabetes during pregnancy is associated with an increased risk of complications in the offspring, such as altered foetal growth, polyhydramnios, foetal loss and congenital malformations.
The problems
A woman who has diabetes that is not well controlled has a higher chance of having a miscarriage or stillbirth. Also, the new-born may have birth defects. The organs of the baby form during the first two months of pregnancy, often before a woman knows that she is pregnant. Blood sugar that is not in control can affect those organs while they are being formed and cause serious birth defects in the developing baby, such as those of the brain, spine and heart.
The baby is "overfed" and grows extra large. Besides causing discomfort to the woman during the last few months of pregnancy, an extra-large baby can lead to problems during the delivery the for both the mother and the baby. The mother might need a C-section to deliver the baby. The baby can be born with nerve damage due to pressure on the shoulder during the delivery.
When a pregnant woman has high blood pressure, she may have protein in her urine, and can often develop swelling in her fingers and toes that doesn't go away. She might have preeclampsia, a serious problem that needs to be watched closely and managed by her doctor. Women with type 1 or type 2 diabetes have high blood pressure more often than women without diabetes. Also women with diabetes are more likely to deliver early than women without diabetes.
Treatment
A good control of diabetes and supervision by your gynaecologist are required. For people with diabetes, the first step in treating infertility is to control their blood glucose levels. When diabetes is well-controlled, there is a decreased risk for many complications like heart attack, kidney failure, nerve damage, blindness and sex-related problems. The second step is achieving a healthy weight.
The writer is a Chandigarh-based Sr gynaecologist.
Some tips
1. Eat breakfast, but not too much or too dense in calories
2. Include vegetables or salad in your lunch and dinner
3. Choose fruit as a snack
4. Replace full-fat food and drinks with reduced-fat alternatives
5. Choose wholegrain foods instead of more refined foods
6. Eat smaller serving sizes by using smaller plates and cups
7. Eat slowly and stop when you are satisfied, not stuffed full
8. Eat when you genuinely feel hungry, rather than for emotional reasons
9. Swap sweetened drinks such as soft drink and juice with water
10. Eat your evening meals early and at a dinner table with the TV turned off.