COLUMNS



THIS ABOVE ALL

TELEPROMPT

GOOD MOTORING

LIFE'S LESSONS

LEXICON

NETWATCH

FOR CHILDREN



CROSSWORD

RHYME TIME
Earlier Feature


TELEVISTA


AUDIO SCAN

Birth of a dream
As the vision of Harpal Tiwana shapes up in the form
of a centre for performing arts in Patiala,
Nonika Singh checks out his legacy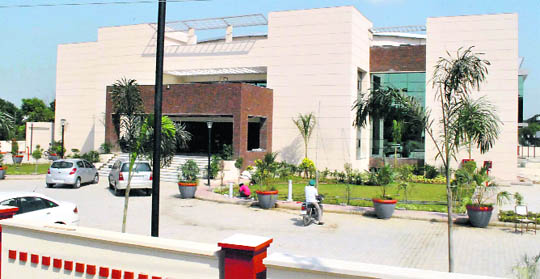 Finishing touches are being given to the state-of-the-art Harpal Tiwana Centre for Performing Arts at Patiala Photo: Rajesh Sachhar
W

e

all have dreams.... We all aspire for many things for ourselves, our near and dear ones. It is only the dreams of great men, which do not revolve around I, me, myself. Decades ago, theatre stalwart Harpal Tiwana dreamt of infusing professionalism and exemplary standards into Punjabi theatre. With productions like Hind Di Chaadar, Sirhind Di Deewar and many more, he enthused among Punjabis a sense of pride in their culture.
Soon, you can tweet in Hindi
There is a good news for Twitter fans in India as popular micro-blogging site is all set to launch services in Hindi soon. Twitter, which came into existence five years ago, now boasts of 100 million active users worldwide.
Facebook inspires young poets
Britain's newest generation of poets is finding inspiration in modern technology, rather than literary history, experts say. Today's young poets are, in fact, far more likely to cite the likes of Benjamin Zephaniah and Allen Ginsberg than T. S. Eliot or anything by Keats. It seems the Dead Poets Society has breathed its last, with only one of the 15 citing a "classic" poet as their inspiration.
The path to bliss
Paramhansa Yogananda's disciple Swami Kriyananda (J. Donald Walters) and his American devotees teach yoga and meditation to Indians at Ananda Sangha in Gurgaon, writes Sunit Dhawan
Truth, they say, is stranger than fiction. From a spiritual perspective, this seems to be part of some divine plan. An Indian yogi goes to the USA to propagate yoga and meditation in the West. He passes away in 1952, but his influence continues to grow, and his teachings reverberate.
Laser for a clear skin
There are various types of laser treatments for cosmetic and dermatological problems. The common man needs to be aware of the expected cost and adverse effects of the therapy, reports Vikas Sharma
Skin laser surgery has grown in leaps and bounds during the last 10 years. As new laser technology has evolved over the years, dermatologists have also helped define the specificity of laser-tissue interaction and employed newly developed laser technologies in innovative ways.