BASE camp
Ruma Kat
Have you ever imagined closing your eyes and standing at the edge? A step ahead, and the perfect free fall awaits you. The feeling is of nothingness one moment, and with a blast of air rushing past your body, you hit reality again.
For some this is a dream, something that doesn't have a place in their day-to-day lives, but for some more adventurous souls, the reality is right here: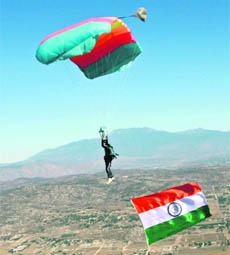 At the Malaysia International BASE Jump-2010, Archana was the only Indian representative among 120 participants and the sole person to do a flag jump with the Tricolour
BASE jumping is different from sky diving. Even though this sport has grown out of sky diving, it is different from the latter in some ways. BASE jumping takes place from lower altitudes and is held close to the object that serves as the platform for the jump. Also, sky divers use air flow as their base position, whereas BASE jumping involves a static position to jump off the edge.
THE BASE
Welcome to the base from where you can look down to jump off and get the real feel of extreme adventure sport. This awfully risky, but extremely adventurous and a must-try sport is known as BASE jumping, where the BASE refers to buildings, antennas, spans (bridges), and earth (cliff). "I don't remember being at the edge, but I remember the rush and how I felt like when I was floating during a free fall", says a base jumper after his first experience.
THE JUMP
BASE jumping as a sport has evolved in the last few years because of the introduction of special jump suits or wing suits giving a shape of an airfoil to the human body. This helps create an ideal lift and allows the person to travel at outrageous speeds horizontally.
World-famous BASE jumper Miles D. says, "When you get out on the edge of the railing, it won't be butterflies in your stomach. Those will be BATS, big ones, fluttering around!"
THE LANDING
In BASE jumping, the landing part is comparatively technical, and the parachute must open quickly. BASE jumpers can use specially designed harnesses and parachute containers, with extra large pilot chutes.
Also, the venue for the landing is very small and thus, has to be planned accordingly. "Under the canopy, I think about my set up points and how and where to enter the landing pattern and where I want to land. But more than anything I think about how much fun and wonderful this sport is", says a BASE jumper.
INDIAN CONNECTION
If you are thinking that to experience this thrill, you should have been born in some other country, then think again. Adventure lovers are everywhere, and even in India, there are people who are climbing high to fall from anywhere.
One such adventure lover in our proximity is 39-year-old Archana Sardana, who was in Malaysia recently to jump off from the KL Tower, a height of 300 meters (984 feet).
The KL Tower BASE jump International Festival is held every year where BASE jumpers from across the world come to jump off the edge of the tower, groove inside the city and land at the arranged pits. Last week was the 15th anniversary of the tower.
FLYING HIGH
Archana was the only Indian representative at the venue. Wife of Cdr. Rajiv Sardana, an avid mountaineer who is serving in the Indian Navy, Archana was born in Jammu and completed her schooling from Srinagar.
In 1997, she was married into this adventure- loving family in Panchkula, and since then, she has always been inspired by her husband to excel in these exciting sports. She did her Adventure, Basic and Advanced Mountaineering Courses from the Himalayan Mountaineering Institute, Darjeeling, and the Nehru Institute of Mountaineering, Uttarkashi.
Archana has completed 250 jumps from 400-feet-high bridge in Utah, USA, and has successfully qualified for flag jumps. Today she is India's first woman BASE jumper – a sport that is officially one of the world's riskiest extreme sport and has also registered her name in the Limca's Book of World Records for creating a national record in BASE jumping.
In October 2010, Archana did 12 BASE jumps from the Towers Menara Alor Setar and Menara, Kuala Lumpur, at the Malaysia International BASE Jump 2010. She was the only Indian representative among 120 participants from 22 countries and was also the sole person to do a flag jump with the Indian flag.
Archana feels it was her family that actually made her take to adventure sport. On her experiences, she says, "The feeling is something that I cannot put in words. More than anything else, it opened up a whole new world in front of me. It now fascinates me to stand there some 400 feet high above the ground and then let myself free and jump. Undoubtedly, the risk is always there, but when you know what you are doing, you keep your focus on the job."
ALL FOR A CAUSE
Recently, Archana has ventured into extreme adventure sports activities to promote the 'Save the girl child' cause by creating awareness about female foeticide. Her motto says: Stronger Women - Stronger India. Archana was also awarded Adventurer of the Year Award 2010 that came as an encouragement for her to continue her thrilling moves in this extreme sport.
Getting ready every morning, we see ourselves in the mirror and think of doing something different to break the monotony in our lives. After living in virtually packed schedules and box-type lifestyles, there is a definite need to break free. BASE jumping might just be what you need! Try it out.