For the love of language

Vice-President of National Sahitya Akademi Vishwanath Prasad Tiwari shares his views on the modern and contemporary scene of Hindi literature
S. D. Sharma
A man of letters , acclaimed poet and literary critic Prof Vishwanath Prasad Tiwari has not only enraptured Indian readers but also taken Hindi language and literature to a higher level.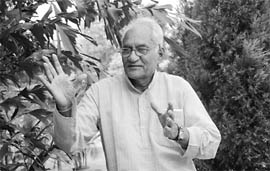 Vishwanath Prasad Tiwari Photo: Pradeep Tewari
Born in 1940 in the sleepy Bherihari villageof Kushinagar in Gorakhpur district, Tiwari `A0had the distinction of being the first-batch student of BA with Hindi in Gorkhapur University. he did his MA and Ph. D in Hindi literature. At present, he is holding the prestigious position of the vice-president of the National Sahitya Akademi, Delhi. Decorated with the KK Birla Foundationís prestigious Vyas Samman-2010 for Rs 2.5 lakh, Pushkin award at Moscow and many more awards, Tiwari is credited with 40 publications, including some edited books, among them seven poetic anthologies and 10 works of criticism, two travelogues, a memoir and a collection of interviews.
His works have been translated into many Indian and foreign languages. Blessed with a vision and impulse, Tiwari has travelled widely, conducted workshops and delivered lectures on Hindi literature at universities and other international fora. Fresh after delivering a talk on Mahatma Gandhi before an elite judicial fraternity and MPs at Parliament Hall last weekend, Tiwari was in the city on the invitation of the Chandigarh Sahitya Akademi for a similar discourse.
He shared his views on the modern and contemporary scene of Hindi literature. The National Sahitya Akademi was constituted to promote literature of all accredited languages and Hindi as envisioned by Pt Jawaharlal Nehru and Maulana Abul Kalam Azad way back in 1952.
How far has the Akademi accomplished its vision or met the expectations of genuine lovers of the language?
In over the 56 years of its dynamic existence, it has ceaselessly endeavoured to promote good taste and keep alive the intimate dialogue among the various linguistic and literary zones and groups through seminars, lectures, symposia, discussions, readings and performances.
The akademi has brought out thousands of books, translated works, magazines, monographs, organised workshops and lectures in India and abroad.
At present, over 150 foreign universities in the world have full-fledged departments of Hindi with a reasonable number of students.
Ever since the inception of the akademi, it is for the first time that you, a writer of Hindi, the national language, have been elevated as its vice-president?
In fact, it was all through the election process by member representatives of all states. Der aaye durust aaye. My election is indicative of the fact that the country has shed away all the lingual prejudices, with Hindi wining immense popularity. But that hardly matters as far as its promotion is concerned. However, all the languages eloquently reflect the social and cultural ethos of their respective regions.
What are the latest thoughts and trends influencing contemporary Hindi literature and what genre is better in concept and quality. Which discipline do you relish?
Writers have a responsibility towards social, psychological repression arising out of caste or political prejudices, poverty, squalor and allied reasons. Any literature depicts, directly or obliquely, the life, living trends and concerns of the people from time to time, which fire the imagination of the author. For instance, comparatively more has been written on issues concerning the predicament of females and Dalits, consumerism, commercialisation and globalisation since the past decade. Adivasis, whose plight is more painful, too, find ample mention in the literature, reiterating their fight for jal, jungle and zameen. Poetry and non-fictional works deserve a special mention while other genres, too, are improving. Creative writing is my first love and after 10 books on criticism, I have abandoned it.
What is special about the your literary magazine Dastavez completing its 34 years ?
My magazine Dastavez is basically designed and published for the intellectual readership only. No finance or infrastructure, but only a firm resolve, willpower and commitment is behind my endeavour. Without any prejudice, I wish to add that magazines like Sarika, Dinmaan, Hindustan from rich publishing houses have suffered due to a lack of dedication.
Any new project in the offing?
I published my first book in 1970, the last in 2008 and my latest project is my autobiography, likely to be out next year.