The efforts of motor sport enthusiasts and much more have gone into the making of the Indian Grand Prix. H. Kishie Singh reports on what is driving the show and how!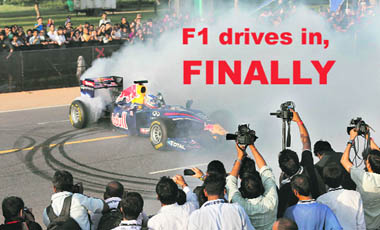 Formula One, or F1 as it is popularly referred to as, is finally coming to India. It is the pinnacle of motor sport and has a massive and dedicated following worldwide. Indians who are keen supporters of any sport will be in for a treat that will make their blood boil over. Even on television, when you see single-seater, open-wheel cars racing at 300 kmph and engines howling like a banshee the spine tingles. The overflow of adrenalin from the competitors is bound to find its way to the spectators.

Date with Stars


CAR-NIVAL Couple
Marshal Art
Vaibhav Sharma
While drivers, cars and speed hog the limelight, there is way more to F1, and one of the most important parts is the marshal. Marshals hold great responsibility and are expected to follow high standards with respect to their conduct and professionalism. To this end, it is important that all marshals strictly follow the basic rules set out below.
Art of the street
Popular art is not confined to the West alone. It has made inroads into the country's modern art scene too, discovers Brinda Dasgupta
More than half a century has passed since inception of the Pop Art movement in the West. Back then, Marcel Duchamp in New York turned a urinal upside down and titled it Fountain; afterwards, Andy Warhol was to take the world by storm with his commercial illustrations. Closer home, the phenomenon has taken some time to come of age, but today, it is coming into its own, and how.
Butterfly basics
Research has found that butterflies copy their neighbours to fool birds
A team of European scientists has solved the mystery of how a butterfly changes its wing patterns to mimic neighbouring species and avoid being eaten by birds. For the first time, researchers led by the CNRS (Museum National d'Histoire Naturelle, Paris) and the University of Exeter (UK) have shown how butterflies perform this amazing trick, known as "Mullerian mimicry".
A leaf from history
The museum set up by the Railways in the erstwhile summer capital of the British is a tribute to the skills of Bhalku, a simple labourer, who guided the construction of the Shimla-Kalka rail line, writes Pratibha Chauhan
Had it not been for the indigenous engineering skills of a simple village labourer, Bhalku, the Kalka-Shimla rail line, which has been bestowed with the UNESCO heritage status, would not have seen the light of day. The museum set up by the Railways in the erstwhile summer capital of the British is truly a rich tribute to the skills of the man, whose contribution even the British recognised.
Temples of love
Khajuraho Temples in Madhya Pradesh are one of the most popular tourist destinations in India. The largest group of medieval Hindu and Jain temples, these are famous for their erotic sculptures, writes K. J. S. Chatrath
Erotica is the first word that comes to mind when one hears of the Khajuraho temples. One of the most popular tourist destinations in India, Khajuraho has the largest group of medieval Hindu and Jain temples. These temples have been listed as a Unesco World Heritage Site.
A legend called Lata
M. L. Dhawan pays tribute to the melody queen, who has turned 82
Lata Mangeshkar shaped the golden era of music. Her contribution remains without parallels and includes some landmark songs that are defining moments in not only in her music but Indian music in general. Ghulam Haider taught Lata the finer points of "Dil mera toda, mujhe kahin ka na choda'`85in (Majboor/1948) starting off Lata's musical journey in Hindi films.
Sexy morning shows revisited
Diksha Madhok
A decade ago, there was hardly a street corner in Indian cities that wasn't plastered with sleazy posters of adult movies. Over the years, the posters and the risqu`E9 morning-show films they advertised have mostly disappeared from Indian cinemas.
It is Hollywood obsession for Bollywood
Claims about being featured in Hollywood movies, name-dropping, interacting with international directors and outfits designed for annual Cannes extravaganza are what most Bollywood actors are feeding to celebrity media, writes V. Gangadhar
Lakhs don't matter. In the film world, the talk is over crores. The name-dropping is all about Bollywood, being featured in Hollywood movies, interacting with international directors, outfits designed for annual Cannes extravaganza and so on. What is the truth factor in all this? No one knows, but sections of the celebrity media are ready to lap it up.
'I was a very shy girl'
Shoma A. Chatterji chats up Priyanka Chopra about her latest film Barfee and her journey to the top
You were in Kolkata recently for the shooting of Barfee. But at that time, you tended to shy away from the media. Why?
It was not me shying away as it was my director Anurag Basu's strategy not to allow my 'look' in the film to leak out. I play an autistic girl in the film and demanded a special kind of 'look' that might spoil the suspense of the character and the film. I must face the media in the profession I am in and there is no point in shying away as we are all into our respective jobs. Barfee has me in one of my most difficult characters over my career.