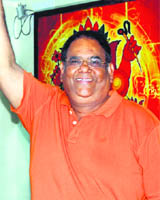 True entertainer
"Chandigarh girls are beautiful, talented as well as confident; definitely better than the boys," says Satish Kaushik, actor, director and judge for fashion show Modelle DE Lannee, which took place on Sunday in Chandigarh. That models can't do well as actors is now a concept of the past.





Comic Vein: Satish Kaushik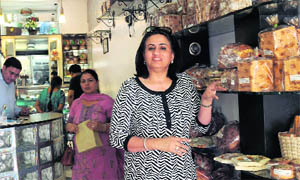 success mantra
ICING on the cake
An indulgent mother, Monica Sood would often want the perfect cake for her kids' birthdays. Her baking got appreciated and some motivation from friends as well as family made her start Monika's Puddings and Pies, which is a huge success today.


baking it right: Monica Sood

Punjab calling
"The freshness of the paddy fields and rivers of Punjab delight me," says Deepti Bhatnagar, who was in Ludhiana to inaugurate a beauty salon in Rajguru Nagar. Perhaps that's why she was here for the fourth time and has been to various other cities of the state as well.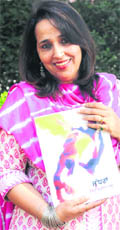 It's a woman's world
Mere safine ki chanan munar meri ammi ki nazar is a sentence that wraps up all the love and affection Bittu 'Safina' Sandhu has for her mother, who passed away 26 years ago. Unlike many of us, who just mourn a loss, she has managed to maintain a strong connect with her mother. Launching her second book, Sadhran, she talks about human relations, women who have touched her life and much more.






Poetic musings: Bittu Sandhu

Par Excellence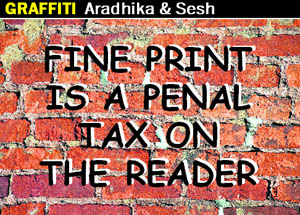 The routine—set up
The first step of the routine is to take the grip. One of the methods mentioned last week is to take the club initially in one's left hand for right handed players. Some professionals prefer to pick up the club with the right hand (picture 1). This helps set the right hand correctly which controls the club head during an impact. It is impossible to get into a strong right hand position with this method. If you tend to have an error with your left hand grip, follow the method of initially taking the club by your side with your left hand (last week's article). If you have problems with your right hand grip pick up the club initially with the right hand and then slip the left hand in (picture 2).


Gimme red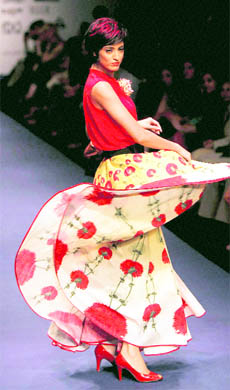 A model displays a creation of designer Ritu Kumar during the second day of the Wills Lifestyle India Fashion Week Spring Summer 2012, in New Delhi. —PTI
star track
Rest in peace
Ghazal King Jagjit Singh is no more. His voice will always resonate among us, but he has left a void in the world of music. The B-town reacts and copes up with the grief

n Singing star
n Crossover concerns
n Rakhi's complaint
n My mother thinks I am too mature: Rihanna
n More the merrier
n Caribbean dreams
n Finger on your lips
n Slow and steady
n Small step
chatter box
Fashionable stars
Fashion and stars go hand in hand as stars make numerous appearances for events, functions, launches and promotions. We take a look at the style quotient of some celeb couples and see how they measure up

n Sizzling performance
n What's cooking?
n Shoe fetish