Suffering from arthritis? 'Move to improve'
Dr Ashit Syngle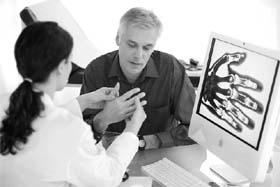 Today one in five adults suffers from arthritis. Beyond the human pain, the disease also carries a high economic tag. The good news is that arthritis is not inevitable or untreatable. Relief is available for many forms of arthritis. Apart from specific treatments, a person afflicted with arthritis needs to follow self-help strategies to manage the disease better in coordination with the healthcare provider. Dr Christian Bernard, the famous cardiovascular surgeon who performed the first successful human heart transplant operation, himself suffered from arthritis. He once said, "Control your arthritis, do not let it control you." Physical activity is a key self-management strategy for persons with arthritis.
"Move To Improve" is the theme for World Arthritis Day-2011 which falls on October 12. Being physically active is good for general health and can have specific benefits for people with rheumatic or musculo-skeletal disease (RMDs), such as helping to keep our joints mobile. The most appropriate form of activity will depend on a number of factors, including the type of RMD you have, which joints are affected, the level of joint damage, etc. This is why it is important to consult your doctor about the type of exercise you need therapeutically, as well as the type of activities you enjoy doing to keep you healthy.
The common factor for most people with arthritis is the pain it can cause and this can be a major reason why they feel put off exercising, but regular and appropriate exercise can have enormous benefits. An appropriate exercise programme can reduce joint pain and stiffness, strengthen the muscles affecting the arthritic joint and improve the flexibility and joint mobility apart from other benefits like weight reduction and improvement in cardio-respiratory functions. It also helps promote overall health and fitness by giving you more energy, helping you sleep better, controlling your weight, decreasing depression, and giving you more self-esteem. Furthermore, exercise can help stave off other health problems such as osteoporosis and heart disease.
So, it's obviously a no-brainer. You've got to move. But sometimes it's not so easy to get started. The important thing to remember is to start slow and make it fun. It is always good to start with flexibility exercises, which are basically stretching exercises that will improve your range of motion and help you perform daily activities. Once you feel comfortable, you can move on to weight training and endurance exercises such as bicycling.
Level of exercise
What will be a hard or difficult form of exercise for one person may be much easier for someone else. For example, walking, cycling or swimming at a gentle pace (low intensity) might have an aerobic effect (increase your heart rate and breathing) for some people, while others would need to exercise at a moderate-to-high intensity to experience the same effect. This will depend on a number of factors such as your age, your general state of health, disease progression and how regularly you have been exercising. Choose a level of exercise that works for you.
Starting out
Always begin gently and build up slowly over time. It is better to do little and often than to try and overdo things and to push yourself too hard when you start exercising. If you do need to stop exercising for any reason, always start again gently and build up slowly. When you reach your required level of function, you will need to keep up regular activities to maintain this level.
How much exercise
When you repeat activities regularly your body will adapt to the new situation over time and you will find that you can do more with less effort. Regular exercise can also help slow or prevent the loss of function due to disease progression. Ideally, you should try and do some stretching/flexibility exercises every day, muscle strengthening and endurance exercises two to three times a week and some form of aerobic exercise for 20 minutes three times a week. Luckily, different types of exercises can be combined in one programme!
The key is to find things you enjoy doing so that being active is something you look forward to and this becomes part of your daily life.
How to choose the best exercise programme
A comprehensive exercise programme for a person with arthritis includes flexibility, strengthening and aerobic activities. The content and progression of the programme depends upon individual needs and capabilities. Persons with long-standing or severe disease or multiple joint involvement should undertake exercises in collaboration with a healthcare team. The most successful exercise programmes begin with the knowledge and support of people like rheumatologists, who are experienced with both arthritis and exercise.
The writer is Senior Consultant-Physician & Rheumatologist, Fortis Multispeciality Hospital, Mohali. E mail: ashitsyngle@yahoo.com
Did you know?
The word 'fit' comes from the following:
Frequency – how regularly you exercise
Intensity – how hard you exercise
Time – how long you exercise
Now the word fitness is used to describe health and the ability to meet the demands of a physical task.