COLUMNS



THIS ABOVE ALL

TELEPROMPT

GOOD MOTORING

LIFE'S LESSONS

LEXICON

NETWATCH

FOR CHILDREN



CROSSWORD

RHYME TIME
Earlier Feature


TELEVISTA


AUDIO SCAN
A legacy of courage
As the First Battalion of the Parachute Regiment (Special Forces) celebrates its 250th Raising Day this month, it looks up to an inheritance of heroism and professionalism, having etched its footprints across the globe, writes Vijay Mohan
Four...three...two...one...go..!!!" orders the team leader in an undertone. A split second later, armed figures, clad in battle fatigues, their heads and faces covered with camouflaged scarves, move like lightning, kicking-in the door of the building against whose walls they had been stealthily crouching against, and charge inside in a pre-planned and deliberate manner.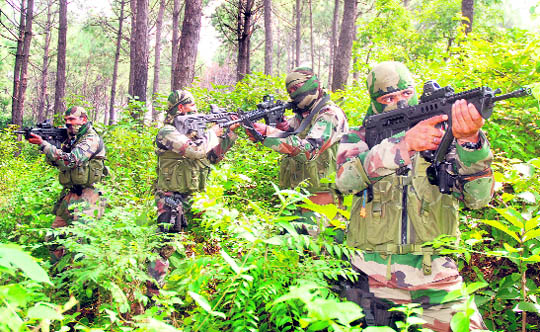 The battalion traces its origin to the Madras Army of the East India Company and was raised by Captain Cooke at Trichinopoly in October 1761
Jewels for life
Surekha Kadapa-Bose checks out trends in bridal jewellery for this wedding season
Come festive season, especially weddings, and the entire talk and worry over the escalating prices of the yellow metal goes for a toss. A recent survey has indicated that though gold had hit an all-time high, there was still 30 per cent increase in the sale of gold during the Dasehra festival.
A fort in danger
Patialaís Qila Mubarak is losing its sheen with each passing day. It has become discoloured and many portions of the structure have collapsed due to lack of maintenance, reports Gagan K. Teja
Standing tall and having witnessed the changes in the royal city for almost two-and-a-half centuries, Qila Mubarak, the erstwhile residence of the famed Patiala dynasty, is struggling for its own existence now. Despite being considered as the identity of the city for years together, the Qila is losing its sheen with each passing day due to negligence on the part of Department of Cultural Affairs, Archaeology and Museums.
Creations that rock
Designers find that they have to take the risk of experimenting for the GenX with new styles and looks, says Sita Mehta
there has been a sea change in the approach of Indian fashion maestros, namely, that of originality. Yes they`A0are now looking inwards, gathering inspiration from our ethnic sources, rather than adapting western catalogues. As a result, for this yearís festival season, we have in the market a lot of traditional cotton weaves, indigenous silks like tusser with its beautiful textures decorated with phul butis.