Cash of the titans
The latest controversy surrounding Anil Kumble's clash of business interests is just the tip of the iceberg
Sunil Narula
Almost everything surrounding Indian cricket and the BCCI has become so much embroiled in one controversy after another that we have kind of become impervious to it all. Nothing seems to surprise us any longer. Well-established (even if clichéd) commentators have been shown to have compromised their positions, the BCCI president is immersed neck-deep in a sea of shenanigans, the chairman of selectors is more interested in seeing his son play for the country, the captain of the team wants his pal (the one who's carousing on a Miami beach) to come and join the squad in England without having been in touch with the game and so on. It's kind of become routine. It fails to shock us.

Sunil Gavaskar


K. Srikkanth
Still, when Anil Kumble was also shown to have compromised his position, it came as a rude jolt. Okay, Kumble is no Mahatma Gandhi (as he himself wants to put it), but it still came as a shock.
Now what's Kumble done after all? Kumble is the president of the KSCA (Karnataka State Cricket Association), chief mentor of Royal Challengers Bangalore (RCB), chairman of the National Cricket Academy (already that's one role too many) and now he has also started his own player management firm (Tenvic) that seeks out endorsements and contracts for cricketers. And two players from Tenvic (S. Aravind and R. Vinay Kumar) have made it to the Indian team.
By virtue of his being president of the KSCA, Kumble gets to appoint the selectors and these selectors in turn get to pick players on contract with Kumble's firm for the state team, for the RCB and so on. That's how the set-up can work. And, of course, Tenvic gets it share or percentage of the endorsement. A pretty neat way of making a lot of money.
Kumble co-owns this company which he started in January this year. The other partners in Tenvic are Kumble's brother Dinesh and former Karnataka table tennis player Vasanth Bharadwaj. And Tenvic gets its name from Kumble's great achievement when he grabbed all 10 wickets in an innings of the Test match at the Ferozeshah Kotla in New Delhi against Pakistan in 1999. Also, by virtue of his being the chief mentor of the RCB, Kumble is in a position to get IPL contracts for players associated with Tenvic.
All this shows that Kumble has a clash of interest here. The BCCI president has a clash of interest (he owns IPL team CSK), former players-turned-commentators have compromised their positions, the captain has compromised his, the chief selector has a clash of interest and now Kumble's name, too, has been thrown into this sordid mix.
Insiders believe that the new BCCI president wants to increase his stranglehold (already he has a deadly grasp over everything) over all affairs and he wants more prominent people to be associated with him. And, of course, no one can be more prominent than Kumble.
It has been seen in the past that K. Srikkanth by virtue of his being brand ambassador of the CSK had more than just a soft corner for players of that franchise when it came to picking the Indian team. And for espousing the cause of board president Srinivasan's team (CSK), Srikkanth has already been rewarded with a one-year extension.
The BCCI and those associated with it have clearly displayed that they are only interested in making a lot of quick money and do not want to be answerable to anyone. If players are getting injured, they don't want to address that except by saying that injuries do happen. If the team puts up an abysmal show in England and loses the Test series 4-0, they say it's just one bad series. If the players feel that the Indian team is playing too much cricket, they say this is how the ICC calendar has been drawn.
On the other side, they keeping manipulating deals there is no end to their shenanigans. Murky deals keep coming out of the closet but the BCCI president keeps getting away with everything every time. There's also little point in saying that the BCCI should be brought under the purview of the Sports Ministry because such big-scale blundering on every count cannot keep going on without the tacit approval of people on top. The BCCI has started feeling and believing that it can never be wrong. Such delusion of grandeur shows one thing: the BCCI is heading fast on the road to perdition.
Commentators' Club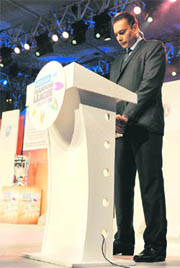 NO COMMENTS!: Commentator Ravi Shastri was in the news recently when it was reported that he was actually on the pay roll of the BCCI Photo: AFP
Cricket commentators Sunil Gavaskar and Ravi Shastri were recently in the news when it was reported that they were actually on the pay roll of the BCCI and had their hidden agendas while speaking on air. It was alleged that they almost always toe the line of the BCCI while commentating. For example, when all the players were getting injured on the recent tour to England, neither of them (Ravi or Sunil) said anything against the IPL. It is also alleged that apart from having their agendas, while speaking they also dictate as to who gets into the commentary team. Quite early they roped in Sanjay Manjrekar into the commentary box with them but when Manjrekar started becoming more popular they eased him out and got in Navjot Sidhu. When Sidhu started becoming popular with his Sidhuisms, he was suddenly nowhere to be seen again in the commentary box alongside these two stalwarts. They then roped in Wasim Akram, who was a great player in his time, but even Wren and Martin (together) will have a tough time trying to figure out Akram's sentence formation and grammar of the English language. But such commentators can never pose any threat and there's no reason to feel insecure. So, we have to listen to these cliché-ridden lines over and over again. "That one went like a tracer bullet."
Mahi management

A lot of eyebrows were raised when M. S. Dhoni pressed for the inclusion for R. P. Singh for the Test matches in England recently. Well actually, it is not so much of a surprise if one knows that R.P. Singh and Dhoni (and Suresh Raina) are managed by the same company — Rhiti Sports Management. This company is run by Dhoni's manager and childhood friend Arun Pandey.
Rhiti Sports Management also owns the exclusive marketing rights for IPL team Chennai Super Kings (CSK), the team owned by BCCI president N. Srinivasan. Dhoni was seen complaining vociferously in England that he (and his players) never got any rest and that is why the team was losing so badly. But just two days after coming back from England, Dhoni was leading CSK in the T20 Champions League. He sure knows where his priorities lie. In fact, Dhoni has become so much enamoured with Chennai that he has even purchased a high-end flat in one of its upmarket areas. After all, the captain has so much to do in Chennai.