Irreverent, intimate and funny

Welcome to Americastan
By Jabeen Akhtar.
Penguin. Pages 266. Rs 499.

Reviewed by Uttam Sengupta
SAM, Sammers or Samira, the protagonist of Jabeen Akhtar's debut novel, declares unequivocally, " I don't think like an American, I don't think like a Pakistani and I don't think like a Pakistani-American." Akhtar's narrative is also neither American, nor Pakistani or, for that matter, entirely Pakistani-American.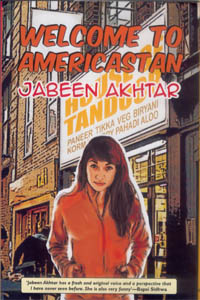 It does provide glimpses into the lives of a generation of Americans of Pakistani origin, who grew up at the receiving end of occasional racial slurs like "fucking Arabs" or "sandniggers", getting mistakenly identified as "Indians" and increasingly asked to explain whatever is happening in Pack-i-stan (as the Americans would pronounce it) or Pock-ee-stan (as the desis would). Samira, of course, cannot care less about what is happening in Pakistan and resents the grilling "(as if) I was a spokesperson for Pakistan or somehow had privileged access to information about Pakistan's foreign affairs—that every Pakistani on earth knew each other and we tweeted each other daily".
The first-person account of the young woman—who returns home in North Carolina after being dumped by her boyfriend of eight years, fired from her job because she was jailed after trying to run over her ex-boyfriend, who left her for her best friend—could well have turned into something unbearably mushy and filmy. It doesn't because of the underlying humour that runs through the book and the author's unquestionable ability to laugh at herself and the community at large.
Samira finds her name in the FBI's terror watch list and has nightmares about not being able to fly or get a job ever again. But she is astonished to find over a million names in the list—some foreign, some Muslim-sounding and many names of white Americans, names of famous people like Nelson Mandela, names of two-year old kids and names of dead people. She correctly concludes that the list is actually useless.
Samira's ambitious father, who bears scars from the partition of India, drafts her to write the "mission statement" for an association he has set up, named with mock exaggeration as PAC-PAC (Pakistani-American Council for Political Action Committee). She agrees and merrily lifts entire passages from the mission statement of some other society, available on the Web—sometimes simply replacing the words "sea turtle" with Pakistani-American.
The humour is even more direct when the daughter of a "desi" uncle jokes about how her mundane job profile in Washington D.C. had been bloated beyond recognition. "That's desi information for you," she naughtily exclaims, "There's a thirty per cent accuracy rate".
Akhtar effortlessly portrays a generation which does not think it a big deal to try out drugs or to "fuck around a little or have a one-night stand" because "everyone does that". The sister, Meena—who lost her virginity in junior high school and who does not mind experimenting with lesbianism or to give a blow job to a drug peddler and who thoughtfully lends a packet of condoms to Samira when she starts dating again—and the parents also come alive in the book. The accounts of the family are warm, funny and intimate and would strike a chord with readers who would readily identify with the situations. Ghar-ghar ki kahani, really.
It is a welcome addition to the growing number of books written by Pakistani authors in English. But unlike The Reluctant Funadmanetalist by Mohsin Hamid or A Case of Exploding Mangoes by Mohammad Hanif, Akhtar's debut novel is a breeze—light-hearted and yet thought provoking. Indian and Bangladeshi writers have written before about expatriate families from the subcontinent. This book is a delightful addition to the list.