ART & LITERATURE

'ART & SOUL
ENTERTAINMENT

TELEVISION

GARDEN LIFE

NATURE

FOOD TALK

CONSUMER, BEWARE!

FASHION

GLOBOSCOPE

BRIDGE

ULTA-PULTA
EARLIER FEATURE

TRAVEL

RELATIONSHIPS

DREAM THEME

TIME OFF
Soil to soul
Son of the soil Jagjit Singh not only became a ghazal legend but also did a lot for other genres of music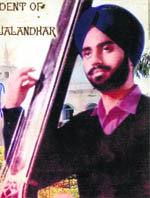 S. D. Sharma
Bade shauq se sunn raha tha zamana, hum hi so gaye dastan kehte kehte...
With five decades of musical excellence, Jagjit Singh, the maestro who enraptured the world with his incredible contribution to film and ghazal singing, Punjabi folk, devotional, and popular music, would have regaled music lovers for more times to come but destiny willed otherwise. Very few maestros have elicited the love and affection of music lovers the world over as Jagjit Singh, who continued to be in the limelight since his childhood days at Sriganganagar.

A turbaned Jagjit Singh with a tanpura during his graduation days in DAV College, Jalandhar



GIFT of GHAZAL KING
Pampered misery
Handbag-style dogs are being abandoned by owners after the animals started showing behavioural problems due to over-pampering
The number of miniature dogs handed over to dog shelters has tripled in the past one year after they developed behavioural problems from being over pampered. The 'fashion accessory' dogs, apparently popularised by celebrity icons like Paris Hilton were reportedly being dumped at animal shelters after owners got bored and couldn't handle them anymore.
Eternal tea
Tea has stirred conflicts and created chaos. The destinies of several individuals and even the world have been decided, rulers overthrown, peace treaties signed and declarations of war made over cups of tea, writes Suparna-Saraswati Puri
Derived from the Chinese, the word tea occurs in almost all languages of the world. This is the name by which the beverage came to be known in the countries it initially arrived via sea (the in French, tee in Germany, te in Italian). Meanwhile, the countries it reached by land adopted a derivative of the more common Chinese pronunciation cha.
Touch of tradition
The artistic consciousness of paharis finds reflection in Himachali women's attire — a perfect blend of aesthetic appeal and utility, writes Roshni Johar
Ethnicity is fashion apparel's latest buzzword. Regional dresses of Himachal — whether dohru of Kulu-Manali, rejta of Kotkhai or ghagra of Gaddis, all worn and wrapped in woollen shawls and crowned with topis or dhatus (scarves) — are attracting`A0global admiration. Undeniably, Himachal has been bestowed with picturesque natural charm.
Romance of Quebec
Put on your walking shoes to explore the city of Quebec, which is sure to cast its magical spell on you with its grandeur, writes Seema Sachdeva
The first thing that strikes you about the city of Quebec, the capital city of the Quebec province of Canada, is its old-world charm. The magic of a bygone era can be felt in the stone walls, cobblestone streets, old lamp posts, Norman-style houses, dormer windows, richly carved window frames, besides the numerous murals and tapestries that adorn the walls of the city.
Bard of Benaras
Britain-based filmmaker-writer Nasreen Munni Kabir has collaborated with A. R. Rahman to bring out a documentary on shehnai maestro Bismillah Khan, writes Madhusree Chatterjee
Shehnai maestro Bismillah Khan had "music on his face", remembers Britain-based filmmaker-writer Nasreen Munni Kabir, who struggled to bring out a documentary on the famous bard of Benaras until the intervention of composer A. R. Rahman.
Inflatable concert hall
Indian sculptor Anish Kapoor is designing an inflatable concert hall for disaster-hit Japan
Indian-origin sculptor Anish Kapoor is designing a giant inflatable concert hall, which will bring music and performance arts in some areas of Japan. These were devastated by the earthquake and tsunami, which hit earlier this year. The hall, seating up to 700 spectators, will be a "pneumatic structure" so that it can be inflated quickly with air.
'Mod is not a usual love story'
Says Nagesh Kukunoor in conversation with Arnab Chakraborty about his latest film Mod and his foray into the genre of love stories
In Bollywood, love stories are more common than anything else. So why would someone want to watch Mod?
Well Mod is a love story but it is not the kind you see in Bollywood today. For me, love stories work only when characters are mismatched and the journey of falling in love is equally important if not more than the actual act of falling in love. If you as the audience already know yes, these two people are already made for each other then the fun is lost, but if the characters are quirky as it is in Mod, you wonder that how are these two people going to come together.
Ranbir gets rocking
Sreya Basu catches up with Ranbir Kapoor on his latest film Rockstar, in which he got an opportunity to act with grand-uncle Shammi Kapoor
How much of Ranbir Kapoor do we see in Rockstar?
Janardhan Jakhar is not a cool guy. I won't say it was the toughest role for me to play, but it was a great experience. Being on the journey of the film itself, I have learnt a lot and grown as an actor. When people see this character, they can see me somewhere in him.