Soil to soul

Son of the soil Jagjit Singh not only became a ghazal legend but also did a lot for other genres of music
S. D. Sharma
Bade shauq se sunn raha tha zamana, hum hi so gaye dastan kehte kehte...
With five decades of musical excellence, Jagjit Singh, the maestro who enraptured the world with his incredible contribution to film and ghazal singing, Punjabi folk, devotional, and popular music, would have regaled music lovers for more times to come but destiny willed otherwise.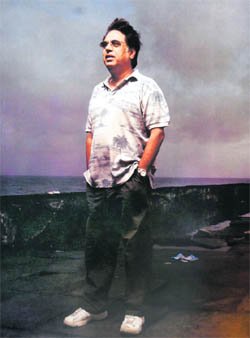 Jagjit Singh moved to Mumbai in 1965 in search of a singing career
Very few maestros have elicited the love and affection of music lovers the world over as Jagjit Singh, who continued to be in the limelight since his childhood days at Sriganganagar.
Jagjit Singh was born in Sriganganagar, Rajasthan. His father, Amar Singh Dhiman, a government employee, was a native of Dalla Behrampur in Punjab, and his mother, Bachchan Kaur, hailed from Ottallan village, Samrala. Out of his four sisters, only Inderjit Kaur is alive, while his elder brother Jaswant Singh and younger brother Kartar Singh are settled in Jaipur and Delhi, respectively.
He studied at Khalsa High School and later at Khalsa College, Ganganagar, topping in inter-science in college before joining DAV College, Jalandhar.
His father had engaged Pandit Shagun Chand Joshi and Ustad Jamal Khan for grooming Jagjit, but his music skills blossomed during his formative years at DAV, Jalandhar, and later at Kurukshetra University. He moved to Bollywood in 1965 and the rest is history.
"Some persons are born to lead and so was Jagjit, affectionately called Jeeti in our family," says his elder brother Jaswant Singh (75). "As a school student, Jagjit was crowned Bul Bul-e-Rajashan and he maintained his tradition of excellence in music till the end," adds Jaswant.
"Ours is a God-fearing family. Once our Satguru visited us and observed that his real name, Jagmohan, did not match his pratibhashali persona and renamed him Jagjit Singh, saying he was bound to win the world," recalls Jaswant, a former senior education officer.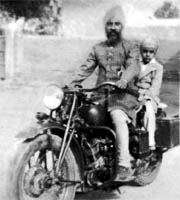 Jagjit Singh straddled across a Bullet motorcycle behind his father
Jagjit Singh was a complete artiste with a perfect understanding of the deepest emotions inherent in poetry, song or blank verse and believed that poetry lay at the heart of a ghazal, a film song or any other composition. "Jagjit Singh was completely involved in the production of his over 50 albums and film songs, and he left nothing to chance," says Nida Fazli, a popular film lyricist. "The film industry has lost a gem of a person and the loss is certainly irreparable."
Unable to come to terms with the tragedy, Hans Raj Hans, the rajgayak of Punjab, who was with Chitra at Lilavati Hospital a little before Jagjit Singh's demise, termed it as "a great loss." Recalling his close association with the maestro while being a judge for reality show Mohe Rang Lay on Pragya channel for three months and other projects, he describes him as an institution in himself. "During the past 50 years, I have never come across a maestro with such a profound depth of knowledge of music, a soulful voice with khairaj so prominent. I am indebted to the babbar sher of Punjab, who had taken music, particularly the ghazal, to such a spectacular level on the world stage. Such pioneers of music are born once in a span of centuries," feels Hans, a prominent sufi, folk and playback singer.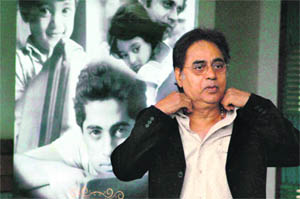 The singer in front of a portrait of his late son Vivek Singh in Chandigarh Photo: Vinay Malik
A foremost disciple of Jagjit Singh and eminent ghazal singer, Vinod Sehgal, who spent 24 years with his guru, is a custodian of his legacy. A simple person from Ambala, Vinod could sing in 58 films and serials under the blessed tutelage of Jagjit Singh and looked upon him as his godfather. Says Vinod, "I was the only disciple who shared the stage with Jagjitji and Chitraji during the tours in the UK, the USA and other countries. Guruji immortalised my voice in serials like Mirza Ghalib, Kahkashan, Ravan and others," says the shattered disciple.
Equally admiring of the gayaki and human values of the legendary Jagjit Singh, Dolly Guleria, acclaimed folk and ghazal singer, remembers their family association with him and enjoying of his ghazal concerts at Delhi. "He was very disciplined and serious, but humorous during leisure time. He always addressed me as a 'moti with bareek voice," shares Dolly. He did a lot for promoting saaf-suthri Punjabi gayaki, she adds.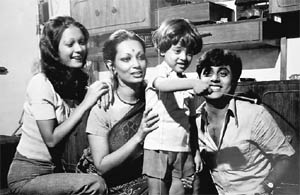 Jagjit Singh and Chitra (second from L) enjoy some time with family
"Jagjit Singh always rued the fact that while the musical arts in Punjab had been at the top, with legends like Bade Gulam Ali Khan, K. L. Saigal and others reigning supreme, somehow the film industry in Punjab had not come of age," recalls Neena Tiwana, a former Punjabi actress and wife of thespian Harpal Tiwana. Jagjit had scored music for her two hit films Laung da Lishakara and Deeva Bale Saari Raat, and certain plays. "A founder trustee of the Harpal Tiwana Foundation, Jagjit Singh was to perform on October 13 at the opening ceremony of the Rs 14.3-crore foundation a Patiala," says Neena with a tinge of sadness.
His childhood friend and close family associate, Ashok Bhalla, a Ludhiana businessman, who was witness to the rise of the maestro from a mediocre background, remembers that Jagjit fought the adversities of life with courage and conviction. Recalling the sudden death of his only son Vivek on July 28, 1994, he says, "Jagjit accepted it as the will of WaheGuru and continued to serve humanity with his melody, leanings towards devotional music, while Chitra chose to abandon it. Despite attaining celebrity status Jagjit remained the same old guy for us, cracking jokes and sharing our joys and sorrows alike."
The Sangeet Natak Akademi chairperson and an old associate of Jagjit Singh, Kamal Tewari, prominent vocalist and flautist Ravinder Singh, who had performed with him on many occasions, call it an "irreparable loss." "The maestro has left behind an eternal treasure of music to be relished for centuries to come," they feel.
Pandit Yashpaul, an Agra gharana stalwart, and Vijay Vashisht of All India Radio were his old associates from DAV College, Jalandhar.
GIFT of GHAZAL KING
M. L. Dhawan
After K. L. Saigal, Begum Akhtar and Talat Mahmood, Jagjit Singh gave a true vocal identity to the genre of ghazal singing. His true contribution lies not just in what he sang, but also in institutionalising his genre of music in the subcontinent.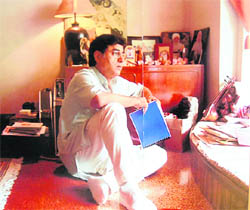 Jagjit Singh at his studio in Mumbai
Jagjit Singh arrived in Mumbai in 1965 in search of better opportunities for being a musician and singer. To find a foothold in the film industry ruled by giants like Mohammad Rafi, Talat Mahmood, Mukesh and Manna Dey and others was not an easy task, but Jagjit did not lose heart. His fresh voice was a departure from the prevalent style of ghazal rendition. Sceptics had their reservations, but his voice was a hit.
His earliest assignments were singing advertisement jingles or performing at weddings and parties. Jagjit Singh was first offered a song for a Gujarati film Dharti Na Chhoru.
During the 1970s, the art of ghazal singing was dominated by established names like Talat Mahmood, Ghulam Ali and Begum Akhtar. Jagjit Singh was the quintessential a romantic, singing chartbusters like "Dhayee din na jawani nal chaldi kurti mal mal di,"' but somewhere deep within him there was a turmoil and pain that made him bring out the longing and hurt of a lover in songs like "Tum itna jo muskra rahe ho/kya ghum hai jisko chhupa rahe ho.."(Arth) . Who can forget the look on Shabana Azmi's face in the scene where Jagjit Singh sings the playback,"Aankhon mein nami hansi labon par/kya haal hai kya dikha rahe ho"?
Such was the vocal virtuosity of Jagjit Singh that he could build a fan following for his ghazals, especially in an age when Talat Mahmood held the nation in a thrall. The velvety feel of songs sung by Jagjit Singh in films like Arth, Saath Saath, Sarfrosh, Prem Geet, Tum Bin and Tarkeeb etc gave a new dimension to ghazals in films. In film Dushman his number, Chithhi na koiee sandesh/jane woh kaunsa desh/jahan tum chaley gaye had all the elements of a pain-ridden prayer to the Almighty.
To recall Jagjit Singh's film songs alone would be to overlook his oeuvre as a super performer in the richer realm outside cinema — that of the private ghazal. Every ghazal that he sang has its musical colouring, is dainty in tone, pleasing in timbre and has a magical expression which moves the listeners to delight. Jagjit Singh had brought to ghazals his individualistic style, called crooning. He conquered hearts with his soothing voice and established a rapport with his audience and overwhelmed them with his lilting vocals in ghazals like "Baat niklegi to phir door talak jayegi", "Sarakti jaye hai rukh se naqab ahista, ahista," "Pathar ke khuda pathar ke sanam" and others. The true quality of his ghazals is that these needed no visuals to stay embedded in the mindset of the music lovers. HMV— the gramophone company of India — thrived on his popularity and released a large number of albums of his ghazals.
The heart-rending ghazals in the album Someone Somewhere by Jagjit and wife Chitra Singh embody the deep personal loss at the death of their only son. Sajda, an album which has ghazals sung by Jagjit Singh and Lata Mangeshkar, establishes him as the uncrowned 'king of ghazals.'
With each album unprecedented popularity came naturally to Jagjit Singh and the fervour with which each album was received ensured sure-fire success and took him to the pinnacle of glory.
Jagjit Singh prefered to draw on the traditional heritage of ragas to form the basis of his tunes and proceeded to embellish his ghazals with modern orchestration.
As a result, his musical compositions are marked by a distinctive and delightful blending of the traditional and the modern. Jagjit Singh has been acclaimed far and wide for clarity of words and subtlety of expression. His ghazals used the choicest poetry of renowned poets, including Mirza Ghalib, Firaq Gorakhpuri, Qateel Shifai, Sudershan Fakir and Nida Fazli, Javed Akhtar and Gulzar. Though Jagjit Singh was popularly known as the ghazal king, he charmed the audience with equal ease in the Punjabi, Hindi, Urdu, Gujarati, Sindhi and Nepali languages and made a tremendous contribution to the music industry, for which he was awarded the coveted Padma Bhushan in 2003.
Ghazal singing is bound to receive a setback, because after the death of giants like Begum Akhtar, K. L. Saigal, Talat Mahmood, Mohd. Rafi etc, Jagjit Singh kept this genre alive with his unique enunciation, that was the preserve of an exponent only of his standing.