M A I N N E W S
Yeddyurappa moves to ICU from jail
Shubhadeep Choudhury
Tribune News Service
Bangalore, October 16
Former Karnataka Chief Minister BS Yeddyurappa, who was sent to judicial custody yesterday, took ill in the early hours of today and was shifted to a cardiac care institute being run by the state government.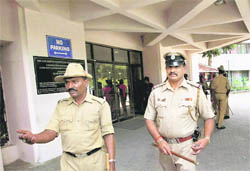 ON GUARD: Policemen outside the hospital where former CM BS Yeddyurappa has been admitted. — PTI
"Yeddyurappa is in the ICU. We have carried out his ECG, echo-cardiograph and blood tests. Some more tests will be carried out tomorrow. We will have the reports by 5 pm tomorrow," Dr CN Manjunath, the hospital director, who is son-in-law of former Prime Minister and Yeddyurappa's bete noire HD Deve Gowda, said.
Yeddyurappa's former ministerial colleagues Katta Subramanya Naidu, accused in a land scam case, and Hartalu Halappa, accused of rape, had also spent long periods in the hospital after being sent to jail.
Yeddyurappa, 68, reportedly had high blood pressure and vomited a couple of times at about 1.45 am, which prompted the jail authorities to rush him to the hospital.
"When Yeddyurappa was brought here around 2 am, he had chest discomfort and vomit sensation. Preliminary investigations showed he was stressed out with high blood pressure (100/180) and high blood sugar as he is a diabetic," Manjunath said.
A five-member medical team has been formed to monitor Yeddyurappa's health and conduct further tests. He is being kept in ICU as he needs to take complete rest.
Further stress or strain will complicate his health, Manjunath, a reputed cardiologist, who was last year given a five-year extension as director of the Jayadeva Institute of Cardiology by the then Yeddyurappa-led government, said.
Yeddyurappa's counsel had earlier said he would move the High Court on Monday seeking bail for the former Chief Minister.
The Special Lokayukta Court yesterday rejected the bail plea and issued an arrest warrant against Yeddyurappa, who has been facing allegations of denotifying government land, violating rules when he was the Chief Minister.
The BJP leader later surrendered before the court, which remanded him to judicial custody till October 22.
A number of Karnataka ministers including Chief Minister DV Sadananda Gowda, Home Minister R Ashoka, Minister for Water Resources Basavaraj Bommai, Excise Minister MP Renukacharaya, Law Minister S Suresh Kumar and Energy Minister Shobha Karandlaje today visited Yeddyurappa at Jayadeva Institute.
Several MLAs also headed for the ICU ward where Yeddyurappa is undergoing treatment. Yeddyurappa would be kept under observation for 48 hours.