M A I N N E W S
Andhra Govt cracks down on Telangana protesters
Suresh Dharur
Tribune News Service
Hyderabad, October 16
Apparently goaded by the party high command, the Congress government in Andhra Pradesh has toughened its stand on Telangana agitators and launched a crackdown without sparing its own party MPs and MLAs.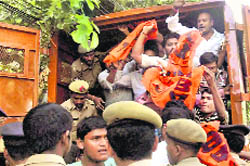 Police detains agitators in Hyderabad on Sunday. — PTI
The arrest of several MPs, legislators and other pro-Telangana activists during the ongoing three-day 'rail roko' programme reflected the hardening stand of the government which earlier appeared helpless in the wake of continued agitation.
The elected representatives of the Congress and the Telangana Rashtra Samithi (TRS) were arrested under the stringent, non-bailable provisions of the Railway Act, a move that evoked strong protests from a section of the ruling party.
Several agitators, including Congress MP P Prabhakar, TRS MP Vijayashanthi and former Congress Minister T Jeevan Reddy, were sent to jail after their arrest for leading protests at railway stations.
After his recent trip to Delhi, the Chief Minister N Kiran Kumar Reddy has been talking tough and sending strong signals to the protestors. According to Congress sources, the Central leadership had advised the Chief Minister to take a tough stand against the protesters.
Reddy was also asked to adopt a carrot-and-stick policy to see that the striking employees and workers of Telangana region withdrew their stir.
The tough stand appears to be yielding desired results. After a gap of 28 days, the state-run RTC buses are back on the roads in Telangana region while the Joint Action Committee of government teachers announced that they would resume their duties from tomorrow.
However, the teachers added a rider that they would not accept salaries as a mark of protest till the Centre conceded the demand for separate Telangana state.