M A I N N E W S
3 feted for 'elevating the Sikh experience'
New York, October 16
Three prominent Sikhs, including senior Indian diplomat and author Navtej Sarna, have been given the Sikh Heritage Awards for their contribution to "elevating the Sikh experience".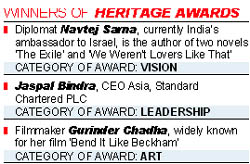 Sarna received the award in the category "Vision", from the Sikh Art and Film Foundation here on Saturday at an awards gala celebrating the rich heritage, traditions and culture of the Sikhs with a star-studded evening of dance, art exhibition and auction.
Sarna, currently India's ambassador to Israel, is the author of two novels "The Exile" (2008 ) and "We Weren't Lovers Like That" (2003).
His non-fiction titles include "Folk Tales of Poland" (1993), "The Book of Nanak" (2003) and most recently, "The Zafarnama" (2011), a translation from Persian to English of Guru Gobind Singh's letter to Aurangzeb.
The Sikh Arts and Film Foundation is a non-profit cultural organisation dedicated to creating awareness of and pride in the diversity, culture and history of the Sikhs.
Besides Sarna, Heritage Awards were presented to Jaspal Bindra, CEO Asia, Standard Chartered PLC for Leadership and filmmaker Gurinder Chadha (of the "Bend It Like Beckham" fame) for Art. — Agencies