Roadways Strike
4-hour ordeal for passengers
Bus services from ISBT-43 affected; long-haul travellers worst hit
Tribune News Service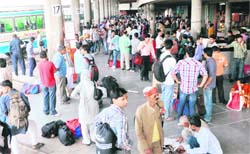 Passengers await the resumption of bus services in Chandigarh on Thursday.Tribune photos: Vicky Gharu
Chandigarh, October 20
A four-hour joint strike observed by employees of the Chandigarh Transport Undertaking (CTU), the Himachal Road Transport Corporation (HRTC), the Pepsu Road Transport Corporation (PRTC) and the Haryana Roadways left thousands of commuters stranded here today.
Union leaders prevented the buses from plying from the Inter-State Bus Terminus, Sector 43, from 9 am to 1 pm, forcing local as well outstation commuters to desperately wait for the services to resume.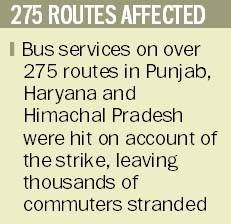 Sahil Chauhan had to reach Kotkhai in Shimla district for some important work by evening but was stranded at the terminus due to the strike. Chauhan was supposed to catch another bus from Shimla to his village. However, the strike forced him to postpone his journey, as he would have missed the connecting bus to his village from Shimla after reaching there late in the evening.
The strike hit travellers, especially those accompanied by their little ones, undertaking long-haul journeys the hardest.
Priyanka Dogra, who was looking to board a bus for Manali with her husband and a two-year-old son, said: "It's really frustrating. We have to board a bus for Manali, but this four-hour delay will upset our scheduled time of arrival at the destination."
According to transport officials, apart from the local bus service, services to Patiala, Bathinda, Ludhiana, Amritsar, Shimla, Katra, Manali, Pathankot, Kangra, Baijnath, Dabwali, etc. were hit on account of the strike.
All buses reaching the ISBT-43 were parked outside the terminus, which was already packed with buses following the strike.
The workers raised slogans, holding the state government responsible for their plight.
The commuters blamed the administration for not taking steps to ensure that the bus service wasn't disrupted.
Baldev Singh, a government employee, said the authorities should have planned something in advance to avoid such a situation from arising. It had caused great inconvenience to thousands of people, he said. "I had to catch a bus for Abohar in the morning but this strike has upset my schedule and I will now reach home past midnight," he added.
Major demands

Revision of pay scales


Promotion scale on the lines of "A" grade officers


Paid leave for drivers/conductors in case of injury at work


Revision of overtime TA rates


Uniform/washing allowance four times the current allowance