REALTY BYTES
Toshali Resorts to invest Rs 115 cr on new projects in 3 yrs
Hospitality company Toshali Resorts International will invest over Rs 115 crore in the next three years in new projects and may sell about 20 per cent stake to raise funds to finance the expansion.
Delhi-based Toshali Resorts, a part of TK International that operates three resorts - one each in Goa, Puri and Shimla - will soon start construction of a 100-room hotel property in Bhubaneswar, Orissa.
"We have a Rs 100-crore hotel project coming up in Bhubaneswar and have also taken long lease for four properties of the Orissa government in the Buddhist Circuit which will be operated by us with an investment of around Rs 15 crore," Toshali Resorts International Director Marketing Harihar Patra told PTI.
Asked about the financing plans for the projects, he said the company is considering equity dilution of up to 20 per cent to raise the funds required for expansion.
"We may also look at other ways of raising funds such as bank loans and commercial borrowings," Patra added.
The company's current annual turnover is Rs 22 crore and is expected to grow around 30-35 per cent annually once the new projects are operational, he added.
The new hotel project in Bhubaneswar is likely to start in the next couple of months and will take three years to get completed.
Unity Infraprojects bags 402 cr orders
Infrastructure developer Unity Infraprojects has secured new projects worth Rs 402.80 crore. The company has bagged an order worth Rs 135.28 crore from Rail Vikas Nigam, Jharkhand, which is in connection to the third line being established between Goelkera and Posoita in the state.
Unity Infraprojects was also awarded a Rs 47.94 crore contract for developing a commercial structure by Marvel Edge Realtors at Viaman Nagar, in Pune, and a Rs 135.77 crore order from RITES in Karnataka for construction of school buildings at Gulbarga.
Apart from these, it has also bagged the contract for laying the Botad branch canal in Gujarat from Sardar Sarovar Narmada Nigam, which is valued at Rs 83.81 crore.
TDI launches business centre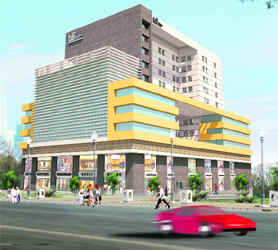 Apart from providing a lot of choice to homebuyers, a number of residential and integrated city projects in and around Mohali have also increased the scope for commercial property growth in the area as the growing population of the city will need retail and office space soon. Thus a number of commercial projects have been launched in the city over the past few months. The latest to be announced earlier this week was the TDI Business Centre by Taneja Developers and Infrastructures Ltd.
The group's first Business Centre in this region is spread across 1.6 acre with built-up area of 3 lakh sq.ft. (approx.). It will have about 1.75 lakh sq ft office space and is a part of 300-acre (approx.) TDI City, Sectors 117-118. The project is likely to be finished in three years' time.
"In its recent initiative to attract private investment and materialise the dream of Mohali Master Plan, the Punjab Government has approved many infrastructure projects of repute and these steps will provide a perfect environment for businesses to take root and thrive here. The need for commercial space is going to increase once people start moving in the residential areas and our project is aimed at providing a good business hub to businessmen and a good avenue to investors", said Sanyam Dudeja, COO, TDI (Punjab) while talking about the trend of investing in commercial property.
"While residential property is a good investment for long-term as price appreciation is more, commercial property is a stable investment for those looking for an assured regular income", he added.
The group is providing two payment plans for those investing in the project. The assured return plan promises an 11 per cent return till possession to those paying 90 per cent of the cost at the time of booking. So if a unit price is Rs 40 lakh and the buyer pays Rs 36 lakh initially then he'll get Rs 11,000 per month till possession is handed over. And in the construction-linked plan the investor has to make part payments from time to time as the project progresses.
Lodha Group announces Rs 10,000-cr project in Mumbai
Real estate developer Lodha Group recently announced over Rs 10,000 crore investment in a new project in Mumbai. The project, titled New Cuffe Parade, will come up at Wadala and is spread across 23 acres over the next five to seven years. The project will comprise commercial as well as residential towers, company Chairman and Managing Director Abhisheck Lodha told reporters in Mumbairecently.
The 23-acre plot is part of the 250-acre land bank that the company had bought from the Mumbai Metropolitan Region Development Authority (MMRDA) for Rs 4,053 crore.
Last year, the authority had invited bids for developing a 101-storeyed iconic tower at Wadala on design, build, own, operate and transfer (DBOOT) basis.
While other three bidders Sunteck India, Indiabulls Real Estate and Gaurhari Estate had quoted Rs 3,465 crore, Rs 3,327.50 crore and Rs 2,251.99 crore, respectively, Lodha had quoted Rs 4,053 crore and emerged as the highest bidder.
According to sources, Lodha, however, had to scrap the plan of constructing an iconic tower after it failed to receive clearance from the Directorate General of Civil Aviation (DGCA). The company is facing similar problem for the 17-storeyed World One project at Worli in central Mumbai where the DGCA granted permission only for 90 floors. An international agency is still studying the proposal for the other 27 storeys.
Speaking about the New Cuffe Parade project, Abhisheck Lodha said, "The project will be a planned development by the best minds in urban planning, making it a world-class destination". The project in its first phase will consist of a pair of 63-storeyed towers, and will have 15 acres of green space. "While 75 per cent of the land will be dedicated to development of gardens, on the remaining 25 per cent, 70 per cent will be development of residential towers and 30 per cent for commercial and retail space," he said.
The project is designed by WOHA, a leading green architects for high-rise buildings.
Possession time
Panchsheel Buildtech Pvt. Ltd, a leading real estate company of NCR has started the possession of its project, "Wellington" located in India's first global city, Crossings Republik, Ghaziabad. Wellington is spread over an area of eight acres and is a part of 360-acre township. The project comprises 2, 3 BHK apartments and penthouses, area ranging from 1050 sq. ft. to 2900 sq. ft. There are eight towers with 1,450 units. While handing over the keys to customers Anuj Chaudhary, Director, Panchsheel Buildtech Pvt. Ltd, said, "I am delighted to hand over the keys and welcome the buyers to their new homes at Wellington. The project was a dream of not only for us but also for the people who bought their flats in this project". — PTI