Gorging, greening & gaiety
Fitness often takes a back seat in the festival season. Sports stars talk about succumbing to sweet temptations and having a green Diwali, writes Amit Khanna
Boxer Akhil Kumar
I would have loved to be in my hometown Rohtak on Diwali, as it is a special feeling to celebrate the festival with your near and dear ones. But with the training at the NIS, Patiala, under way and the Senior Nationals coming up shortly, the training camp is going to keep me busy at Patiala. The saving grace is that my wife, mother and daughter will be joining me there only and I am looking forward to having a fun-filled Diwali this time, too.
Festival fitness: To say the least, I am a known mithai buff and I can literally gorge on them and it is very hard to keep myself away from the delicacies on offer during Diwali. I try to keep them to the minimum though, as weight control is a norm for us sportsmen.
Green Diwali: It is great idea to celebrate it in innovative ways and if it can lessen the strain on the environment it would be an advantage. I fully support the idea of a green Diwali.
Wrestler Sushil Kumar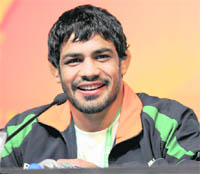 I am in Delhi these days and I have not thought of Diwali celebrations still, as the preparations for the Olympic qualifiers are keeping me utterly busy, but, yes, I always rush home for Diwali and this time will not be any different. I will be home with family and friends and that's how I want to celebrate it. It's like a marriage in the village.
Festival fitness: I love sweets but my idea of cutting down calories is to eat only homemade ones. I somehow feel sweets prepared at home are safer and have lesser fat content.
Green Diwali: People should opt for eco-friendly options while going in for crackers, decorations and lightings. Yes, crackers are an integral part in the celebrations, but we should also be conscious of our environment and not go overboard with the bursting of crackers.
Shooter Avneet Sidhu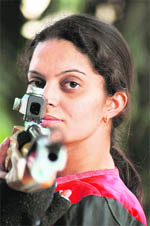 Just like anybody else, Diwali is very special to me. Though unlike many, I am not a cracker person and I do not like bursting any sort of noisy stuff. I have never been one to spend on fireworks right from childhood. My idea of celebrating the festival of lights is by putting up a lot of diyas and lights and going to the gurdwara with family. I prefer celebrating the festival at home, but more often than not I have to be away given my sports commitments. This time though I am training at the Phillaur Police Academy, I am trying my best to be at home for Diwali.
Festival fitness: I have a sweet tooth and I do indulge myself, as it is very hard to resist the temptation of goodies during Diwali but I do it in a restrained manner, as overeating has negative effects.  So, sweets are definite yes for me but in a restricted manner.
Green Diwali: I have never liked the idea of polluting the environment on any festival. It is not a healthy way to celebrate a good occasion. We should promote the idea of a green Diwali more aggressively.
Cricketer Ravindra Jadeja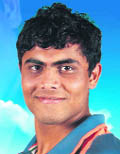 This is a festival I always want to be home for, just like anybody else. But this Diwali, too, I will be mostly away from home playing the England series. My idea of celebrating the festival of lights is to have fun with close friends and relatives. I am looking forward to celebrating it with my teammates, that, too, on a winning note.
Festival fitness: I like sweets and indulge in them during the festival, for I know that I will work out harder and burn the extra calories gained on the field later.
Green Diwali: The pollution levels are rising by the day and it is any day better to celebrate Diwali in less polluting ways if we can. I admit it will take away the sheen somewhat but keeping in view the long-term benefits, the idea of green Diwali is surely a step in the right direction. Planting a tree can be another way of initiating change.