Reason to smile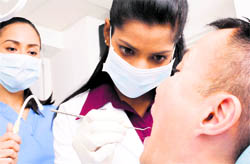 Today we visit the dentist not only when we have a toothache or problems with gums and teeth, but often for a variety of cosmetic reasons. Looking good is so important that many dentists stay busy not only handling the cavities, root canal fillings and teeth correction, but more often in improving a patients' appearance by using a wide variety of cosmetic dental procedures. A dentist's fields of work, therefore, include periodontics (care of gums and the diseases that might afflict them), oral pathology (diagnosis for diseases that affect the mouth) and orthodontics (straightening and aligning teeth and jaws).
From farms
Training to enhance returns in dairy farming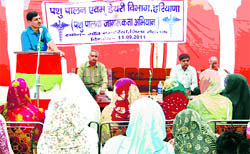 India produces 15 per cent of the total milk production in world but ironically, the productivity of dairy animals here among the lowest in the world. At present about 50-60 per cent milk is handled by the cooperative sector and about 70 per cent of farmers involved in this business are landless or hold less than one hectare of land. Almost 1, 10,000 cooperative societies are operational in our country and milk production is one of the major means of livelihood for rural folk.
Prawn farming skills
A two-day training programme on "Skill development in freshwater prawn farming" was organised by the Department of Aquaculture, College of Fisheries, Guru Angad Dev Veterinary and Animal Sciences University (GADVASU), Ludhiana recently. As many as 22 farmers from Punjab, Haryana and Himachal Pradesh attended the training programme.
Spurt in demand for agri grads
India will require more than double agriculture graduates from the present 29,000 per annum in the next 10 years, a top official of Indian Council for Agricultural Research (ICAR) said recently. Taking into consideration the manpower requirements in different sub-sects of agriculture, ICAR in an assessment and draft policy paper suggested that there was need to double agricultural graduates in another decade, S Aiyappan, Director General, ICAR, said. Aiyyappan, who is also secretary,Department of Agriculture Research and Education, Government of India, said there was a need to have agricultural colleges in every district.
career compass
Sound structures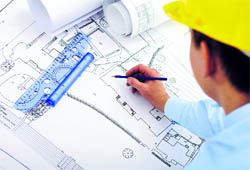 Architectural engineering is the branch of engineering concerned with the application of engineering principles to the design and construction of buildings and other structures. In architectural engineering, the focus is on the systems used to construct new buildings or restore the older ones. These systems include the building structure itself, the lighting, sound, and electrical systems, along with the heating, ventilation, and air conditioning systems. Other engineering systems include the plumbing structure, fire safety and energy conservation systems.
Course CHAT
BCA in Cyber Security
Appin Knowledge Solutions in collaboration with Tilak Maharashtra Vidyapeeth, Pune has launched a three-year online BCA Programme in Cyber Security — The Appin Pathfinder. This UGC recognised degree is the world's first BCA programme in cyber security.
Industrial Safety Management
A safe bet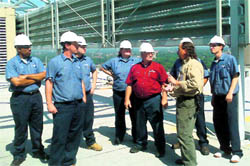 Safety issues have become key issues in the wake of rapid industrialisation and urbanisation in our country. As a result this field holds abundant employment opportunities. According to Industrial Policy Act, 1948, it is mandatory to follow safety measures in any industry. Any industry having more than 1,000 employees is required to have a safety manager whose duty is to ensure that all safety measures are properly provided for in that organisation. Industries dealing in chemical fertilisers, drugs, machinery etc have jobs for safety officers and managers and those with courses in fire management and machine dealing have good job scope in these industries.
NEWS BOARD
Tie up
A certificate/ diploma from Alps Academy of Beauty and Hair has entered into a tie up with Habia, U.K. to add international punch to its diploma course in beauty care. "With this tie up students wanting to settle abroad will be able able to get better opportunities as Habia works with VTCT whose approved centers are recognised in over 100 countries all across the globe like UK, USA, France, Italy, Spain, Greece, Japan, China, Ireland, etc. Our specially designed makeup courses will help girls and boys skills to become self employed, independent and create business opportunities for themselves in the beauty industry", said Ms Bharti Taneja, Principal of the academy. The institute has introduced international make up courses for the budding makeup artists and beginners.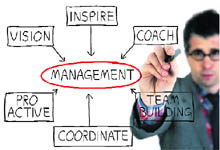 Tough task
While the country may have withstood the global recession earlier, the jittery economic scenario of the past few months has shaken the business confidence once again and many organisations are gearing up for a situation when they might have to take some tough decisions about the future. Managing in an organisation after people have been retrenched is extremely challenging — particularly when staff fear that more retrenchments will follow.
Buffer for job loss
With lay offs and pink slips hanging like the proverbial Damocles' sword over the heads of thousands of employees in different sectors many employees have started opting for a "job loss" insurance to shield themselves from the monetary pressures ensuing from the loss of job. Over the past one year there has been an increase in the number of people who have opted for such insurance cover. There has been a 25-30 per cent increase in the policy counts.
Stress triggers absence from work
How cool is your profession? A new study has found that stress at workplace has become the number one cause of long-term absence from work. The study, carried out in almost 600 organisations in the UK, also found a link between job security and mental health issues, with employers planning redundancies "significantly" more likely to report problems among their staff.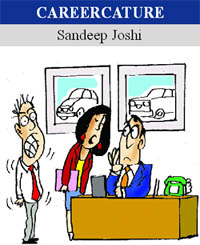 Not stress! He is suffering from post-Diwali traumatic syndrome.

Happiness @ work
Gems of ancient wisdom
Office office
Besides colleagues, bosses and workflow, the place where you spend one-third of your day — the workplace — plays a vital role in your happiness. Plan the office in such a way that each worker feels happy coming there.
Oracle's hiring in India
Oracle has announced an aggressive recruitment drive in India to hire 3,500 employees across all its businesses that support domestic and global customers. As part of the ongoing recruitment drive within Asia Pacific, the heightened need in India is a result of the company's growth across all business units (software, hardware, middleware, applications) for Oracle India and Oracle Global Business Units and includes positions at all levels from graduates to senior sales staff and technical/ pre-sales consultants.
Management Tip
Effective mentoring
Companies with abundant mentoring opportunities are more likely to retain their people. To achieve this they offer a range of mentors for people at different career stages. Here are three types of mentoring you should consider: