M A I N N E W S
4 hours, 4 attacks, 4 securitymen hurt in J&K
Ehsan Fazili/TNS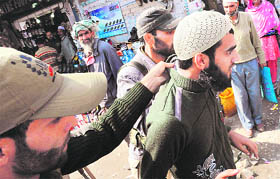 Police detain a man for questioning in Srinagar. — AFP
Srinagar, October 25
Within four days of Chief Minister Omar Abdullah announcing the decision to withdraw the Armed Forces Special Powers Act (AFSPA) from some parts of the state, militants today carried out four attacks targeting security personnel in as many hours in the Kashmir Valley, injuring three CRPF jawans and a policeman.
Two grenade were lobbed on security installations in central Srinagar in a span of about five minutes followed by an aborted attempt to target a police party with a grenade in south Kashmir's Shopian district. Later, a policeman was shot at and injured in nearby Anantnag, prompting authorities to tighten vigil. No militant outfit has claimed responsibility for the attacks yet.
In the first incident, three CRPF jawans were injured when "unidentified militants" hurled a grenade towards a bunker of 132 Bn CRPF at Akhara Building, Maisuma, in the Budshah Chowk area here. Those injured have been shifted to the SMHS hospital for treatment.
The second grenade attack was targeted at a CRPF picket near the Batamaloo bus stand. However, no damage was caused as a result of that explosion, the police said.
In the third incident, unidentified militants hurled a grenade towards a police party deployed near an ATM at Zainpora in Shopian district of south Kashmir. The grenade, however, did not explode. It was later defused by the bomb-disposal squad of the police.
In the fourth incident, a constable was injured when some militants fired at him at the Anantnag bus stand. Anzar Ahmad Mogal, he was taken to the SKIMS hospital for treatment.
Chief Minister Omar Abdullah had, on the occasion of Police Commemo-ration Day last Friday, announced the decision to withdraw laws like AFSPA from some areas of the state in a few days, in view of improvement in the security situation.
Later, during his meeting with members of the visiting team of Secretaries led by the Union Cabinet Secretary Ajit Kumar Seth, Omar Abdullah had conveyed to the Centre that these laws could be withdrawn from two districts of Srinagar and Budgam in Kashmir valley, apart from Jammu and Samba districts. These laws have been in force in the state, except for two districts of Leh and Kargil, since the eruption of militancy. (With PTI inputs)