M A I N N E W S
Today in mini Lhasa, soil will connect several souls
Lalit Mohan/TNS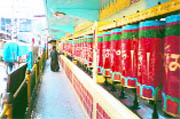 Dharamsala, October 25
For thousands of Tibetans living in exile here — especially those who have never been to their homeland — it will be a truly emotional moment.
Starting tomorrow, they would be able to set foot on their soil. US-based Tibetan artist Tenzing Rigdol has made this feat possible. Rigdol has managed to import 20,000 kg soil from Tibet (China) and he would be proudly displaying it at the Upper Tibetan Children Village, a school run by the government-in-exile, at Mcleodganj. The soil would be spread on the ground there, making it possible for Tibetans to touch and feel it.
"I can hardly wait for sunrise. I have always dreamt of this moment. I will be actually able to have a feel of my native land, which I have never been able to visit," said an emotional Dorjee, who was born and brought up here.
Septuagenarian Tsering, who had to leave Tibet along with many others many years ago, says it will be a nostalgic moment. "I am longing to touch the soil of my country," he said.
Artist Rigdol at a function tomorrow would divulge details of how he managed to import 20,000 kg of Tibetan soil into India. The event has already started attracting the imagination of Tibetans in and around Mcleodganj.
Rigdol says he was motivated to organise such an event by his father. "In 2007, my father fell ill while living as a refugee in New York. His desire to visit Tibet before his death remained unfulfilled. So, I decided that I would give Tibetans — who are living like refugees, in some cases separated from their families — a chance to connect with their native land," said Rigdol. "For some, it will be a feeling of nostalgia tomorrow and for some a completely new experience," he added.
Thubten Samphel, secretary of the department of information and international relations of the Central Tibetan Administration, said that Prime Minister-in-exile Lobsang Sangay would inaugurate the three-day event, 'Our Land, Our People'.