M A I N N E W S
Buddh Circuit gets a thumbs up
F1 chief calls it a super track
Ex-world champ Jackie Stewart also heaps praise

New Delhi, October 27
Teething problems were evident at India's new Buddh International circuit as the drivers arrived on Thursday but Formula One's main man declared himself satisfied. "Super. The track is super," commercial supremo Bernie Ecclestone told Reuters in the paddock as teams set up their garages and workmen busied themselves painting markings in the pit lane.


Beauties rally behind beasts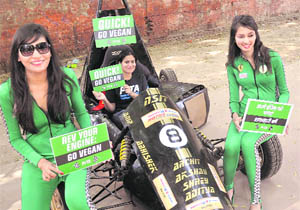 People for the Ethical Treatment of Animals (PETA) activists pose as pit crew with a racing car during a promotional event in New Delhi on Thursday. Tribune Photo: Mukesh Aggarwal
"They did everything we wanted them to do within, what, two or three years of reaching the agreement," continued the Briton. "It took Silverstone 25 years, so I think they've done very well."
A lack of clear signage outside the circuit caused some confusion while media centre staff battled an immediate power cut. Television reporters said they had suffered three separate outages in their compound by lunchtime. A small bat, disturbed from its slumbers, flitted around above reporters heads in the press room before finally finding an exit and disappearing into the sunshine. Some buildings remained clearly unfinished, with what was immediately dubbed a 'stairway to heaven' leading vertiginously up to a flat roof and a sheer and unprotected drop.
The overall appearance of the $450 million facility, which will host India's first grand prix on Sunday, was nonetheless impressive even if lacking a particularly Indian flavour.
"I just walked in and it looks hugely impressive," retired triple world champion Jackie Stewart told Reuters as he arrived in the paddock. "From just driving in, the scale of it, it's extraordinary. I think it's wonderful and this is the new world. And they've done that like that," added the Scot, clicking his fingers.
"When we think of the old world, we can't do that. But it will still take two years to get it right. Just like it will take two years to get the new Silverstone complex right. It's not anything to do with India or England, it's to do with just the realities of making everything synchronised and working without any glitches."
Vicky Chandhok, father of Team Lotus reserve driver Karun and head of the Indian Motorsports Federation, was pleased with how things were shaping up. "Let's be honest, it's like a new-born child. You've got to nurse it along," he told Reuters in his paddock office. "We've all got to accept there are a few shortcomings but at least the will to do it is there. That's the most important factor. There's no lack of money or will to do it. It will get done. The promoters are very clear. Whatever it takes, spend it," he added.
Chandhok said the track itself, with smooth asphalt and a long fast straight, was winning plenty of plaudits. "You've got some electrical and plumbing issues but the circuit, talk to any driver and I think they are absolutely gobsmacked this morning," he grinned. "They love the circuit. There's not a single team principal that hasn't come up to me and said what a fantastic circuit it is."
The next stage, said Chandhok, would be to stamp some local character on a facility designed by German track architect Hermann Tilke. "I think by next year we need to Indianise the paddock. Right now, this could be anywhere," he said. "The promoters were very clear yesterday, they said let's finish this year and then by next year leave it to us, we'll move our Indian architects in and get this thing done." — Reuters

Schumacher: Winning is the only taste I like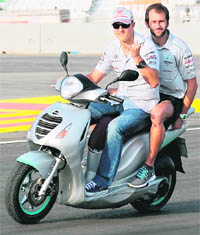 Mercedes driver Michael Schumacher (L) rides a scooter as he inspects the F1 track on Thursday. — AFP
Greater Noida, October 27
Five-time Formula One world champion Michael Schumacher concedes it hasn't quite gone to the plan in his second coming but the legendary German remains determined to make his way back to the top as winning is the only taste he likes. Schumacher, who won five consecutive titles from 2000 to 2004, had rejoined F1 with the Mercedes team in last year but his young compatriot Sebastian Vettel is dominating the scene with two consecutive drivers' championship titles.
The 42-year-old, who won an incredible 91 races from 261 starts, is yet to get on the podium in his second innings. Three fourth-place finishes in 2010 and another fourth-place finish at this season's Canadian Grand Prix have been his best results.
Asked if his aura is diminishing due to the not-so-impressive comeback, he said the results will come with time. "It's not exactly how we have expected when I rejoined. We all had different expectations. To be on podium and win races. That was the target. But we have to understand that it was not possible due to the reasons explained in the past. We have to be patient," he said.

'Looking forward to meet Sachin'
They are friends but Michael Schumacher does not quite remember when was the last time he and Sachin Tendulkar met each other and the German Formula One legend wants to catch up with the cricketing icon while being here for the Indian Grand Prix. The two grabbed quite a few headlines in 2002 when Schumacher gifted the keys of a Ferrari to Tendulkar after the Indian equalled Sir Donald Bradman's tally of 29 Test centuries.
"Even I don't remember when was the last time we met but I am looking forward to meet him," said Schumacher who is in the capital for this Sunday's Indian GP.
Tendulkar, an avid F1 fan, has already stated that he would be supporting the Vijay Mallya-owned Force India during the Indian GP. "I am excited about Indian Grand Prix F1 race. I will support the Force India team. I have friends like Michael Schumacher but I will support Force India because that is the Indian team and country comes first," Tendulkar said.
Schumacher's teammate Nico Rosberg, meanwhile, has been exploring the city and even took a rickshaw ride while checking out Old Delhi. — PTI

Alonso appeals for a polio-free India
New Delhi, October 27
Two-time world champion Fernando Alonso today appealed for a polio-free India after visiting an institute, where he met children affected by paralysis, here. "Every child deserves the right to run, to play and to live a healthy life without polio," Alonso, also the UNICEF brand ambassador, said during a visit to Chacha Nehru Bal Chikitsalaya (CNBC) in east Delhi today.
"Polio is a terrible, crippling disease of children which we can and should eradicate from the planet." Hours after landing in India for the country's inaugural Formula One Grand Prix, Alonso spent hours interacting with the children. He also distributed Diwali gifts to the kids in the wards and those undergoing physiotherapy for paralysis in the hospital's Child Development Centre. — PTI

Greater Noida: Fans queueing up to catch the Formula One action at the Buddh International Circuit can look forward to being ferried from the parking area to the venue on 'Green Cabs' -- three-wheelers that run on electricity. The cabs, launched today, are the first of their kind in the country. The cabs have built-in GPS systems, fare meter and a back-up call centre for cabs on demand.
"The launch of Green Cabs at F1 is part of business relationship with Buddh International Circuit to provide for a cleaner transportation during the event. Also this is a prelude to what we are giving to our society in terms of zero carbon emission and mode of cleaner transport system at the venue," said Ajay Singh, chairman of Green Wheels Pvt Ltd, a Delhi and Noida-based company. — PTI