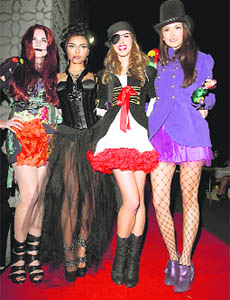 Hell of a time
A night for the witches, ghosts and vampires; Halloween is definitely a night for Chandigarh youngsters too!
The charm of the dead and the evil is as old as old school itself. It's not for nothing that for most of us Macbeth remains more of a mystery than a tragedy. Lizard's leg, owlet's wing, eye of a newt, toe of a frog, scale of a dragon and tooth of wolf…hell can be so much fun. Halloween's all the more! It's a night of mischief, an eve when the ghosts, the witches and the fairies take over. So, while the superstitions continue to struggle with religious beliefs, the youngsters, in the meantime, are more than willing to give their thumbs up to creepy night outs.
From witches' kitchen
Feeling hungry? How about trying out Devil's eggs, Spider's nest noodles, Witches' broth, Bigfoot chicken, Eyeball soup, Jack-o-Lantern breads, Monster manchurian, Bat brinjal salad, Tombstane chicken salad, if those don't send shivers down your spine?
Play on
Evolution is a continuous process; it takes places everywhere and all the time. However, it is the changing dynamics of music that we are interested in right now.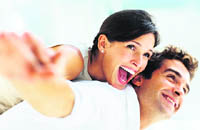 Men are mushier
A study suggests that men are three times more likely to be the first one to say "I love you" in a relationship. According to psychologist Marissa Harrison, women are actually more careful than men when it comes to romance. This clearly contradicted previous findings, which showed that women are more expressive about how they feel, and tend to fall in love first.
chill out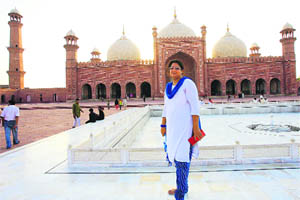 Friendship knows no borders
My trip to Lahore was a dream come true! However, it would not have been possible without my friends' support. My grandparents belonged to Lahore and I longed to see this city which was once called the Paris of Asia. And after all, it is said that the one who has not seen Lahore is not born (Jihne Lahore nae dekhya oh jamya nae).


Upasana Dutt visits Shahi Masjid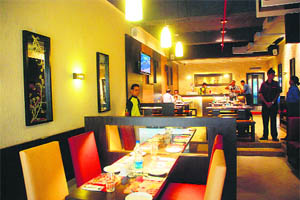 Spice it up
There wouldn't be any foodie who wouldn't add Chinese food in their list of favourites. And, if it is, hop in at the newly opened Yo China outlet at Paras Down Town Square Zirakpur. With tastefully done up interiors, the place boasts of a whipped up new menu.



New Look: The bright decor complements the food at Yo China

the foodies
Three cheers!
Want to visit a family bar? Confused? Don't be. Bar 148, housed on the sixth floor of A-Hotel, is a place where no single entries are allowed and the bouncers ensure total safety of your family. It is a place that can cater to 150 plus people and is neatly divided by wooden partitions.
A musical night
Triveni Sangeet Sabha is organising a concert on October 30. The opening artist is Bhaskar Nath, a young upcoming shehnai vadak who is a student of Pandit Jasraj of the Mewati Gharana.


Pun'jab'

Sandeep Joshi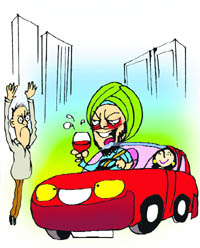 Zoom past:

Now I can challenge any Formula One champion
star track
Bipasha in romcom
Sizzling Bipasha will be romancing Madhavan in their upcoming romantic comedy Jodi Breakers. The film is directed by Ashwini Chaudhary, the music is by Salim Sulaiman, lyrics by Irshad Kamil. Rest of the cast includes Omi Vaidya, Milind Soman, Dipanita Sharma, Mrinalini Sharma and Helen. Slated for February 2012 release, the movie has been shot at various locations in Bombay, Goa and Greece.

n Holiday time
n Title treaty
n Farhan's Punjabi lessons
n Vindu, Devgn to work together
n Sequel string
n One more baby shower
n Back to nature
n Khan-daan
n Friends only?
n Chase for fame
n I want to be the biggest star: Ranbir
chatter box
Tarun to enter Shobha Somnath Ki
Zee TV's historical show Shobha Somnath Ki will soon take a 15-20 years leap and will see many faces being replaced on the show. Yash Tonk who plays Daddachalukya didn't want to play an older guy so buzz is that Tarun Khanna has been signed on as replacement. As Zee's new show Hitler didi will air at 8 pm in few weeks, SSK will turn into a bi-weekly.

n Bed rest
n It hurts
n Gauri has second thoughts
n Welcome to Facebook
n Fit 'n' fine