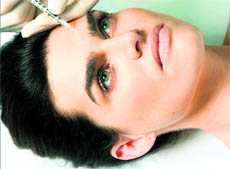 Lift yourself
Get a brand new jaw line, fiddle with the nose, correct the lips, or set your assets right. A tuck here and a nip there! There's no bar as to how much you can photoshop yourself. Scarlett Johansson was bold and blunt when she was quoted as saying, "I definitely believe in plastic surgery. I don't want to be an old hag. There's no fun in that." A couple of conversations with the cosmetic surgeons and women from the city too seem to believe in the philosophy.
Poster Girl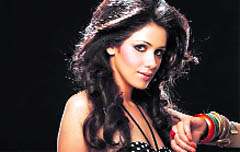 It's a different scene at the entry level, where you have fashion idealists offering free advice all the time - you should know how to carry yourself well, wear your confidence on your sleeve, have the right attitude et al. Once in the industry, it doesn't take much to realise that the "real world is harsher than the ideal. More than confidence and attitude, a model requires a great body to be on the ramp," says Akshitaa Agnihotri, a Chandigarh girl who made it to the top ten finalists of the Kingfisher Calendar this year.
Adding On
Gurpreet Saini, the fresh talent from Chandigarh whom we have been lately seeing model for a lot many recent television advertisements, like


Graffiti Aradhika & Sesh
Gyan Zone
On a classical note
If you thought classical music is for the old and classy, Farid Hasan and Bhaskar Nath present a striking picture. In Chandigarh on Sunday for Triveni Sangeet Sabha's recital, Farid and Bhaskar are high on life as well as music!
Stress Buster
Say NO
''Why can't I say no," This has been one of the major stresses in my life, over the years I have realised that saying no to anyone for anything has been the most difficult task for me. I would say 'Yes' to anyone asking me for almost anything and later on keep fretting over it and telling myself within 'Now why could I not say no' and 'How do I get out of this situation now!'
When curiosity helped the cat…
Curiosity may have killed the cat, but for students, it seems to be as important as intelligence in determining how well they perform at school.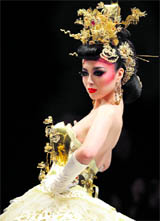 Snow White: A model presents a creation by designer Tsai Meiyue's Spring/Summer 2012 wedding dress collection during China Fashion Week in Beijing. — REUTERS
Drink to health
Cranberry juice is far better than its extract in fighting a bio-film, formed by a resistant layer of bugs that spur infection, new research says.
Switching times
Mobile phones are no more just a communicationdevice as an increasing number of people are switching to newer handsets within two years for new applications, according to industry body Assocham.
It's Rocking
Pure & simple
Jugni is not the only folk song that has been picked by Bollywood music directors, rendered a new treatment and then introduced in films. The latest addition in the list is Katiya Karoon from the film, Rockstar. Sung beautifully by Harshdeep Kaur and composed by AR Rahman, the new version of the song just can't get any better. Music lovers have given thumbs up to the track and they tell us why.
Pursuit of happiness
Finding a ten pound note in an old pair of jeans and being told you've lost weight are the things that make us happiest, according to a new study. The poll of 3,000 adults, which set out to find the top 50 things that make people happy, also found that getting into a bed with freshly washed sheets or seeing an elderly couple holds hands also triggers our good mood.