SUCCESS MANTRA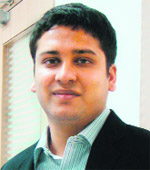 Flip it right
It is a story of success fuelled by amazing vision and sheer hardwork. When Binny Bansal, COO and co-founder, Flipkart.com, started his venture in 2007, along with partner Sachin Bansal, they took care of everything from choosing, packaging and delivering the products on their own. Today four years later their revenue figures stand at staggering Rs 2.5 crore a day. Binny, who grew up in Chandigarh, shares his incredible journey with readers as well as the traits that made him turn a small startup into an incredible success story.
A swar for the young

Santoor exponent Pandit Tarun Bhattacharya does not mind packaging classical music differently to attract young audiences
It's time to reinvent classical music. A bit of packaging, some attractive presentations and a little improvisation would do no harm. In fact, it could very well draw youngsters towards Indian classical music, believes santoor exponent Pandit Tarun Bhattacharya. "I don't say that we should go for dilution of the grammar of the swars or we should compromise on the basics of the music. My only contention is that we can package it differently. And make some departures from tradition to make this art form more reachable and acceptable to the young people."
Photo: himanshu mahajan
Caught in the WEB
From small-time shopkeepers to college and even school kids, almost everyone wants to have a website of their own
It's like having an email id, a personal blog - your link to everything online. The Google better throw up more than a Facebook account when you search your name. And does anybody even need an IT techie listing out ten good reasons for you to have your own personal website? Welcome to your name dot com!
Par Excellence
A drill for the takeaway
The takeaway is one of the most important dynamic moves of the golf swing. If a player starts the swing incorrectly there is very little chance of making a corrective move on the downswing to hit the ball well. Professionals have different views on the takeaway. Some like to take the club wide with a one piece action which basically means to move the shoulders as the first move with very little hinging of the wrists and no lifting action of the arms. There are others who prefer to let the club head start the backswing and pre-set the hands by hinging the wrists and move the body later to complete the backswing.
Soul dance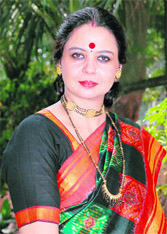 It has been a while that Samira Koser, a kathak dancer is slightly nervous. She is preparing for a kathak performance to be held at Tagore theatre on November 2. She closes her eyes, takes a deep breath, "An artiste is always nervous, come what may. In fact, slight nervousness helps better the performance. Besides, I have the blessings of the god, the support of my family and Shobha Koser (guru and mother-in-law) by my side," she begins to smile. Kathak is not only her dream and her life, for Samira it is way of getting in touch with her inner self. "Kathak helps me touch base with my conscience; it helps me know myself better. It is like catharsis for me," says this trained classical dancer who is giving a stage performance after almost three-four years. There is no long and short story behind the break. In step: Samira Koser
Foot note
With the winter round the corner, it's time to hunt for that perfect pair of ballerina shoes. And Chandigarh markets offer plenty of options…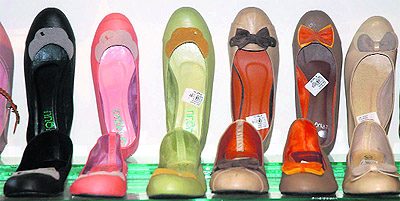 You can feel the nip in the air as the winter is approaching. And along with the cold comes the excitement of shopping for your winter wardrobe. One usually starts buying clothes and then moves onto footwear, but this time you can invest in some pretty footwear and then buy the clothes accordingly. If you have been waiting for ballerinas and pumps to arrive in the market, the wait is over. Chandigarh markets are flooded with them, in all possible colours, designs, with heels or without heels. These can be teamed up with narrow-fit jeans or winter skirts.
Glam up
Fashion has a different meaning for different people. Chandigarh girl Mehek Walia, who is currently doing her masters in English from MCM DAV College, tells us what it is to be fashionable…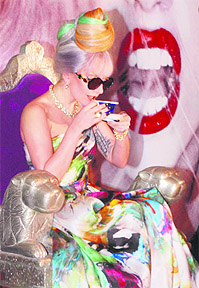 Gaga's gift
The Lady gives her shades to SRK's daughter
International pop star Lady Gaga has left a special gift for Shah Rukh Khan —she gave away her sunglasses to the superstar for his 11-year-old daughter Suhana, a huge Gaga fan. "Lady Gaga is all heart and soul. Gave me her glasses for my daughter. yippeee..brownie points unlimited," Shah Rukh posted on his Twitter page. Gaga has gifted the same shades to Suhana that she wore during her press conference in the Capital. Incidentally, it is Suhana thanks to whom Shah Rukh got hooked to Gaga's music. "My daughter is a big fan of Lady Gaga. She listens to her music and introduced me to her music, and I am also a fan of her now," King Khan told reporters at the F1 after-party in Greater Noida Sunday night. SRK, sat down with Gaga for an exclusive tete-e-tete before the party. Winning hearts: Lady Gaga
Chatter box
She is always a woman to me
It's very hard to find a good looking guy; on the contrary it is pretty easy to spot a girl with attractive features. There are hundred things, which makes a girl attractive. We ask popular TV stars, irrespective of their marital status, as to what qualities attract them in a woman. Check it out…
Astro Turf
ARIES: Passionate emotions are likely to dictate your actions and you might be more impulsive than usual. You will have a better chance of getting through odd jobs connected with home and family affairs. Tarot message: Lack of confidence can cause losses. Lucky colour: Rust. Magic number: 45.
The year ahead
If your birthday is October 1...
You are lucky to be born on this day when 3 states came into being in 1966 with renewed future.  Born on this date under Scorpion Zodiac you are in ultimate control of your destiny. The planetary position on your birthday indicates that from January 22 until June 4, you are likely to see benefits in the areas of work and health, as well as daily routines. The new position of Saturn and Jupiter in November 2011 enhances your ability to handle the details required in doing a good job. Others become more aware of your skills.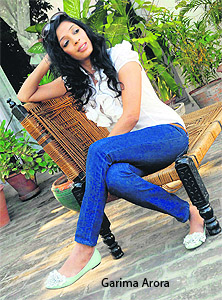 COMMERCIAL angle!
Chandigarh girl Garima Arora has added another feather to her cap. Assistant director to Ad Guru Prahlad Kakar, Garima is enjoying every bit of the hardwork that goes into making a commercial. "Life has totally changed since the time I started assisting Prahlad Kakar," says Garima, in Chandigarh for Diwali break. "I never thought I had it in me to be behind the camera, but Prahlad made me understand that to be a good actor one should be aware of what happens behind the camera as well," she says. Garima has traded her easy-going life for the challenging work of an assistant. "It's like being a slave. There is no life except for work," says Garima who claims that the end result gives a great high. Garima has almost worked on some fifteen ads, out of which Rasna, Officers Choice, Lilliput, Nivea, Maggi are all on air as of now.
Musical dreams
Singer-actor Justin Timberlake says he dreams of starring in a musical, but is still looking for the perfect role. The Sexy Back singer, who has left music behind in recent years to concentrate on acting, says he would consider combining his talents onscreen if the right project came along, a publication reported. Timberlake, 30, also reveals he is looking for a more modern take on the classic musical.
Time to relax
He has been hopping from one city to another promoting his latest flick RA.One. But for his 46th birthday which falls on Wednesday, superstar Shah Rukh Khan says he wants some relaxed time with friends and family. "I am just really very tired. I have just come in from Toronto and LA. The race has exhausted me. So I am just going to go, hang out with my friends. I will be in Mumbai with my friends and family," Shah Rukh told reporters at the red carpet of the F1 after-party.
Cities beckon
Anil Kapoor to join Dunst, Bloom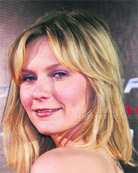 Actors Kirsten Dunst and Orlando Bloom are set to join Bollywood actor Anil Kapoor in Clive Owen's new film Cities. The film is being produced by Matthew Metcalfe and Chris Curling. The shooting of the film will start in the November in multiple cities that will include London, Mumbai and New York. Cities reunite Dunst and Bloom after they starred together in Cameron Crowe's Elizabeth town in 2005. The film is about greed and ambition that takes place in the exuberant months leading up to the all-time stock market high. In New York, a hedge fund manager (played by Owen) has everything he wants - money, sex and power, but he wants more. In London, a young couple just wants to buy their first home, but it seems impossibly out of reach.
Spilling the beans
Reality TV star Heidi Montag is reportedly planning to pen a tell-all memoir about her life. The former Hills star, who recently announced she broke up with husband Spencer Pratt, is set to write an autobiography and reveal shocking details about her marriage and why her friendship with Lauren Conrad fell apart, a publication reported.

Kissing scene
Hrithik among the most kissed at Madame Tussauds!
Bollywood heartthrob Hrithik Roshan's wax figure has reportedly made it to the list of top 10 most kissed statues in London's Madame Tussauds museum. Though the museum is yet to make an official statement, a source confirms that he has indeed made it to the top 10, adding that last year, actor Shah Rukh Khan had made it to the top 10 list.
Pen-up girl
Glamour model Katie Price is all set to start writing her fifth autobiography — at the age of just 33. The reality star, also known as Jordan, was earlier married to singer Peter Andre for four years and Alex Reid, whom she split up with after one year. She recently broke up with boyfriend Leandro Penna, reported a publication.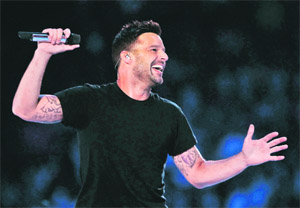 Here we go...

: Puerto Rican singer Ricky Martin performs during the closing ceremony of the Pan American Games in Guadalajara, 2011. — REUTERS

To hell and back
Actor Johnny Depp says he burst into hysterical laughter when the private plane carrying him and director Bruce Robinson was on the verge of crash. The Rum Diary actor was en route to Los Angeles on a Gulfstream plane when the engines cut out and the pair surprised themselves with their reactions, a website reported.
Love for painting
Oscar-winning actress Sandra Bullock's adopted one-year-old son Louis has become the proud owner of an Andy Warhol painting worth $ 14,000. The Blind Side star's agents gave the iconic Peaches print to baby Louis after winning the bid on the artwork at amfAR's Inspiration Gala at Chateau Marmont in West Hollywood.