M A I N N E W S
Chinese airfields encircle Ladakh
* India has 2 airbases at Leh & Thoise * China has 6 fully-functional airfields adjoining Ladakh
Ajay Banerjee at the LAC in Ladakh
In the vast windswept and barren landscape that divides India and China in southeastern Ladakh, temperatures can drop to a numbing minus 10 degree Celsius at the start of winter. What's more bone chilling for India is recent military developments in western parts of Tibet and Xinjiang province in China that pose a new challenge for Indian defence establishment and its forces.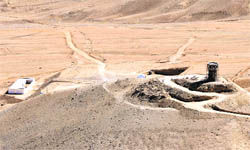 A fortress-like three-storey Chinese observation post across the LAC in south-eastern Ladakh. Tribune photos: Mukesh Aggarwal
There can be no masking the fact that India needs to prioritise and speed up its thrust into eastern Ladakh. Setting up of vital airfields, infrastructure on the LAC, storehouses for supplies and better accommodation for troops just cannot be postponed any more.
At the beginning of October, the Indian Defence Ministry gave its nod to develop an airfield at Nyoma and expand the one at Kargil. At present India has two full-fledged airbases at Leh and Thoise.
Meanwhile, China has readied six airbases on its side in areas of western Tibet and Xinjiang province adjoining Ladakh.
The Indian security establishment has irrefutable visual inputs on Chinese airfields. Beijing now has the capability to launch fighter aircrafts carrying deadly strike weapons or transport planes carrying tonnes of equipment or hundreds of troops to land then close to Indian forward defence lines along the LAC. These fully-functional airfields virtually form a 'ring' around Ladakh.
A senior official explained to The Tribune the fresh challenges saying Kashgar, Korla, Yarkand, Hotan, Cherchen (Qiemo) and Gardzong, have operational airfields. Large planes like the IL76 transporter operate from there. Last winter, the Chinese conducted a major military exercise and even operated their own version of the Sukhoi-30 fighter from at least three of these bases.
In India, only Leh and Thoise allow operations of all types of small and large planes. The Kargil airstrip is just 6,000-feet long and allows only smaller planes like AN32 or the C-130-Js to land. It will be expanded by the year 2016.
Nyoma in southeastern Ladakh is a mud-paved advanced landing ground (ALG). This sits at a junction from where three pressure points along the LAC-Demchok, Chushul and Chumar sector-are close by. Indian strategic planners have ruled out having a full operational usage of the ALG's at Fukche and Chushul as they are deemed too close to China.
In China, the accommodation coming up is all in concrete. China terms the structures as the 'nomad-huts'. The Indian Army suspects these are of dual use and can be converted into supply depots or even bunkers. The Chinese watch towers at Domshele and Demchok are three-storey high and are visibly well protected and insulated. The Indian side has basic amenities but those are way behind China.
A China-watcher at the New-Delhi-based Observer Research Foundation, Dr K Yhome, says, "From a military point of view, the Chinese infrastructure of airfields, roads and rail-network threatens India. Our pace is not quick enough," he adds.
It's important that defence planners take note of his assessment.