Cheese is here to stay

Cheese has made its mark in the gourmet food sector. It is one of the best non-meat sources of protein, says Homai Sagar 
It is true that India is not a traditionally structured cheese nation. It is, rather, a land of paneer, the "very young cheese." Paneer is used in every household in India. A single serving of cottage cheese has 15 grams of protein. The protein, which is in the form of casein, is slow to digest, keeping the hunger in check for a long period. The protein and casein content makes it one of the best non-meat sources of protein. Cottage cheese is extremely popular among body-builders and pregnant women.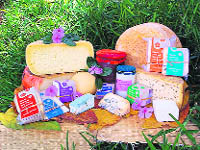 Cheese is popular among body-builders and pregnant women Photo: MF
But cheese is very recently making its mark in the gourmet food sector and the market. The popularity and use of cheese compared to paneer is less, yet it is remarkable as it is still making lots of profits.
Till one decade ago, the only indigenous cheese in India was the famous yak cheese made from yak's milk replicating Tibetan cheese (available in Delhi) from Dharamsala. It is highly overrated, salty without any depth of flavour. Historically, it is said that cheese came to India with the earliest Dutch settlers, who sailed up the river Hooghly and set up camp on the river banks at Chinsurah. There were other European settlers who also came to the area around the same time. These were the Danes at Serampore, the French at Chandanagore, the Portuguese at Bandel and the British at Calcutta.
But today, a cheese hunt in the region, does not lead to any traces of the origin of Dutch cheese. However, there is a type of smoked Portuguese cheese, which is available in the shape of small roundels, at Kolkata's Sir Stuart Hogg Market (popularly known as New Market), and referred to as Bandel cheese. Bandel, a tiny former Portuguese settlement, lies within the Chinsurah municipality. Early colonial literature also mentions three types of cheeses, including the Bandel cheese.
The main varieties of Portuguese cheese are Dacca, Bandal and Surti, referring, no doubt, to the locations where they originate. The first two are of the smoked variety, while the third is said to be salted. The hilly region of Kalimpong is also known for its special variety of cheese, sold as large balls wrapped in red cellophane. It may not be quite the same as the world-famous Cheddar, but aficionados of cheese assert that the product still appeals to the global palate.
Dietary guidelines say that most of us can eat about 1.5 ounces (about 45 gm) of low fat natural cheese per day as one of our three one cup servings of required dairy food. Some nutritionists suggest we rethink cheese's place in the food pyramid. Radha Warrier, speaking on behalf of the Indian Dietetic Association, favours treating cheese as a condiment, choosing intensely flavoured kinds such as parmesan to grate over a salad instead of just cutting off a chunk and eating it with a cracker.
Rule of thumb, Warrier says, the higher in fat, the more flavoured the cheese. As a rule, Warrier says, everyone should try using low fat ricotta or cottage cheese (our paneer). You will get some amount of protein without a lot of fat.
All over India there are pockets of cheese making that match with the best in the world. Perhaps the most famous is the enterprise by Man Mohan Malik, a Sikh entrepreneur, who started his cheese business in 1950, at Paonta Sahib in Himachal Pradesh. In 2006 Malik exported cheese to a quantity of 8,000 tonnes, for a value of Rs 250 crore, mainly to the USA. There is a slice of Belgium in a village called Bijwasan on the outskirts of Delhi. Does that sound incongruous? Well, just walk into the Flanders Dairy Company in Bijwasan, take a deep breath and get a whiff of the air inside, thick with the tangy smell of whey.
Taste the cheeses made by the Benedictine monks in Bangalore. The chief cheese-maker here is Friar K.L. Michael, who happens to be especially proud of Vallombrosa, his own brand of water buffalo cheese. He and his team of Benedictines handcraft six kinds of cheese — mozzarella, burrata, ricotta, mascarpone, bocconcini and caciotta — hot favourites with restaurants across Bangalore. Yes, cheese has come of age in India to stay as a major food delicacy. — MF