An intuitive poet

Malayalam poet K. Satchidanandan, who was a strong contender for the Nobel this year, is a poets' poet across the criss-cross of the country's many languages, writes Nirupama Dutt
Who said that trees have ceased to follow windís language? That we must conceal from lilies and rabbits the news of the death of love? ó K. Satchidanandan
While the 2011 Nobel Prize for Literature has gone to Sweden's most famous living poet, Tomas Transtromer, the nomination of our own Malayalam poet K. Satchidanandan, along with famed fiction writer Mahashveta Devi and well-known re-teller of folk tales Vijaydaan Detha, brought the rich variety of India's regional literature as well as its depth before the eyes of the world and three of our languages ó Malayali, Bengali and Rajasthani ó were done proud.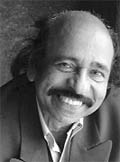 K. Satchidanandan publishes his own poems and those of other poets translated in English on Facebook
Most significant was the nomination of Satchidanandan, for although he writes in Malayali, he is widely translated and, perhaps, for the moment is the finest representative poet of India. Also, fiction writing takes the better of poetry and even if we view the international context, Transtromer is the first poet to take the laurels since Poland's Wisalawa Szymborska in 1996. And it gives an excuse to admiring scribes like me to share his poetry and thoughts with readers.
The first acquaintance with his poetry was through a journalist colleague A.V.S Namboodiri, who translated a poem by him called The Sixth River into English. It was written in the violent decade and a half of militancy in Punjab and referred ever so subtly to the history in passing, dwelling on the pleasant moments of bonding. Satchidanandan is not a 'political' poet, as we have known the tribe that rose with the Left movements. His is the flight of a true intuitive poet rather than the constraint of ideology. He discovers something new in subjects like madness, which have always interested poets: The mad have no caste/Nor religion/ They transcend gender,/live outside ideologies. /We do not deserve their innocence/Their language is not of dreams but of another reality. Their love is moonlight. It overflows on full moon day. Describing the ability of the mad, having seen several cases of insanity in his own family, to see trees bleed, hear lions roaring in streets and ants singing in chorus, he goes onto elaborate their different measure of time through which they can be with Christ in twenty seconds and with Buddha in twenty-six.
And then comes the last line, which leaves the reader wondering about sanity and insanity: The mad are not mad like us!
The poet did his Masterís in English literature from the University of Kerala, Thiruvananthapuram, and his doctorate in post-structuralist literary theory from the University of Calicut and taught for some 25 years.
Then he was invited to edit the National Sahitya Akademi journal. He then became secretary of the Akademi in 1996. Indeed a prolific poet, he has published nineteen collections of poetry since his first anthology Anchu Sooryan in 1970. Besides, he has translated the verses of many Asian, Latin American and African poets. Satchidanandan is his own translator, too, with a wide fan following on the Facebook. To get a taste of his translation, his classic poem Stammer is the right choice: When a whole people stammer/stammer becomes their mother tongue:/as it is with us now. /God too must have stammered/when He created Man./That is why all the words of man/carry different meanings.
Satchidanandan, who has truly earned the stature of being a poets' poet across the criss-cross of Indian languages, says with his smile and matter-of-fact infectious way: "My name must have figured in the Nobel list because of the extensive translation of my poems in French, German, Italian and Arabic and also the fact that I have been reading my poems at international literary festivals. It felt good to be listed thus but I do not run after awards, it is poetry that I am chasing. The next poem matters the most to me." Of his forays on the Facebook, he says: "For me Facebook is a poetry site where I publish my own poems and those of other poets in English translation. The response is good but this is not a site for serious criticism. It is just a way of reaching out through poetry."