From Berlin with love

Germany-based Bharatnatyam duo of Shebana Devi Mangold and Johanna Devi Lanzaro shares the passion for Indian dance and more

S. D. Sharma
Though born, raised and educated in Berlin, I am still far away from the influence of western musical culture. Strange as it may seem, it is true that I fell in love with the rich Indian culture, especially classical dancing, which is very close to my heart," asserts young German Bharatnatyam danseuse Shebana Devi Mangold (27).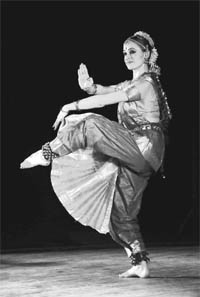 Johanana Devi Tribune photos: Pradeep Tewari
"The paradigm shift in my life happened after I watched a concert by an Indian classical Bharatnatyam maestro Chitra Visvesheram at Berlin and started emulating her style from the age of six," adds Shebana, complimenting the grandeur of our rich music and dance culture. She was in the city recently along with leading German Bharatnatyam danseuse Johanna Devi Lanzaro (30) for a performance at the ICCR-sponsored concert at the Randhawa auditorium.
"My training in the Pandanallur style of Bharatnatyam, initially under Rajyashree Ramesh at Berlin and under Jagannatha Rao for 16 years, gave me some footing as a soloist, but I feel I acquired expertise in the art under the blessed tutelage of Guru VP Dhanajayan while at Chennai," shares Shebana, also a paralegal assistant at Berlin.
"Besides, I had a profound working knowledge of all other Indian dances and Carnatic vocal music and Nattuvangam (rhythm) but learnt Kuchipudi for three years under Guru Jai Kishore and Vani Mosalikanti," she adds.
"In fact, I had cherished a desire to teach, promote and propagate Indian classical dances, so systematic and rich in concept and with content weaved in navrasa, all over the world so that learners can relish the rasa of this celestial art form. This is certainly not a late evening pastime but a serious art form that needs a disciplined approach," adds Shebana. "Earlier, I had been teaching to support my guru and now I have opened an institute to impart dance training to my students, including Indians.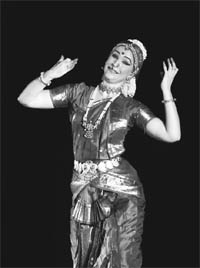 Shebana Devi Mangold
"I enjoy the double delight of modern western ballets and music and the profundity of Indian classical dances," says Johanna Devi Lanzaro, the other Bhartnatyam danseuse from Berlin. Like Shebana, she, too, fell in love with Indian dance at the age of six, after her parents were completely enamoured by Bharatnatyam during their visit to South India, and she, with a view to cherish their desire, decided to make it her calling. She learnt the rudiments of Bhartanayam from Aprajita Koch at Munich, and later under guru Savitri J. Rao at Kalakshetra in India, the USA and Canada and performed her 'aranegtram" at Berlin in 2006. Besides, Johanna completed her modern dance training and learnt classical western music (piano).
Like Shebana, she too has over 200 performances of Bhartnatyam at top venues to her credit, out of which two were in India during the Second International Dance Festival-2011.
"My next production titled "Santosham" will be my tribute to the magnificence of Indian classical dance, the complete musical
art with poetry, music and drama," says Johanna.
But both the accomplished danseuses observe that their dancing prowess and excellence in the art can best be judged by the Indian audience and performing in India for them is like participation in the Olympics.
On the language problem, as also the dance compositions mostly weaved around the mythological themes, the dancers find no problem in singing fluent sargams or pedant despite Johanana knowing five words, including 'dil' in Hindi and Shebana knowing a bit of Tamil.
"The music and rhythm has an universal language and our gurus explain the lyrical intent of the poetry, which we portray through dance mudras and we can easily relate to their significance," say the maestros. "Indian music is sublime in nature and emotions lie at the heart of every classical bandish in Braj Bhasha, which exude spirituality, moral virtues and divine love, all uplifting the mind and soul to ecstatic levels.
The suffix 'Devi', added to our original names by our revered gurus, is indeed a blessing for us, which we will cherish always," say the Berlin-based dancers.