ART & LITERATURE

'ART & SOUL
ENTERTAINMENT

TELEVISION

GARDEN LIFE

NATURE

FOOD TALK

CONSUMER, BEWARE!

FASHION

GLOBOSCOPE

BRIDGE

ULTA-PULTA
EARLIER FEATURE

TRAVEL

RELATIONSHIPS

DREAM THEME

TIME OFF
In all fairness? Nah!
Films and advertising campaigns in India categorise women into two groups ó those who are fair and clear complexioned and those who are constantly facing Ďa lack of excitement and opportunitiesí in their lives because of their dark countenances. They are also given specific personalities because of their colour: The fair ones are lovely and innocent, while the dark ones are sizzling and seductive! How fair is this classification?
Vimla Patil
Is beauty truly skin deep? It would certainly seem so looking at the fact that in the past year, the market for fairness creams and skin-lightening face washes has notched up an incredible business of Rs. 2000 crore in India and is galloping towards even higher figures given the fact that fairness products, including soap, creams and face washes, made by some of the nationís top MNCs as well as Ďayurvedicí brands are now popular in most South-East Asian countries and among the Asian diaspora in the West.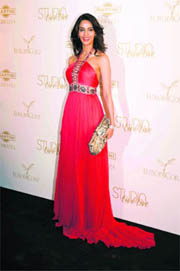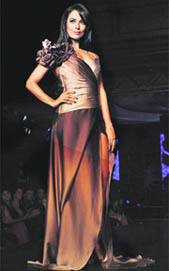 The dusky Mallika Sherawat, Malaika Arora Khan and Bipasha Basu are the dark temptresses who get to perform item numbers rather than play lead roles Photos: AFP
Kalekaís insightful art
The works of Ranbir Kaleka are, at once, complex and profound. Nonika Singh in conversation with the artist on his journey in art
The moving image and the still, the painted one and its projection.... in internationally acclaimed artist Ranbir Kalekaís oeuvre motion fascinates as much as the frozen moment. How the artist arrives at this unique imagery that has viewers gaping and critics lauding earning him prestigious commissions like permanent video installation for Chicagoís new Spertus Museum is certainly not a simple one-liner story. The journey of the artist is invariably as mysterious as the art he creates. Here is an attempt to demystify the artist whose art is at once complex, profound and phantasmagoria
Hard to resist
Thinking may not help resist temptation of sweets, beer or sexy women
Donít stop and think if you among those trying to resist temptation of sweets, beer or sexy women, because thinking may not help. That is one surprising conclusion of a new study by Loran Nordgren and Eileen Chou at Northwestern Universityís Kellogg School of Management, Nordgren and Chou wanted to make sense of two contradictory bodies of literature.
Breather for women
Save the Children, an NGO, has been easing the anguish of militancy-affected widows in Jammu and Kashmir by helping them to raise their children with dignity, writes Ashutosh Sharma
The armed conflict in Jammu and Kashmir has left many families devastated. Though the government has failed to give a healing touch to all victims, some NGOs have been making efforts in their own way. Save the Children, an NGO, has been easing the anguish of militancy-affected and disowned "half widows" by helping them to raise their children with dignity.
Jewels down the ages
Traditional Maharashtrian jewellery includes specific pieces to be worn from head to toe, says Dhanvanti Keshavrao
During the festival season, people buy gold, especially gold jewellery and traditional Maharashtrian jewellery, crafted in gold. Prakash Kakode, owner of Apna Jeweller at Dadar, says: "Traditional necklaces, particularly, are back in vogue. Hars, mohanmalas and the gold-beaded tushi have now become fashionably popular."
The city of lakes
The Old City of Udaipur is a fascinating study of dynamism and is pulsating with energy, writes Aradhika Sharma
What is Udaipur made of?
Lakes and palaces and temples and tourists,
Thatís what Udaipur is made of!
Udaipur has emerged as a prime tourist destination for people around the world and nowhere is the true mystique of the city as much evident as it is in the old city or the City Palace area.
The Peter Pan of pop
Though he gave his first hit 53 years ago, he is going strong even now. As he celebrated his 71st birthday recently, the Lucknow-born Cliff Richard remains a pop icon for millions, writes M. Khosla
For what seems like an eternity, Cliff Richard has been the Peter Pan of pop. But, says Sir Cliff, he is a little tired of being labelled Peter Pan. "Maybe, I donít look 71 but I certainly donít look 18," he says. In 1958, Cliff released his debutant single Move It, which is regarded as the first British rock íní roll record. And over the past 53 years he has sold over 250 million albums. Only Elvis Presley ó who first inspired Cliff ó can rival that!
Asha enters Guinness
Legendary Bollywood playback singer Asha Bhosle has entered the Guinness Book of World Records for the most number of single studio recordings. Asha has recorded up to 11,000 solo, duets and chorus-backed songs like "Mehbooba Mehbooba", "Chura Liya Hai Tumne", "Piya Tu Ab Toh Aaja" and several others in over 20 Indian languages since 1947.
Promise of a new dawn
An evocative literary adaptation for the screen by a first-time director fetches Punjabi cinema global critical acclaim like never before, writes Saibal Chatterjee
It isnít often that a Punjabi-language film makes waves on the international festival circuit. But that isnít the only reason why Gurvinder Singhís Anhey Ghorhey Da Daan (Alms of a Blind Horse), a fine adaptation of Jnanpith award-winning litterateur Gurdial Singhís novel about an impoverished Dalit village, should be celebrated as a major breakthrough.
I try to maintain my privacy: Dharmendra
Priyanka Sharma
More than five decades in the film industry and still going strong. Dharmendra has just had a new release but admits to being media shy and is clearly uncomfortable in the movie world of today where good films suffer because they are not promoted and where everything is treated like a commodity. When celebrities are looking for extra media mileage, the veteran actor, whose Tell Me O Kkhuda released recently, says he is not game for too much exposure.