M A I N N E W S
India's N-plants safe: Atomic energy chief
Tribune News Service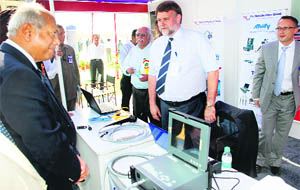 Atomic Energy Commission Chairman Dr Sreekumar Banerjee (L) at the Terminal Ballistics Research Laboratory at Ramgarh on Thursday. Tribune photo: Nitin Mittal
Chandigarh, November 10
Asserting that the government and scientific fraternity were comfortable with the safety levels at Indian nuclear power generation plants after a complete technical audit and stress test were carried out at all reactors recently, Chairman of the Atomic Energy Commission, Dr Sreekumar Banerjee, said that the need of the hour was to generate greater awareness among local residents that such plants do not have adverse health effects.
Speaking to mediapersons on the sidelines of the international High Energy Materials Conference and Exhibits (HEMCE) with regard to the ongoing protests against the commissioning of the 2,000 MW Kudankulam nuclear power project in Tamil Nadu as well as local opposition to the proposed nuclear plant in Haryana, Dr Banerjee said the fears that people would be exposed to higher radiation levels or that their means of livelihood would be hit were misplaced.
Some additional safety features, including a passive cooling system for reactors, have been recently installed at the Kudankulam station. He added that during the devastating earthquake in Bhuj in 2001 and the tsunami in 2004, Indian nuclear plants in the vicinity were unaffected.
He pointed out that there were 14,000 reactors functioning in 30 countries for decades and the casualty figure worldwide due to accidents or damage was just 52. He said that though nuclear scientists did have lessons to learn from the recent nuclear accident in Japan, the event cannot be used as an argument against the setting up of such plants.
Dr Banerjee said that to sustain economic development, India needed to have a power generation growth rate of at least 9-10 per cent. In this scenario, while nuclear power generation assumes significance, renewable energy sources also needed to be exploited.
HEMCE is being organised by the Chandigarh-Delhi chapter of the High Energy Materials Society in India to mark the golden jubilee of Terminal Ballistics Research Laboratory, a DRDO establishment based here. About 625 delegates from 13 countries are participating in the event.
In his inaugural address, Shivraj V Patil, Governor of Punjab and Administrator of Chandigarh, said the need of the hour was to join hands to channelise knowledge and experience through collaborative research and concurrent engineering.
Dr Manjit Singh, Director, TBRL, said the emerging world of nano energetics, green explosives, detection and disposal of IEDs was the thrust area of the conference. This would open new avenues for application of these materials in defence, space and other civilian sectors.