A Date with One!
Once again, numbers have conjured up an astrological and numerological maze for us. For the last few days, it has been impossible to avoid seeing advertisements or talks heralding an event known simply by its date - 11.11.11. Google has joined hands in satisfying the curious minds and if you click 11.11.11, don't be surprised to see over 6,960,000 results!


CLOUNTRY CLUB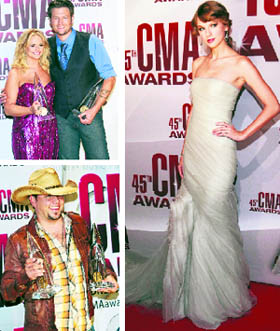 (Clockwise from top) Married couple Blake Shelton and Miranda Lambert pose with their awards for Male Vocalist of the Year and Female Vocalist of the Year at the 45th Country Music Association Awards in Nashville, Tennessee; Singer Taylor Swift won the Award for Entertainer of the Year; Jason Aldean poses with his Album of the Year and Musical Event of the Year awards.
Cheers to eleven...
Brig IJ Singh, Indira Charanjit Singh and Rani Dullat are a happy lot as their birthday is special this year.
Punjabi at heart
A big smile comes on the face of Veena Malik, wearing a glitzy pearl black dress, as she talks about India, "I have been treated very well and pampered in India." She was in Ludhiana to walk the ramp for the first time ever in India during the Blenders Pride Punjab International Fashion Week 2011.
On the ramp
It was glitz, glamour and tradition on the ramp as Riyaz and Reshma Gangji presented their collection on the first night of Punjab International Fashion Week 2011 titled Ethnic Evolution — A bridal collection. Sharp-nosed, chiselled cheeks and slim-bodied men donned the collection of suits followed by the dhoti pants.
Knowing Norma
Photos of a teenage Marilyn Monroe as a model and a letter that she wrote to her foster mother will be up for auction next month. The model shots were taken by photographer Joseph Jasgur when Monroe was still Norma Jean, a 19-year-old aspiring model.
Gyan Zone
Weather wise

Winter is all about caring for yourself as you are prone to falling ill. White patches find friends with your skin in this season and the lips feel dry as well. And one needs to keep the skin and lips moisturised with body lotions as well as lip balms. Says Bani Sahni, who looks after the marketing of Wine & Cheese, Sector-7, Chandigarh, "I face this problem in every changing season, so I make it a point to use body butter and strawberry as well as raspberry lip balms.
Trend Setter
Style file
The entire charm of keeping it stylish is being timeless. Keeping it effortlessly stylish is graphic designer Rishi Arora. Here is what he has to stay when it comes to fashion and style.
Master Chef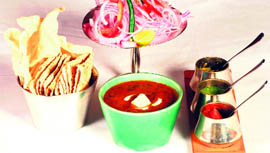 Butter effect
Dal Makhani is one of Punjab's most loved dishes. Rich in protein, this dal is popular across cultures. Traditionally, it is cooked on low flame, to get a rich creamy texture. When prepared in restaurants in India, , it is cooked slowly on low heat and usually has a large amount of cream and/or butter added. When cooked at home, moderate amounts of cream or butter are used.
Star Track


Hunk-y dory


Heroine gets going


One for Arjun


Print worthy


Akshay's desi streak


Racy bonding


Too playful!


Monster remake
Chatter Box


No inspiration from The Princess Diaries


Changed slots


Shaw time!


Pyar ke side effects


Anil's desi 24


More drama in store


New Releases