THIS ABOVE ALL
A priceless asset
Khushwant Singh

For the eight years I was living in Bombay, I met Laxman every day. I regarded him as the world's best cartoonist. He agreed with me. He looked down on all other cartoonists, particularly Mario Miranda, who worked in the same office and designed my Man-in-no bulb logo. He was a great gentleman and married to a lovable Muslim wife. I was often invited at their home.
Laxman also loved drinks. He drove from his flat in Malabar to my flat in Colaba. He never bothered to return my hospitality. Laxman had a great regard for his elder brother R.K. Narayanan. I did not share his view. Once I wrote that Laxman writes as well as his brother, if not better. He did not like it but readily forgave me. But when I mocked at his brother for his immodesty, he stopped seeing me.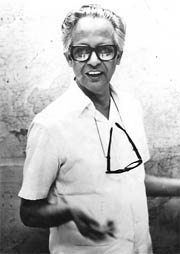 I regarded Laxman as the world's best cartoonist
When AIR offered higher rates to authors for broadcasting their stories, R.K. Narayanan agreed to do so, provided he was paid one rupee more than others. He also regarded himself as one of the world's three best novelists, which I thought was in bad taste and far from the truth. Laxman never forgave me for saying so. I was pained to hear he was not keeping in good health. He is six years younger than me. He has been a priceless asset of India and I wish him speedy recovery. I send him my love.
Indian eccentrics
For many years my favourite reading has been Private Eye, which my neighbour Reeta Devi Varma buys for me every fortnight. The first column I turn to is entitled Funny Old World. It records doings of eccentrics in different countries. Needless to say, India is frequently mentioned in these columns as it has many eccentrics. The one that attracted my attention some months ago was reported in The Times of India. Somehow, I missed using it in my columns. It runs as follows:
"I have a wife and children," Arjun Nath told reporters in the village of Tikri Kalan, Delhi, "but my real family consists of seven reptiles. Every man in my family has been a snake charmer for generations. I have been one since childhood; there is nothing else I can do. Snakes are not just my livelihood, they are my friends. I spend more on feeding them with chicken and fish than I do on feeding my family, because snakes need a special diet.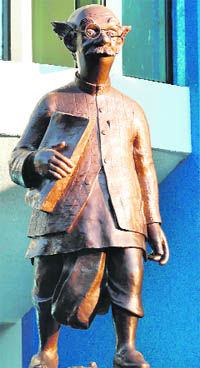 RK Laxman's most famous character— the common man
That is why it was such a disaster for me when, in 2003, the government declared snake charming to be illegal." After eight years of campaigning by Nath and nine other snake charmers (or saperas), the government in Delhi has finally agreed to issue licences so they can resume their trade. "Snake charmers all belong to the Nath sect, and the skills of catching and charming snakes were taught to us when we were kids. We also learned to play the organ, which is synonymous with saperas, and is used to attract people to our shows.
"This king cobra is 3.5 metres long, and is one of the world's deadliest snakes. But he recognises me; so he won't bite me unless he is provoked. Contrary to popular belief, we do not defang them; so the poisonous ones are still dangerous. That is why most of us also develop anti-venoms, and can cure almost any snake bite."
No God
In my latest book There is No God with Ashok Chopra (Hay House), I was able to find a most telling quotation about Sikh shopkeepers' community in Pathnohar
(Rawalpindi district). It runs as follows:
Ghat vee asseen tuleney aan;
Koor vee asseen mareney aan;
Par Sachey Padshah;
Teyra naa vee asseen lainey aan
(We give short measure, that we do;
We tell lies, that also we do;
But, O Lord, we take thy name;
Is also true).
Advice to TV channels
Now that I am almost immobile, I spend all afternoons and evenings watching TV. My favourite programmes are classical Indian dances and qawwalis. What I find very off-putting are long introductions to programmes by experts. Every time there is a programme on dancing, a lady commentator goes on and on before the dancers appear on the screen. I am tempted to scream: "For God's sake, shut up and allow the dancers to appear on the screen."
The last time when a qawwali programme was scheduled, it was preceded by three long speeches in Urdu. I wanted to shoot those speakers and tell them to let the qawwals start singing. What these speakers have to say is absolute bullshit.
Anna
25-paise coins have gone off circulation since June 30, 2011. The government feels it can't handle one Anna (Anna Hazare); so there is no need for four Annas.