Punjabi antenna
Lively debate on youth, progress
Randeep Wadehra

On October 29 DD Punjabi's morning show, Sajjri Saver, discussed women's contribution towards nation-building efforts. The invited guest's emphasis on political success stories like Pratibha Patil, Sheila Dikshit, Mayawati, Jayalalitha, Mamta Bannerjee etc would have us believe that individual success is a sure sign of contribution to nation building – which is, at best, partially true. Success in politics is, indeed, a praiseworthy achievement but it is faceless women in less glamorous roles as housewife, teacher, farm/factory worker, executive, sportsperson, journalist, writer and thinker who contribute far more substantially; generally their contributions are more enduring, too. Nevertheless, the discussion was thought provoking.
In somewhat similar vein was the debate on Punjab's youth on Zee Punjabi's Khabarsaar. The panellists debated whether young Punjabi men and women were being involved in the state's developmental efforts. They also discussed the youth's general apathy towards economic and social issues facing Punjab. Although some valid points were raised, one thought it would have been pertinent to mention the absence of governmental policy and structure that would involve them in the state's development-related efforts.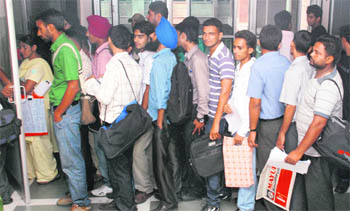 The Punjab Government needs to review its youth and employment-related policies.— Tribune photo
Endeavours need to be made to find out why our young men prefer to slave in inhuman conditions abroad to working in Punjab. Perhaps the state government needs to revisit its youth and employment-related policies. When the anchor raised the issue of ideology deficit among the youth, a panellist, who was an academician, said that even at the university level student leaders were not really concerned with any ideological issue. Their vision was so myopic that most of their concerns centred on non-issues like canteen facilities and mundane problems in the hostels. Such shortsightedness precludes any possibility of focussing on the quality of education. No road map for improving the academic standards has ever been even conceptualised by student leaders at the university/college levels.
In a subsequent edition, Khabarsaar discussed the latest education policy of the Punjab Government. The panellists were exercised over the withdrawal of government participation in education-related activities. Privatisation of education may not be the answer to Punjab's woes, some felt. We all know that a robust governmental presence can ensure that students get highest quality of education in private institutions; otherwise these will continue to be mere commercial undertakings that look upon students as gullible customers.
While discussing youth and women, one can't ignore the ongoing Miss Punjaban contest on PTC Punjabi. What exactly are these young women displaying in the contest? The show is designed merely to present females in assorted attires. Their grooming, artistic skills and social consciousness as well as cultural/intellectual sophistication are given cursory consideration. Are these Punjabans from 21st Century or`85?
The Armed Forces Special Powers Act (AFSPA) was implemented in Jammu and Kashmir in 1990 when separatism had become particularly virulent. Ever since then the Act's implementation has been discussed on various forums. The recent move by J&K Chief Minister Omar Abdullah to seek abolishment of AFSPA has ignited another round of controversy. On Masle (PTC News) the panellists, comprising an ex-cop, a retired soldier and an advocate, appeared to agree that the Act could not be withdrawn in the state as this would strengthen the separatists' hands. However, it needed to be examined whether the concerned authorities were strictly following the AFSPA-related guidelines issued by the Supreme Court in 1997. Other pertinent issues ought to have been addressed during the debate. For example, what has been the social cost of keeping AFSPA in force for about two decades? Have the intended political and strategic aims been achieved? Now that the government has subdued the militants, wouldn't it be prudent to gradually withdraw the Act from the state? Sadly, the debate was poorer for the lack of a genuinely informed and authentic voice from J&K.