Elegance with zari

Look chic and fashionable in zari attire, says Banalata Bipani
Champa Swaminathan travelled all the way from Delhi to Chennai to shop for the famous Kanjeevaram silk saris for her sonís wedding this winter. Her budget was Rs 50,000 for five saris, but her bill, even after much haggling, was Rs 68,000. "You could have bought these within your budget six months ago. Prices have shot up in the past couple of months after the gold price shot up," the salesman told her. Y M Narayanaswamy, president, Handloom Silk Cloth Manufacture and Sales Association, Kancheepuram, said a wedding sari has about 450 grams of zari. "We used to weave saris for Rs 15,000 six months ago, but now it costs us Rs 37,000 to Rs 40,000."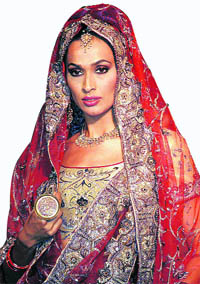 Zari is mainly produced in Surat, Bareilly, Varanasi, Agra and Jaipur
Same was the problem with Mrinalini Ajgaonkar, who was keen to gift her new bride with a classic Paithani sari, embellished with zari, and went to the town of Paithan, 50 km from Aurnagabad. But she found that the prices had gone beyond her purchasing power. "Today, zari is available for Rs 58,140 per kg, which was priced at Rs 22,000 per kg last year. The silk prices, too, have shot up and the yarn is now available for around Rs 3,000 per kg," says a worried Alka Manjrekar, the divisional manager of the Maharashtra Small-Scale Industries Development Corporation (MSSIDC), which runs the only Paithani training centre in the country at Paithan. Mrinalini had to opt out for a simpler type of Paithani sari known as Narali Paithani, costing about Rs 24,000, instead of the superior mor bangdi design, which would now cost as much as Rs 50,000 rupees. Last year she could have bought the mor bangdi design sari for Rs 24,000.
In the last six years (from 2005) the price of gold has increased from Rs 640 per gram to Rs 2800 a gm; silver from Rs 10 a gram to Rs 65; silk from Rs 600 a kilo to Rs 3,500 a kilo; and even copper has doubled from Rs 180 a kilo to Rs 600. Zari bought by weavers in Kanchipuram or Benares comes in spools (known as a Marc of zari weighing 242 grams), about 19,200 metres in length and with zari thread thickness of about .3 mm! One marc of real pure gold zari, which cost Rs 3150 in 2005, would cost nearly Rs 13,000 today.
The quantity of the precious metal in zari thread varies from source to source. The market is full of fake zari. In the fakes, the precious metals are substituted by white metal or impure silver and is available for just Rs 250-300 per marc! Even here, fake sari manufacturers use two-ply silk instead of three-ply for weaving, bringing down the cost and quality drastically. Of course, imitation zari is facing some increase in demand on account of a huge price difference compared to zari made from real metals. Similarly, polyester film, another commonly used substitute, is much cheaper than copper required for zari.
When you choose a zari silk sari, what are the chances of it being genuine zari? Quite slim, according to a survey done, and the survey results showed that 60 per cent of zaris are fake. The fake zari racket is rampant all over India, with 78 per cent of saris sold in Chennai being counterfeit, followed by Hyderabad (69 per cent) and Mysore (45 per cent).
The bulk of Zari made in India (worth Rs 1100 crore) is in Surat. About 55 per cent of these zari raw materials is catered by Surat. Other than Surat, some quantity of zari is also produced at Bareilly, Varanasi, Agra, Jaipur and Barmer. But the bulk of the consumption of zari is in South India.
Surat zari industry dates back to as early as 16th century. Surveys by the Government of India show that there are at least 500 composite or semi-composite manufacturing units in Surat alone. This apart, there are around 3000 small household units making zari in Surat. The zari produced is known as real zari, imitation zari and plastic zari. Real zari is made of silver and electroplated with gold; imitation zari is made from copper; and plastic zari, which is made from metallic yarn.
In olden days the making of zari was always done with pure silver wires created with real gold leaves. This was known as kalabattu. Well-known products of the Indian zari industry besides gold and silver thread (zari kasab) are the embroidery materials like stars and spangles, chalak, champo, kinari, salma and badla used in the different exportable zari handicraft.
For the Indian customer, who wants to buy genuine pure zari saris, the only way is to buy from a reliable shop. For example, Nalli Silks, the famous sari shop of Madras that has about Rs 900 crores of annual turnover, guarantees a 60 per cent silver content in the zari used in its saris. As yet the special zari-test machine made by the Tamil Nadu Zari factory is not being used by most of the well-known sari shops in India, which feel offended, at any suggestion, that the quality of their zari saris could be doubted. ó MF