Hybrid head

Obama is truly America's hybrid president: biographer
Himani Kumar
Barack Obama is America's "truly hybrid" President who represents many continents, races, cultures and histories, his first Indian-American biographer has said.
Dinesh Sharma's book is the first full-length book on a sitting President and examines how Obama's early years influenced him.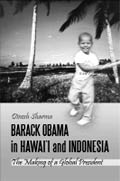 "Despite all that has been written about him, very little attention has been paid to Barack Obama's global roots and international persona," Sharma said recently.
"Barack Obama is born of a multicultural America at the cusp of the age of globalisation," said Sharma, a cultural psychologist.
"He is truly America's hybrid president, a man of many continents, races, cultures, and histories," he said. Sharma interviewed Obama's half-sister, Maya Soetoro-Ng, teachers, and friends from Indonesia to New York for his book titled Barack Obama in Hawaii and Indonesia: The Making of a Global President, which was released recently.
"Certainly, there have been no biographies exploring the linkage between Obama's early upbringing and socialisation in the culturally diverse communities of Honolulu and Jakarta and his global political outlook," Sharma said.
"This type of cultural analysis is essential for a complete understanding of Barack Obama's character and his agenda for America in the 21st century," Sharma, a senior fellow at the Institute for International and Cross-Cultural Research at St Francis College, New York.
"He's the first President who travelled half way around the world to Indonesia and South East Asia before becoming senator," Sharma said. "In terms of genealogy and his ethnic backgrounds, he stands out because his father was from Africa and mother from America," he said. — PTI