Short Takes
Social issues and Naxalism
Reviewed by Randeep Wadehra


Naxalism: Myth and Reality
by Dr. Sohan Lal Tater
Regal Publications. Pages: xv+160. Rs. 680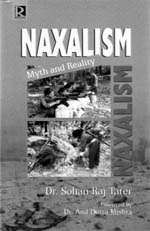 Naxalbari is a nondescript village in West Bengal where a violent ultra-left movement originated in 1967; hence, the terms "Naxalism" and "Naxalite". It aimed at forcible redistribution of land – by taking it away from big landlords and giving it to landless farmers. Based on the Maoist ideology of resolving class-conflicts through violent means Naxalism attracted urban youth, too, especially in Kolkata where students left schools to become Naxalites. The Jadhavpur University became Naxalism's hub. Soon it spread to other states, especially in eastern and southern parts of India, with the Communist Party of India (Marxist-Leninist) inspiring or spawning the likes of Peoples' War Group and Maoist Communist Centre etc in about 220 districts.
Tater chronicles the genesis and spread of Naxalism and the challenges it poses to the Indian state. He also takes us to the days when the West Bengal Chief Minister, Siddharth Shankar Ray, employed strong-arm tactics to stamp out Naxalism from West Bengal. Today, although it is active in 12 states and violent insurgency manifests itself spasmodically in chiefly rural areas the movement is slowly losing its cohesiveness for various reasons. However, as Dantewada and other incidents indicate, the fight against Naxalism is not likely to end anytime soon. The problem is not just law and order. There are deeper, and more enduring, social, political and economic issues that need to be addressed. As the participation of Santhals in the Naxalite movement indicates, our Adivasis are worried about the dwindling prospects of economic emancipation and development. A useful book, but its language/syntax needs professional attention.
Quest for Personality Development
by Maj-Gen Varinder Uberoy
USHUS, Bangalore. Pages: 232. Rs. 250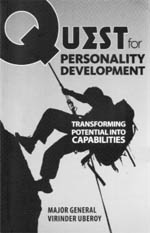 A good education system is supposed to not only turn out students with well rounded personalities but also equip them with professional skills in specific fields. However, our education system's quality is such that it has been unable to meet the mounting demands from an ever increasing and specializing job market. Therefore, private training academies of all sorts have cropped up to fill in the gaps. We have been witnessing this phenomenon ever since demand for IT professionals began to outstrip supply in the last two decades or so. But personality development goes beyond the mundane professional needs. It is a process that seeks to create a healthy pattern involving thought, feeling and behavior. It also seeks to achieve an ideal alignment of one's inner self (thought and feeling) with its outer manifestation (behaviour and skill). Such a process is complex and only well trained professionals can employ it to obtain positive results. Moreover, as the author says, "Development of personality is not a one-time effort. Personality undergoes qualitative changes, major and minor, as a person matures with age and experience." Thus personality becomes a lifelong learning process.
This book has several thought-provoking chapters dealing with development of insight into one's self, acquiring leadership qualities, stress and time management etc, which can be useful for the aspiring youths.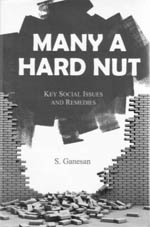 Many a Hard Nut
by S. Ganesan
Gyan Publishing House. Pages: 297. Rs 750
We live in an imperfect world where all forms of inequities and deficiencies exist. At the global level there exist racism, exploitation of the weak by the powerful and wide disparities between rich and poor nations; however, the author focuses on the Indian scene putting it in the context of issues and problems common to various developing countries. What makes this book readable is its approach and structure. It uses the dialogue/conversational style for discussing topics like education in private sector, religious intolerance, caste, terrorism, dowry, racism, human rights violations, plight of senior citizens, children etc apart from such universal issues like environment and global warming.