Okra delight

On a regional trek, Food Talk presents the sweet and sour bhindi of Goa. The dish plays around with the lady's fingers in an unusual manner
Mention the word Goa, and visions are conjured in the mind of sun-drenched beaches with gently swaying palms, old churches, fiesta andsiesta.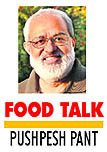 Not to forget tables laden with vindaloo, sarpatel, xacuti, bibianca and more. Feni — coconut or kaju — helps wash down the heavy, spicy meal. But who is complaining?
Though, at times, we are left wondering why the vegetarian repertoire of Goa is remains unexplored. And we aren't talking about the Saraswat recipes. Many of the vegetables in this delightful land of fun and frolic use the same ingredients that impart a unique character to the meaty delicacies introduced by the Portuguese during their long rule.
The ingredients preferred in cooking here are vinegar and garlic. At times, a little sugar adds to the piquant spicing. The Portuguese were pioneering explorers and intrepid travellers and it appears from the recipe we share with our readers this time that they may have acquired a taste for sweet 'n' sour during their contact with China. The sweet and sour bhindi plays around with okra or ladies fingers, if you like in a most unusual manner. It's very different — delightfully so — from the crispy deep fried, bharwan-achari, with alu or pyaaz variety that is usually encountered; quite a contrast from the dum ki Awadhi-Hyderabadi, dahi wali thandi pachadi like bhindi or the southern bhindakai pulussu also.
Sweet & sour bhindi
Ingredients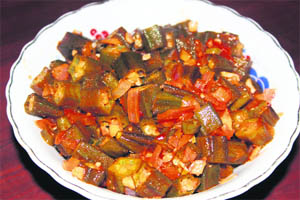 Bhindi 250 g
Onion one
Tomato one
Ginger ˝ inch piece
Garlic Cloves four
Green chillies 2-3
Vinegar, Sugar, oil 1 tbsp each
Salt to taste
Method
Wipe and clean the bhindi. Cut and remove the top and the tip then cut into half inch round slices. Peal and chop the onion. Skin and chop the garlic. Blanch and remove the skin of tomato and mash or puree. Scrape and dice the ginger. Deseed and chop chillies. Heat oil in a pan. Put in all the ingredients together. Cook covered on low heat for 10 minutes. Stir gently at regular intervals to avoid the vegetable sticking to bottom. Sprinkle a few drops of water once or twice if necessary. Serve hot with phulka or rice.