Honest attempt

The unconventional handling of the extra-marital problem in Iranian-American director Massy Tadjedin's film Last Night is refreshingly different

Should marriage partners be completely honest with each other? Or should they overlook a rare indiscretion? Can one be faithful till "death do us part"? These are the questions raised by Massy Tadjedin's Last Night. And though it may not come across too strongly or convincing, it is truly and honest effort and therefore worth taking a look at.
It is mostly the Oriental influence in this Iranian-American director that accounts for such treatment and the problem begins when Joanna (Keira Knightley) finds her husband Michael (Sam Worthington) paying too much attention to his sultry office colleague Laura (Eva Mendes). Not surprisingly, the couple get into a tiff on returning home but patch up before going to bed. The next day Michael is off to Philadelphia on an office jaunt and Laura, too, is part of the group.
Coincidentally, Joanna runs into an old lover Alex (Guillaume Canet), whom she had run into in Paris a couple of years ago. Both are writers and with Cupid about to shoot his arrow, Joanna has an inkling of what Michael is probably going through.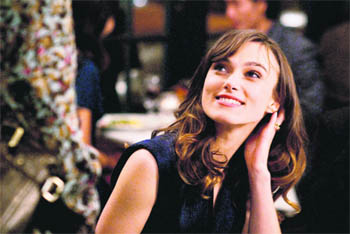 Last Night raises many important questions, though not very strongly, about honesty in a relationship
No prizes for guessing how they deal with their respective forays and it surely will kill the suspense of seeing the film. Tadjedin's screenplay in the first half tends to be somewhat weak but it picks up after the halfway mark.
Shuttling between Philadelphia and New York, there is a good deal of cross-cutting and Peter Demina's sweeping camerawork also contributes to the fluidity.
With both the heroines looking alike, Eva Mendes' mole on the right cheek helps to identify them but it is Keira Knightley, who comes of best as she underplays the role as the camera catches her mostly in her underwear.
Sam Worthington is just about adequate but Eva Mendes has a bit of a problem entering the psyche of a rather eccentric character while Guillaume Canet is neither here not there.
The rather different handling of this extra-marital problem is refreshing but director Tadjedin's congestion over the subject also comes across and that is conveyed to the viewer as he leaves the cinema neither happy nor sad with Clint Manselb's music ringing on one's ears.