Game Won

Though online gaming in India is still in a nascent stage, going by the trend set by the launch of the Ra. One game, it has an audience waiting to expand, writes Mehak Uppal
The central idea of Ra.One's story is how a father specially creates a video game to connect to his young son. Perhaps to show how much belief he had in the concept, Shah Rukh Khan actually launched a video game to entice his young audience into watching his latest movie. Looking at the response, the strategy seems to have worked well.
"Ra.One Genesis", the video game, was released across all platforms like the website, iPad, Android, Facebook etc, that, too, free of cost. It is said to have broken records by becoming the most downloaded game and reached the no.1 position on the iTunes store within 24 hours of its release. A special version of the game is also slated to be launched for DTH subscribers.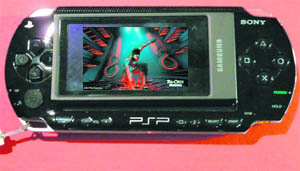 "Ra.One Genesis", the video game, was released across all platforms like the website, iPad, Android, Facebook etc, that, too, free of cost. It is said to have broken records by becoming the most downloaded game and reached the no.1 position on the iTunes store within 24 hours of its release. A special version of the game is also slated to be launched for DTH subscribers
Comments of children on the Facebook fan page seem to reflect that it did manage to capture the imagination of the little ones. Esha Sharma of Cambridge School, Mumbai, wrote, "I LIKE G.ONE NOT RA.ONE. WHEN I CAME AND SAW THE PICTURE & I CAME OUT SO I KEPT MY NAME E.ONE."
This is reaffirmed by Deshraj Chandel, store head, Music World, Sector 17, Chandigarh, who says that his store has been recording "50 pieces/week of sales for Ra.One game for PlayStation 2, which is considered excellent."
Online gaming in India is still in a nascent stage but a promotional strategy like this points to its potential to be the next big thing, sooner or later, especially when unleashed fully on phones.
So, gone are the days when Mario and Contra were the only games that ruled the young world, as children sat in front of a screen alone or at the most with a kid from the neighbourhood. With online gaming paving the way; guns and robbers, chases and bombs have gone to another level as new cheat codes are designed every day to keep the novelty factor of a game high!
Raghav Bassi, an 11-year-old, beams with enthusiasm as he talks about FarmVille, where he gets to raise chickens, build a house and water plants. "Ek dum real," he gushes and moves on to talk about his second favourite game, Y City, wherein he gets to virtually travel around the world on a mission. "It includes solving cheat codes and, at times, dodging the police. It's some fun!"
"I am also a big fan of gamecreator on cartoonnetwork.com. I get to choose my favourite cartoon character, based on which I can design my own game and email it. If chosen, children all over the world play it!" he shares.
Adding another level to the entire buzz is multiplayer online gaming, where one can log in and play games with people from different parts of the world who are online at the given time. In some games, one can also play together with hundreds of other online game players, which is called massive multiplayer online gaming (MMO or MMOG).
Vineet Raj Kapoor, a Chandigarh-based parent, who encourages his sons to play online games, is of the opinion that these games can be well utilised to sharpen young brains and increase the logical abilities. Both his sons have a keen interest in chess. While his elder son, Yash Raj Kapoor, was member of the chess team that represented Chandigarh in the Nation School Games in the Under-17 category, his younger son, Ayush Raj Kapoor, has played Nationals (chess) in the Under-7 category this year.
"I encourage both Yash and Ayush to compete on chesscube.com and chess.com. These sites rank the players based on their quality of play and it is published on your profile. This is a great draw, as it becomes an ego booster to play well and up your rankings because normally gamers like to play with an individual of their own ranking. Also, at times, beating a person from another country gives you a certain kind of high!" says Vineet.
Chess is an intellectual game by its very nature, but there are a lot other games that are violent in content. According to Deshraj, action games are the most popular amongst children, who consist of 40 per cent of their clientele.
On the impact the violent content of a game can have on young minds, Parmod Kumar, consultant psychiatrist, Silver Oaks Hospital, Mohali, says, "These games should be avoided as children are susceptible to taking the make-belief world of games to be the real one. This is because children mostly learn by imitation. So, a violent protagonist of a game does have a certain degree of power to corrupt young minds."
Vineet is also reminded of having observed the phenomenon. "Yes, Yash does exhibit a very small degree of violent response when he plays a game like Uberstrike — like a slightly extra force in the push of hand when asked to leave the computer." But he doesn't seem too worried as he adds, "These games also train them in quick decisioning and dexterity."
The concept of a playmate is also being redefined. The time is gone when you just had a bunch of kids in the neighbourhood to compulsorily choose your playing partners from. In the world of online gaming, one has the option to chat and interact with other players, who, most of the times, are total strangers.
This easy accessibility and communication with unknown individuals of all age groups and cultures can have either kind of consequences. With young, impressionable minds, this can either be one of the best educations in multiculturalism or it can leave them vulnerable to strangers.
As per Kumar, it is okay to let the child play these multi-player games online under an elder's supervision for a limited time. But he does advise the parents to keep themselves abreast of the latest technology.
"The thumb rule is to make your child aware of all the challenges he or she is likely to face and their probable solutions in advance and to keep updating oneself about the various probable implications of the new technology," he says.
It is too new a phenomenon and, therefore, not many cases of addiction have been reported, although the overall cases of addiction to the Internet are on a rise in the age group of 0-14. Addiction happens when a child feels irritable and angry in the absence of access to those games, which also results in loss of sleep, appetite, dropping of grades and abnormal behaviour. But it has shown a potential to be addictive, with some cases of children showing a mild obsession with it while ignoring the rest of the activities around.
Listening to the expert views it seems that the parents should adopt a balanced approach towards their children's online gaming — neither too soft nor too strict. It is important to stick to the basics and follow the general principles of good parenting.
As remote controls give way to keyboards and a click of a mouse gets you bonus points to move to the next level, we hope is that like in Ra.One, the good facets of gaming win over the bad ones!
Perils and parents' role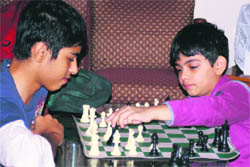 Yash and Ayush Raj Kapoor compete on chesscube.com, as their father Vineet feels certain online games like these help young minds grow
n Make your child aware of the perils of the medium he or she is using.
n Set a time for gaming and Internet usage. The average session time should not exceed one hour per day.
n The computer should not be kept in a child's bedroom but at an open place like the house lobby.
n One should ensure that the child is not exposed to pornographic content.
n Children below 14 years are legally not allowed have an account on a social networking site like Facebook.
n School counsellors can work best in tandem with parents to develop healthy and safe habits in children.
n Peer groups of parents can be formed to ensure that each one of them is fully conversant with the latest technology and to exchange notes on the latest trends.
Play time on Facebook
Social networking sites are one of the most popular destinations for gaming. FarmVille and CityVille on Facebook boast of 28,400,000 and 53,800,000 active monthly users, respectively.
It is lately being seen as one of the important trump cards to retain members on a social networking site. Google+ and Facebook are known to pull consumers with better games and other applications. They also attract new users to gaming because of their alluring features, like easy sharing of content, comments, likes, and option to challenge a virtual friend for a game.
Zynga, which has created popular games like FarmVille and Mafia Wars amongst the Facebook community, has also opened its office in India.
| | | |
| --- | --- | --- |
| FarmVille on Facebook boasts of 28,400,000 active monthly users | In games like Y City, a child gets to virtually travel around the world on a mission | The violent content of games like Uberstrike can corrupt little minds |