Reviving a tradition

The demand for traditional art like phulkari has grown manifold, writes Swati Rai
Mother's love or family heirloom, creative outlet or a tool for self-empowerment — these are some of the hues of the creative embroidery of Punjab, phulkari. The main characteristic of phulkari embroidery is the use of darn stitch. The base material for the embroidery is traditionally hand-spun, natural dyed khadi. Imported floss silk yarn from Afganistan or China was used after local dyeing with organic vegetable dyes.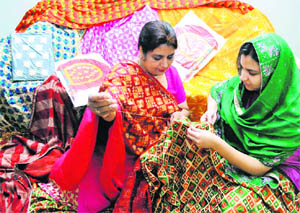 Phulkari is a true chronicle of the passage of time Tribune photo: Rajesh Sachar
The embroidering is done from the reverse side of the fabric with the silk yarn, which gives a shaded effect to the fabric. The smoothness on the reverse of the fabric speaks volumes of the quality of workmanship and embroider's skill.
The demand for traditional art like phulkari has grown manifold but the ones who truly understand this skillful art may be down but not yet out. One such phulkari enthusiast is Poppy Harika, a resident of Patiala, who is a connoisseur and a conservator of this dying art. Going by the name of Poppies, the USP of her brand is the small-scale quality work, focussed on preserving the original art of the embroidery. "My aim is not to open a boutique and do assembly line production of machine-done phulkari. I aim at reviving the hand-done embroidery, a true labour of love."
She adds: "Phulkari was a communal activity wherein, while telling each other stories of the days of yore, women used to depict the same on the cloth; that would eventually become a daughter's trousseau." Baghs were worn by women all over Punjab during joyous occasions. She informs us that the pieces were embroidered by the women for their own use and were not for sale in the market; a purely domestic art, which not only satisfied their inner creativity but brought colour in their day to day life. Poppies, Harika's brand, has a niche clientele and has attained a high-end status, owing to the fine craftmanship, traditional designs and the use of the age-old techniques of embroidery. Her price-on-request phulkaris have found favour with the likes of Maharani Preneet Kaur, Camilla Parker Bowles and PM's better half, Gursharan Kaur.
Phulkari manifests itself as the creative expression of Preeti Sidhu, owner of the line, Fusion Fulkari.
She elaborates upon her brand evolution: "I am from Ludhiana and many of my friends and relatives asking for phulkari items weren't happy with the run-of-the-mill colour combinations and substandard workmanship in the market. So, by default, I started using my designer's background and started working on the design detailing of a piece."
Her products are a perfect blend of traditional workmanship and trendy look. Preeti adds: "There is nothing wrong in changing with the times, and so the look should change. I wanted the younger generation to love phulkari. So this concept of Fusion Fulkari was initiated."
That was then. Now she is in talks with a London-based designer in the hope of making her designs on phulkari go global. She is working on a new concept and designs of stoles using traditional methods of phulkari. She adds her own embellishments such as gotas, laces and borders to give her pieces a new look to cater to the demands of the young generation. Ring out the old and ring in the new seems to be her mantra in her painstakingly conceived designs.
Phulkari takes another hue in the dextrous hands of Rekha Mann, chairperson, Patiala handicraft phulkari cluster, under SFURTI (Scheme of fund for regeneration of traditional industries), a sponsored programme under the KVIC and Micro, small and medium enterprise ministry (MSME). Mann explains this marriage of art and artistes' empowerment: "I was driven by a passion to not only revive this dying art of phulkari, but empower the grassroot worker, the rural woman."
The motivation behind these women's choice of working with this age-old art may be varied, but their conviction in doing so is proof that phulkari may be an art that is malleable, yet strong; antique yet not antiquated!
Phulkari for all times
There is a traditional Punjabi song, which says:
Ma de hatha di ae phulkari nishani eh;
Isse naseebawalan ne ronde hansde payii eh
(Phulkari is a token of a mother's labour of love;
Fortunate are those who get this bittersweet pleasure).
It is ironical to read these lyrics in today's commercialised, assembly line production of the 'export quality' phulkari. This has been due to mechanisation, waning interest in labour-intensive techniques and, of course, due to the rise in the folk crafts' business. Though the phulkari techniques were not documented but conveyed by word of mouth, the journey of phulkari is well worth documenting. This embroidery was done on a plain cotton fabric called khaddar and its thread was hand spun and dyed organically, using colours from vegetables and flowers.
This ancient craft form was an integral warp and weft of village life, be it birth, marriage or festivals. Not being typically religion-specific, it reflects in its secular thread, people's life and times; a classic case of art inspired by life. Different patterns and motifs of phulkari were specifically used for different purposes. The vari-da-bagh was gifted to the bride by her in-laws when she was entering their house. Darshan dwar — the gate through which God can be seen, was a phulkari made as an offering to a place of worship for having been granted a wish. It is clear that the phulkari, having stood the test of time remains the hardiest of folk crafts. — SR